Podcast
Speaking of Design Ep. 22: On the Front Lines of Dam Safety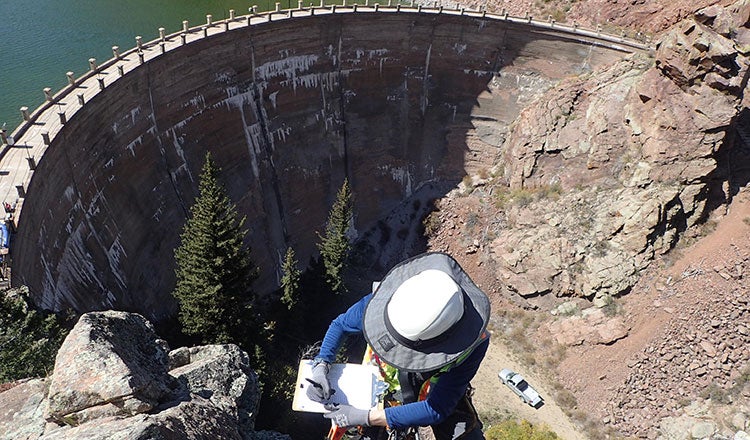 Each of the 90,000 dams in the U.S. plays a critical role in the community it serves — from preventing floods, to generating hydroelectric power, to providing a water supply for drinking water, irrigation and recreation. On this podcast, meet the professional rope access technicians whose jobs involve preserving the structural integrity of each dam — by providing a rarely seen perspective of some of the largest infrastructure in the world. Collectively, our team of more than 40 certified by the Society of Professional Rope Access Technicians has logged approximately 50,000 hours suspended from ropes, getting an up-close view of dams, bridges, tunnels and other hydraulic infrastructure.
Subscribe
---
Featured on this Episode
Kenny Dosanjh has seen it all while hanging from some of the most iconic dams and bridges in the U.S., including California's Oroville Dam. As a SPRAT-certified Level III rope access supervisor, Kenny takes responsibility for the planning of each job and specializes in safety and emergency rescue maneuvers for his team. Based in Sacramento, he serves as our dams levees and civil works structural lead.
---
Travis Ford likes adventure. With a mountain climbing background and a civil engineering degree, becoming a rope access technician seemed like a natural calling. As a SPRAT Level III supervisor, he has nearly 3,000 hours under his belt — including multiple inspections of the Golden Gate Bridge. Travis is a hydraulic structures lead based in Denver.
---
Jarlene Ninive never imagined she'd be hanging from a rope as part of her job as a structural engineer in training. Though she enjoys the adventure, she still has some skeptical family and friends to sell on the idea. After completing SPRAT Level I certification, Jarlene has been on three dam inspection jobs — including the nearly 30-metre-high Williamson Dam in Cisco, Texas. Jarlene also works in our Denver office.
---
Mike Buga says that every rock mass tells a story. As a senior geologist based in Berkeley, California, his job involves inspecting the natural foundation underneath dams and spillways, looking for areas susceptible to scour and instability. As a SPRAT Level I inspector, one of his more memorable jobs involved descending the nearly 122-metre Diablo Dam near North Cascades National Park in Washington.
---
Credits: Produced by Danny Sullivan and John Tourek. Additional thanks to Jack Hersh and Gina Jarta.