East Link Light Rail Extension Construction Management
East Link Light Rail Extension Construction Management
Proactive Construction Management Avoids Problems, Enhances Safety and Mitigates Environmental Concerns
The East Link Extension project is a US$3.7 billion, 14-mile extension of light rail from Seattle's International District to the Overlake Transit Center in Redmond, Washington. HDR is performing construction management for 5.5 miles, US$1 billion of construction cost. As part of the Sound Transit System Expansion approved in 2008, the East Link Extension connects the populous Eastside communities and downtown Seattle. The project site travels through a dense urban environment with a 0.5-mile tunnel through downtown Bellevue, and 10 at-grade and elevated stations, with HDR responsible for six of those stations. The project supports the continued growth of the Eastside, the development of critical communities and connections, as well as ties to technology giants like Microsoft and Facebook.
Our team is responsible for performing construction management, contract administration, project oversight, technical support, quality verification, project controls, change management and schedule monitoring, field inspection, commissioning, regulation compliance, utility coordination, maintenance-of-traffic planning, systems coordination, independent cost estimating, construction safety oversight and environmental compliance oversight. The team worked closely with Sound Transit, co-locating with the client before pivoting to remote work.
Wide-Ranging Support
Our team — built around experienced, expert engineers — works hard to instill a spirit of collaboration, problem solving and risk mitigation. Our wide range of technical support resources has allowed us to quickly flex and bring on staff to support utility permit requests with WSDOT, utility permit close-out, change management and independent cost estimating, electrical inspection, landscape inspections from our landscape architecture group and much more. Our team of change management professionals have many years of construction management experience and have established best practices to manage as many as 350 open change requests and work directives and execute more than 700 change orders and 800 work directives across the four contracts to date.
The team regularly performs mini-risk reviews and schedule analysis reviews with our field inspection and engineering staff. The reviews focus on potential risk areas and help focus our efforts with our contractors to help manage risk on the project. The HDR team has also developed several monthly metrics to help set performance goals and to monitor and report team performance.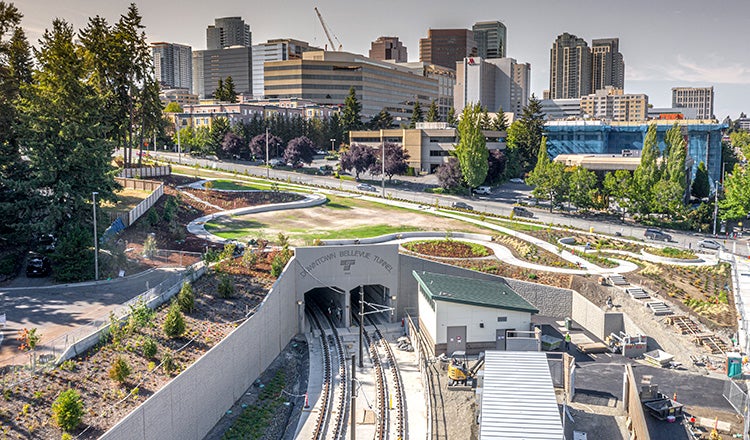 Safety First
Sound Transit places a high priority on safety, and our team served as its eyes and ears in the field, looking at each team's performance, talking with the field crews, working in a collaborative effort to make sure the safety culture met the client's high standards. With four contracts worth hundreds of millions of dollars, our team helped the contractors identify potential problems, find solutions and ultimately helped lead them to success. In some cases, HDR staff engaged with the contractor's senior leadership to work on cultural changes that would be needed to promote a safe environment.
Environmentalism
About 2 miles of the new track is directly adjacent to a wetland. Creating a light rail trackway within a few feet of a protected body of water creates major challenges. Our environmental compliance team collaborated with the contracting teams, not only identifying areas that needed improvement but also working together to find ways to fix problems. Many of our field inspection staff have also received certified erosion and sediment control training to help support monitoring our contractor's environmental compliance.
Our team worked proactively with the client and the contractors across the board, delivering management that made the project safer and more environmentally friendly.