Pier B On-Dock Rail Support Facility
Pier B On-Dock Rail Support Facility
​​​​​​Reducing Congestion, Improving Sustainability, Advancing Small Businesses at the Second-Busiest Container Seaport in the United States
The Port of Long Beach has been working for two decades to modernize its on-dock rail support infrastructure, and HDR has been working with the port since the late 1990s to assist.
Currently, HDR is providing final engineering design services for the Port's Pier B on-dock rail support facility program. Previously, the team provided preliminary engineering services and environmental support. Moving forward, we will lead design, as well as site investigations, traffic studies, structural analyses, lighting analyses and more.
In April 2022, the U.S. Maritime Administration issued a Final Environmental Impact Statement and Record of Decision approving the program, a major milestone to move it forward.
Key components of the $1.5 billion program include:
Realignment of the existing Pier B Street and Pico Avenue
Closure of the Ninth Street at-grade crossing
Expansion of the existing rail yard to 38 storage tracks
A new locomotive staging and refuelling facility; expansion of inbound-outbound staging tracks to accommodate up to five 10,000 foot trains
Removal of the Shoemaker Bridge ramps and other streets between 9th Street and 12th Street
Relocation of existing utilities
Relocation of existing mainline tracks into the North Harbor area
Widening of the Dominguez Channel Bridge to accommodate an additional track
We are also coordinating the design of utility relocations, working closely with POLB, the cities of Long Beach and Los Angeles, and third-party utility owners. Our team is working with more than 40 utility owners and agencies with over 700 utility lines. Our holistic utility approach includes extensive subsurface and pothole investigations.
HDR is teaming with 24 subconsultants on the Pier B program, scheduled to be completed in three phases, with the first phase expected to be complete by 2024.
Easing Port Congestion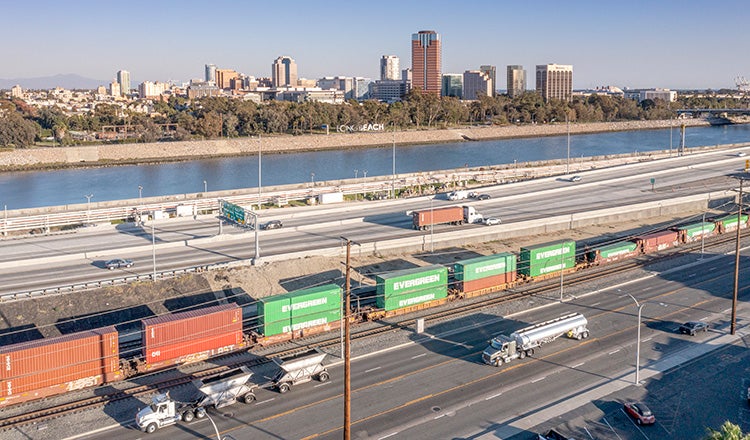 On-dock rail helps reduce traffic congestion by taking trucks off the road. One double-stacked intermodal train can eliminate up to 750 local truck trips, and trains are up to four times more fuel efficient. Good for the environment as well as business, this program will enhance capacity, velocity and safety, increasing the number of containers shipped by rail from the port.
Containers will be unloaded from ships and immediately transported to the Pier B railyard, where they will be sorted. This will relieve congestion on the dock, which has smaller capacity.
In the wake of the pandemic, like other ports around the world, ships have been waiting for up to a few months to unload cargo at Long Beach. The new railyard — the inland heart of the port — will move freight much more efficiently and help ease the supply chain crisis.
Improving Sustainability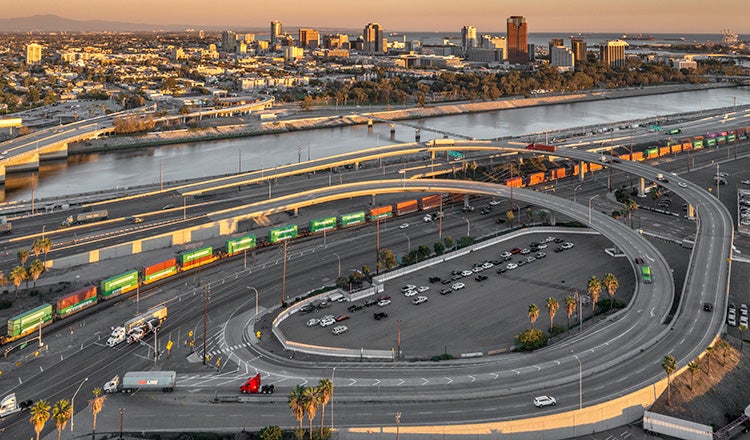 In support of the Port's Green Port Policy, HDR will also perform support work to ensure that the new facility is sustainably designed and constructed to maximize on-dock rail use and efficiency.
With the assistance of HDR and subconsultant Port Design Partners, the Port is pursuing a Gold Envision rating. Our sustainability experts have been working to set up a potentially groundbreaking strategy to identify, plan for, collect credit documentation, and eventually submit for verification to the Institute for Sustainable Infrastructure over the course of 12 construction packages.
Working Closely with Small Businesses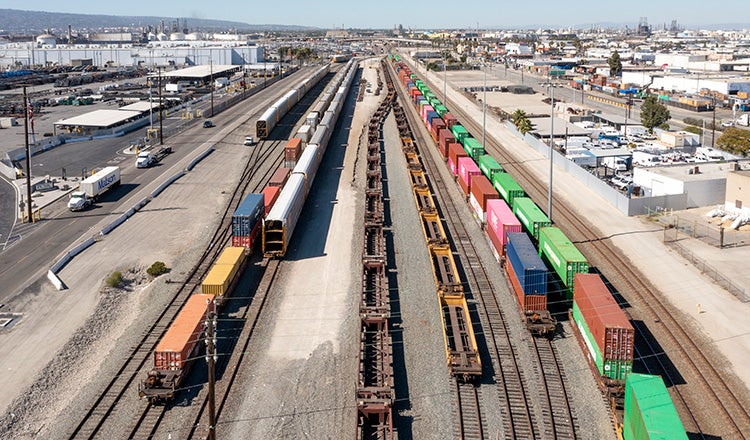 Our team in California has a robust mentor program, and we put it into practice with our small business subconsultants on this program.
The mentorship is a year-long program for protégés that is tailored to address their core needs for growth. Each program is unique, customized to the needs of the small business. Typical topics include strategic planning, business development, technical skills and either accounting or quality processes. Experts from around HDR hold rigorous training sessions, including homework and quarterly check-ins. At the end of these activities, the protégé business is equipped with tools and tailored templates necessary to support growth and to bid on future contracts.
As of 2022, three subconsultants on this program have participated in the mentorship program.