Article
Evolution of Mass Timber in the Okanagan
With the advancement of engineering technologies and modern building techniques, the increasing capability of mass timber has expanded design possibilities. Since 2003, what started as an experimental material for the HDR Penticton studio, mass timber quickly proved to be a viable material option. This is a look back at a selection of mass timber projects from the Penticton studio — an evolution in technologies and scale for mass timber design.
The Penticton studio is approximately four hours east of Vancouver, British Columbia; a province that relies heavily on the forest industry. The Wood First Initiative implemented by the Province emphasises and incentivises the use of local timber. With a readily available supply of locally and sustainably-sourced timber and a partnership with a local supplier, Structurlam, our studio began working in mass timber.  
Our relationship with a local fabricator of glue laminated timber (glulam) and cross-laminated timber (CLT), Structurlam, dates back to 2003 and remains a key component of our mass timber success. From an environmental standpoint, a local supplier has immense benefits, but we also work with contractors that know the material as well. Building relationships with contractors and Structurlam has created a number of opportunities we've been able to leverage. Through this timeline, you will see that while there is an evolution of technology with mass timber, it all starts with those relationships, and the fact that wood, in these cases, was the right material choice.
Leveraging Glulam Prior to CLT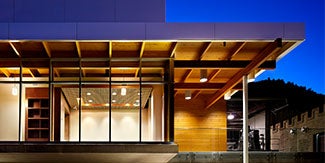 1.) Limited to the technology of the time, our earliest projects focused on leveraging the capabilities of glulam beam and columns in addition to structural wood decking. This was prior to CLT technology being used — which is essentially taking two by six or two by fours and layering them perpendicularly and gluing them together. Road 13 Vineyards in Oliver is a prime example of glulam beam construction.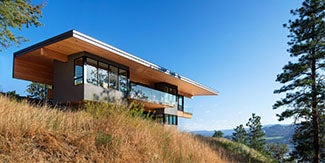 2.) Another one of our early mass timber buildings was a single family house, which would typically be light wood frame construction. The Lefebvre Smyth Private Residence in Kaleden, just outside of Penticton, was completed in 2011. It uses large glulam beams to create the cantilevers that were required with this design. Wood was the choice for us for a number of reasons on this residence, not only from an environmental standpoint, but also from a weight perspective. When looking at potentially using steel, the weight of it would have driven up the foundation and footing costs, so a mass timber solution was used to reduce costs and weight on the footings. This is essentially a hybrid light wood frame with glulam mass timber, again prior to CLT construction being fully adopted in British Columbia.
CLT and Glulam at Different Scales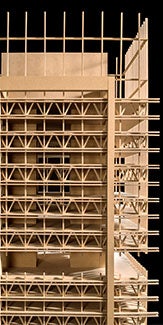 3.) In 2012, as new technologies in CLT were introduced in British Columbia, we started looking into the potential for taller mass timber buildings. That year, our office participated in the NAIOP (The Commercial Real Estate Development Association) International Design Competition for the "Office Building of the Future". We took our design competition entry as an opportunity to gain experience and test the limits with wood and mass timber in order to create tall mass timber buildings. The 40-story wood office tower we created received Honorable Mention recognition for its design and provided us with knowledge and expertise in mass timber.
For the 40-story wood office tower, we relied on a glulam truss that supports two floors, which are tied together with a floor diaphragm of CLT. When we had this design reviewed by our quantity surveyor, it came in less expensive than a conventional concrete building, a fact we now use as a way to leverage this technology. Not only from an environmental, a carbon-sequestering standpoint, and in our case, using local suppliers, there's also a significant cost benefit. Overall, this design competition proved to be a great case study for us, providing valuable information we've been able to give current clients.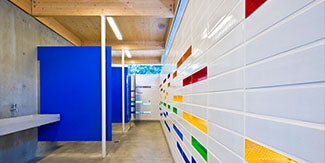 4.) From the 40-story wood office tower, we shifted quite dramatically in scale in 2013 to a small public washroom project in Kelowna, which is about an hour outside of Penticton. We used CLT technology for the roof, which allowed us to cantilever in two directions, and glulam beams to support the CLT panels. This was a similar type of methodology in terms of construction as the tall wood tower, which shows that CLT and glulam can be transferred over multiple scales.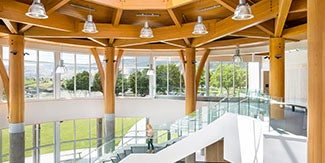 5.) Finished in 2014, the Southern Okanagan Secondary School in Oliver, B.C. gave us the opportunity to find ways to celebrate the qualities of wood and mass timber where possible — particularly in the mass timber constructed theatre rotunda. As with most of our mass timber projects, the structure is the finish. Since we typically don't like to hide the grain of the wood, a clear sealant on the wood was the only finish necessary. Of course, there are some considerations with weather and UV exposure, but for the most part where wood is protected, it weathers well and the finish is quite durable. CLT also comes in many different thicknesses and can be modified depending on the structural requirements presented. We typically use 3-ply CLT — which is essentially three layers of two by six or two by four laminated together. The Southern Okanagan Secondary School project is largely constructed of 3-ply CLT.
Connection Point Details & Mass Timber Modularity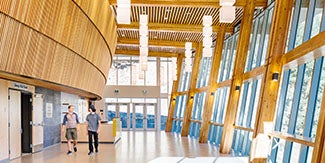 6.) Completed at the end of 2017, this next project showcases glulam's potential to span large distances with fairly moderate depth. The RockRidge Canyon Clubhouse is a performing arts space designed for Young Life Canada in Princeton, B.C. We implemented the use of glulam beams and columns which allowed us to create a large, open, and inviting atrium space.
A critical component of mass timber design, whether it's CLT or glulam, are the connection details. For the RockRidge project, we decided not to plug the bolts, but rather featured them. In other projects, however, we might decide to treat those connection points differently. In all mass timber projects, the attention paid to how the wood elements and their connection points come together is critical and cannot be an afterthought.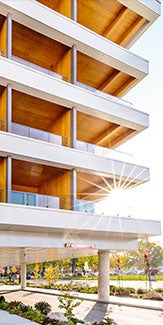 7.) In 2017, we completed the Penticton Lakeside Resort West Wing Expansion which overlooks Okanagan Lake. This six-story hotel features the most extensive use of CLT in the Okanagan and showcases the beauty and sustainability of mass timber design. Mass timber was used in many different areas of this project —from the floor structure to privacy screens and stair core.
Initially, the client envisioned a concrete building as is the standard for hotels in the area. However, when presented with a mass timber alternative, the client saw the potential of locally-sourced timber — not only by the strong environmental story but the financial and construction timeline benefits as well. With mass timber construction, the building weighed significantly less than concrete construction, enabling the use of conventional footings, saving on the cost of piles needed with heavier waterfront buildings. Again, we worked with our local supplier, Structurlam, for this project.
Yet another benefit of mass timber construction is the modularity of the floor plans when using CLT. Penetrations to accommodate mechanical components, or skylights, could easily be cut on site. Because of the modular qualities we were able to lay out the floor plans with mechanical chases running up to the roof rather than into the hotel suites, allowing for a clear ceiling area that celebrates the natural beauty of wood.  
For this particular project, acoustics were critical and a significant challenge. In our mind, if someone could hear footsteps above, we failed the project. To avoid this, we performed a significant amount of research on different acoustic methods. Rather than using a product that was already tested, we devised a new floor assembly with our acoustic consultant. The solution we came up with gave us the same STC and impact resistance ratings as other proprietary products that were researched.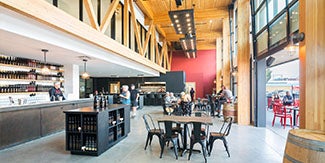 8.) In the heart of Penticton is TIME Winery, another mass timber project. Originally a theatre, the building had glulam beams hidden beneath old drywall and acoustic paneling. Once we removed the existing finishes, we were able to expose an incredibly beautiful curved glulam beam and a nail timber roof, which was probably one of the first in Penticton. The former theatre portion of the building was converted into the production portion of the winery, with a restaurant and tasting room constructed in front of house. Exposed CLT roof with glulam trusses in the main wine tasting area allowed us to create a column free space. Attention to the concealed connection details on this project was critical to its success.
As this overview shows, the evolution of mass timber technologies has significantly progressed our design capabilities. What began as an experimental material is now a competitive advantage. Our Penticton studio will continue to push the envelope of mass timber design.