Article
Five Ways to Implement Universal Design on Campus
Colleges and universities and their administrators, faculty, staff and students face immense change on campus. This is perhaps true more than ever before, as the traditional campus experience grapples and adapts to external factors, global trends, and the ever-growing needs of a new generation of learners.
Challenges like the wake of a global pandemic, a growing mental health crisis, and a call for more diversity, equity and inclusion — paired with the potential of new technologies and learning modalities — create a whirlwind of change. As a result, the college and university commitment to embrace the "whole" student shifts for the better and propels the evolution of campus environments. 
Universal Design For the Whole Student
These factors influence and contribute to an increase in universal design, the concept of designing the built environment to be accessible and usable to the greatest extent possible by everyone, regardless of age, ability or status. Universal design has taken hold on college campuses to provide inclusion, safety and accessibility for all. As a result, older and outdated facilities are being modified to Americans with Disabilities Act accessibility standards and upgraded to maximize potential use and efficiency to become places students want to be. Central to this evolution is understanding the importance of integrating opportunities for student wellness; diversity, equity and inclusion; and technology on campus. 
Student Wellness
Student mental and emotional health is a critical topic on college campuses today and has grown in recent years. Surveys suggest that approximately 41% of college students struggle with depression or other mood disorders. With only 54% of students in the U.S. agreeing that their health and well-being are a priority for their schools, there is significant room for improvement in the years ahead.
Diversity, Equity and Inclusion
Diversity, equity and inclusion initiatives are increasing to provide students with a more welcoming, supportive and balanced experience. Creating comfortable and inclusive spaces on campus for marginalized students or those unfamiliar with the college experience tremendously impacts mental, social and physical well-being.
Technology
New technologies, both inside and outside the classroom, allow students to access information and learn more effectively. Though not without drawbacks, handheld devices give unlimited access to information and allow for interactive and spontaneous learning. Along with the pandemic-heightened use of virtual class participation, these technological innovations create new learning models through cooperation and interaction between faculty, students, staff and administrators to create a more integrated and holistic experience.
Universal Design Strategies for Inclusive Campus Environments
Read on to understand how universal design can address the above challenges and create opportunities on college and university campuses. 
1. Prioritize Diversity, Equity and Inclusion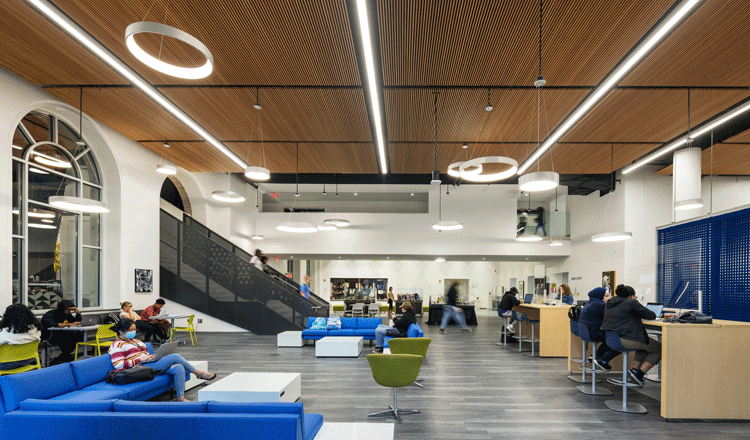 Designing learning environments that provide a supportive and inclusive environment for all students requires making the campus more physically and psychologically accessible. 
At the Community College of Philadelphia, HDR provided assessment and visioning services to directly address accessibility and inclusion challenges at the Library Learning Commons. The college student body is very diverse — 72% minority — with an average age of 24. Most of their students come from low-income households, and about 80% are first-generation college students.
As first-generation students, college can be daunting, as can asking for help. If finding help is difficult, it makes it even more so. 
The library is part of the historic Mint building, an iconic example of the beaux arts architecture style, and a 1970s addition to the West and Bonnell building. This marriage of buildings created a library and learning commons that were hard to navigate. An existing entrance from Spring Garden Street and two entrances on 17th Street created additional confusion for students as they entered through one side of the building and exited on the other.
The renovation opened the building by creating direct circulation and clear wayfinding to the grand "reading room" and learning commons. By creating a new cohesive arrival sequence with an interior spine along the building's interior courtyards and defining the recognizable grand "reading room," the Learning Commons ties discreet parts and functions of the building in a dynamic, easy-to-navigate, welcoming space. 
In addition to improved circulation, including new ADA-compliant vertical circulation in the library, we improved visual connections throughout the buildings to increase visibility so students can find the resources and support they need, alleviating previous frustrations students experienced trying to access help.
2. Build Community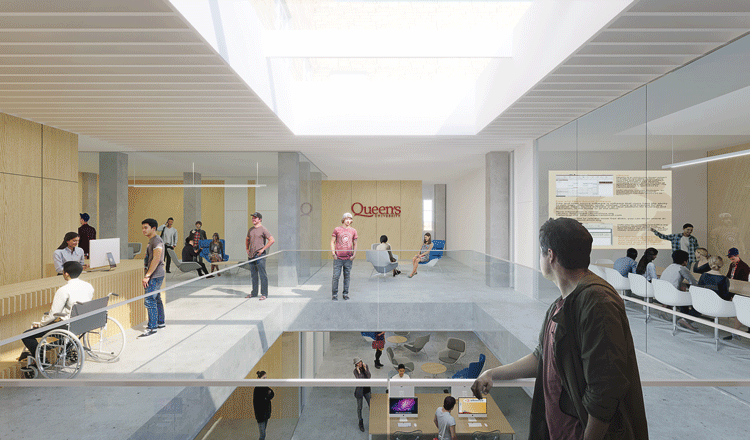 Spaces that support chance encounters, social interaction, and community help strengthen students' sense of belonging and raise their belief in their ability to succeed. Creating spaces that encourage the development of friendships, expose students to others different from themselves, and foster belongingness contribute to students' feeling of being part of something larger than themselves and, in turn, promote a larger sense of community on campus, which is something students need, and administrators and faculty, strive to create.
Already a beloved student centre at the heart of Queen's University in Kingston, Ontario, the John Deutsch Centre needed an expansion and renovation to improve connectivity and coalesce social and wellness pursuits into one hub. The design team involved students in designing the building intended for them to ensure a true community-building outcome. 
As a mixed-use building, the JDUC is home to various programs, most of which are managed by independent governing bodies, including student government offices, meeting rooms, a student residence, dedicated club spaces, wellness services, a community kitchen, and the student-run retail and pub. 
The addition's design is centred on dual tenets of sustainability and indigeneity, essential principles to Queens' student community. The space reflects the community's values by incorporating a finely detailed mass timber ascending passage/auditorium that actively sequesters carbon while representing the Haudenosaunee and Anishinaabe territories on which the university is situated.
Rather than isolate the institution, this project aims to dissolve the barrier between the campus and the larger community. Since the north-south thoroughfare of University Avenue is a primary campus entrance, the new portion of the building greets visitors and serves as a gateway of sorts. The community can rent spaces within the centre, and the retail and pub are welcome spaces for all to congregate. 
3. Increase Collaboration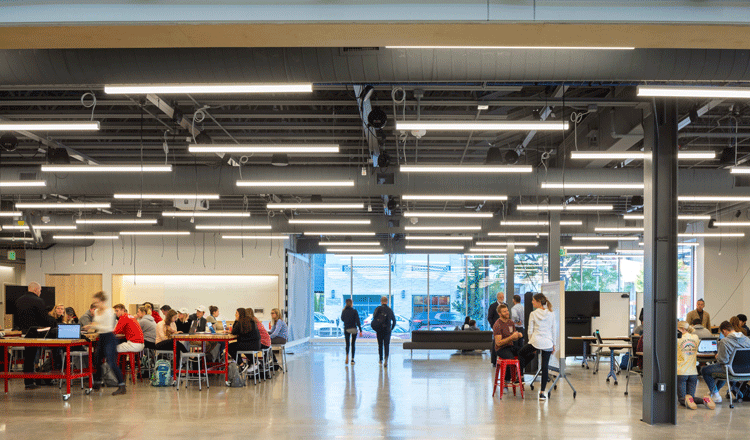 Bringing people together; whether for an informal conversation in a hallway, lunch at a touchdown space, or teamwork in a laboratory; unites the brightest minds and fosters interdisciplinary and transdisciplinary learning and discovery. Creating spaces for rich conversation, collaboration and group exploration in all facets of campus life enriches the educational process and helps to make spaces more welcoming and desirable.
"Not Precious" accurately describes the new Johnny Carson Center for Emerging Media Arts at the University of Nebraska–Lincoln. With exposed concrete and steel, the raw space creates a sense of freedom, encouraging students to come together and create. Students have permission to bang holes in the wall and have altered the environment since its opening to support various collaborative efforts, including improv theatre, interactive, immersive programming, and a flash dinner with faculty. Further supporting this collaboration is the inherent flexibility in the design, including movable whiteboard walls, flexible furniture, and ample accessible technology. 
4. Create Interactive, Multi-Use Learning Environments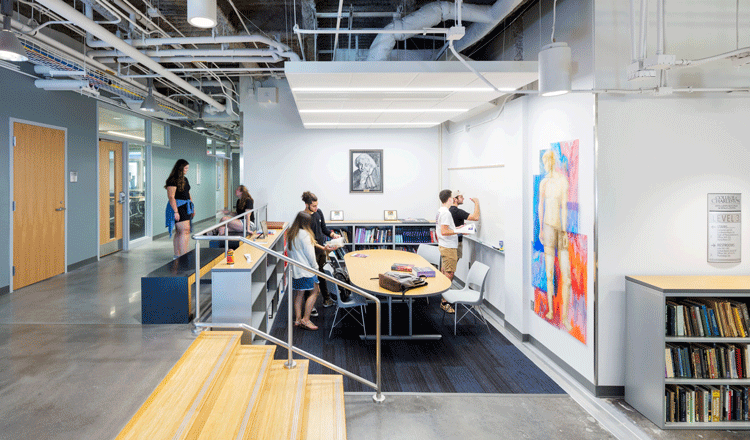 As the needs of students and pedagogies seemingly change more rapidly than ever, the needs of spaces change at the same pace. Providing learning and gathering environments that cater to multiple forms of use, from solo or group work to large seminars, is becoming a norm in campus design. Flexible classrooms and labs that allow for collective (alone together) and collaborative (working together) experiences can be changed quickly to adapt to future needs, providing students with a truly immersive and enriching campus learning experience.
The renovation and addition to the Rita Hollings Science Center at the College of Charleston were designed with flexibility in mind to increase the utilization and usability of spaces while supporting continuing changes in teaching pedagogy. Student group breakout rooms, project work areas, and areas for quiet individual study line the hallways and previously underutilized spaces. Flexible classroom spaces throughout the building allow for different styles of learning and instruction, and a flat-floor lecture hall with no fixed seating allows for easy reconfiguration. These flexible spaces reduce the need for future updates and spur utilization.
5. Elevate the User Experience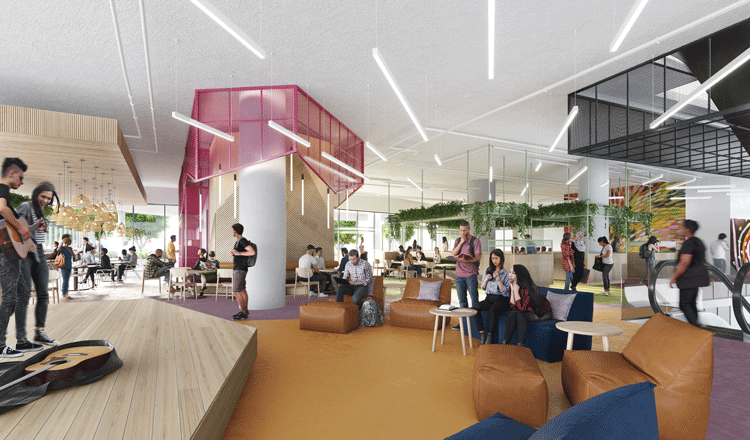 In the face of the changing campus requirements, campus buildings are quickly becoming outdated and need renovation to improve access, integrate new technology, create community, and add social spaces that elevate the student experience on campus. Creating new, welcoming spaces allows students to feel at ease leaving their dorm room to study or meet new friends on campus.
Advancing campus facilities through sustainability, aesthetics and enhanced programming, such as food, beverage, retail and makerspace, allows for diversity, encourages learning, promotes interaction, and improves a university's ability to compete for students and recruit and retain faculty.
The Bankstown City Campus at Western Sydney University is a new, technology-rich campus that creates a vertical and inclusive learning and research environment, promoting direct engagement between students, staff, WSU partners, and the Bankstown community. The space will relocate many functions from the existing ageing Milperra Campus and accommodate up to 10,000 students to create a new learning, collaboration and recruitment space under one roof. The student hub features a range of areas for diverse users, including dedicated LBGTQ+ and First Nation spaces, meeting and study rooms, a kitchen, a gaming den, an event stage, and many collaboration and sit-down spots.
Prioritizing these strategies on campus demonstrates an institution's commitment to going beyond traditional needs to create facilities and spaces that support the "whole" student.