2020 Alaska Storm Response & Recovery Program Management
2020 Alaska Storm Response & Recovery Program Management
Close Coordination Helps Streamline Disaster Response
Southeast Alaska was hit with record rainfall between November 30 and December 2, 2020. The communities of Haines, Hoonah, Juneau, Petersburg and Skagway suffered severe landslides and flooding. HDR quickly jumped in to offer the Alaska Department of Transportation & Public Facilities expertise, tools and recommendations on emergency response best practices to support reimbursement. We followed up with work on a longer-term program management and professional services contract to see recovery efforts through the $35 million in repairs.
HDR is providing program management services for the overall disaster and professional services for the permanent repair projects. The damage is spread across more than 160 sites in five boroughs, including nine emergency repair projects and 16 permanent repair projects. These projects are funded by the Federal Emergency Management Agency Public Assistance and the Federal Highway Administration Emergency Relief programs. Our team drew on experience from the 2018 Alaska earthquake to provide tools to help streamline the response and recovery process. HDR developed a customized, out-of-the-box application solution to immediately start gathering damage site information in the field using Esri ArcGIS tools. A Microsoft PowerBI dashboard provides quick and easy access to information related to sites and projects, as well as current and projected funding and schedule details.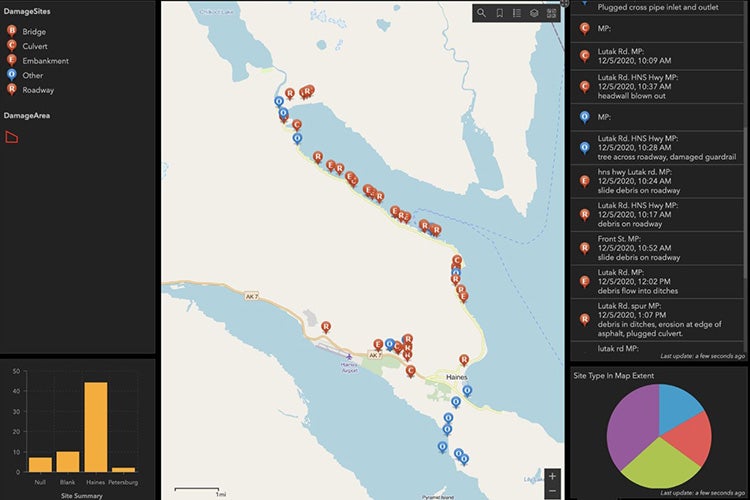 Close Coordination With State and Federal Partners
With a major project like this, the state has to prioritize projects, find the right funding, then make sure it's being obligated and reimbursed — all while completing its regular duties. That's where we came in. HDR's program management services include program management strategy, funding compliance and analysis, project controls, and document control. The team worked closely with DOT&PF to coordinate directly with the Alaska Department of Military and Veteran Affairs, FEMA  and FHWA's Alaska Division. Together, the team collaborated on the most efficient ways to package and deliver emergency and permanent repair projects as well as secure reimbursement from the state and federal funding partners. HDR developed the damage reports and scopes of work for each federal agency, including the detailed damage inspection reports for FHWA and the project worksheets for FEMA.
The initial site investigations, including damage site visits with FEMA, were completed in the summer of 2021. The team developed the permanent repair projects, including well-documented, reimbursable and constructable Plans, Specifications, and Estimates packages. The packages included erosion and sediment control plans, traffic control plans, and supplemental information required for bidding. The design team set up cost estimates in AASHTOWare for each project worksheet to streamline the cost tracking during construction for federal reimbursement.
The department's goal is to complete all construction by 2023.