Kew Gardens Interchange Infrastructure and Operational Improvements Project
Kew Gardens Interchange Infrastructure and Operational Improvements Project
Complex Interchange Connecting Communities
Originally built in the 1930s and expanded in the 1960s, the triple-level Kew Gardens Interchange helps drivers navigate the complex intersection of the Grand Central Parkway, Jackie Robinson Parkway, Union Turnpike and Van Wyck Expressway, providing access to John F. Kennedy International Airport and LaGuardia Airport.
Located in the center of Queens and serving nearly 600,000 commuters daily, the interchange was in need of improvements to reduce daily congestion and increase safety. The New York State Department of Transportation has made a number of operational enhancements to the interchange in phases.
HDR served as lead designer for Halmar International, LLC on phase 4, a $365 million design-build project and the last phase of the corridor overhaul. Our team was responsible for the overall design management, bridge design, geotechnical engineering, highway design, work-zone traffic control, intelligent transportation systems, traffic signal design, landscape architecture, drainage, lighting and 3D modeling. 
Increase Capacity and Mobility
With the main goal of increasing capacity and mobility, there was a large focus on realigning and widening Grand Central Parkway, Jackie Robinson Parkway and Union Turnpike. The process also included demolishing six existing bridges and designing 11 new bridges, removing non-standard features, and upgrading level of service conditions contributing to peak traffic issues.  
In the design of all 11 bridges, the team executed extensive interdisciplinary coordination to make sure the labyrinth of ramps and highway alignments worked in tandem and maintained all the required vertical and horizontal clearances. A 3D model was used to evaluate key areas where clearance is critical.
Project Coordination with Efficiency Built In
On a project of this size, coordination of moving parts is extremely crucial to the project's success. To facilitate clear communication of project status, including schedule and budget, HDR implemented a web-based document control system with an interactive dashboard that allowed the client (Halmar International, LLC) and the owner (NYSDOT) to review the schedule and evaluate any changes with all parties on a real-time basis. This also allowed for quick and efficient review times of design and comments.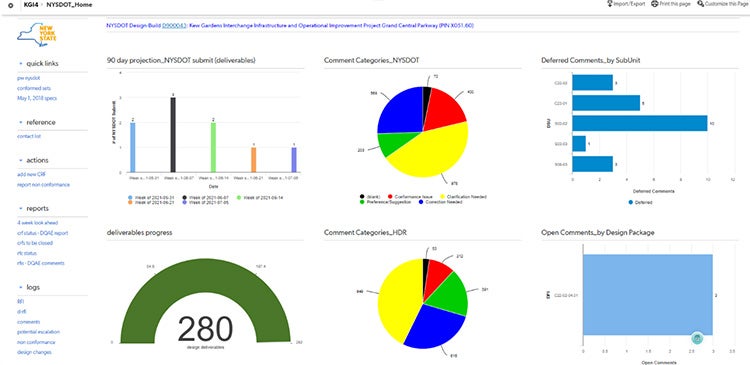 Safety Improvements for All Travellers
Making sure all travellers get to their destinations safely was top priority. Added safety was delivered through eliminating stop conditions, extending acceleration and deceleration lanes, enhanced stopping sight distance, and creating a shared use path for pedestrian mobility. The neighboring community was a main focus during construction in order to avoid unnecessary impacts. This was done by maintaining pedestrian access during construction and enhancing pedestrian mobility through a shared use path in the final project.
The project was completed in fall 2022.