Tech/Media/Telecom & Data
The Impact of

Industry 4.0
We are living in the fourth industrial revolution — Industry 4.0. Cyber-physical systems, smart infrastructure, and the Internet of Things have given way to a world where data-driven R&D, manufacturing, and decision-making are impacting almost every business, in every industry. This shift is putting unprecedented focus on developing robust, secure networks and evolving advanced manufacturing facility design principles. At HDR, we help our clients develop secure and sustainable advanced technology facilities that account for the accelerating impact of Industry 4.0, while supporting their larger business goals.
Leaders in

Advanced Technology Facilities
HDR has been a leader in the advanced technology and mission critical facilities since the late 90s. We've worked with everyone from Fortune 500 companies to startups, from governmental research and development organizations to the manufacturing and logistics backbone. We partner with clients around the world to help them develop facilities and technology infrastructure that meet their specialized, complex needs. Our portfolio includes critical facilities such as data centers and other cybersecurity, telecomm and semiconductor environments.
Experts in

Technology Infrastructure
Our architects, engineers, planners and regulatory professionals provide the full range of services that are essential to building and maintaining mission critical facility and data center operations. Whether it's integrating the newest and most efficient cooling systems, leading site design and permitting, or designing the entire power system, we have the resources and expertise to deliver just about any advanced technology facility project.
Global Tech Solutions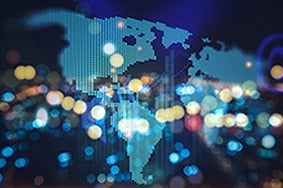 Our tech experts offer solutions for tech facilities in the following areas:
Architecture

Master Planning & Programming

Facility Layout & Space Management

Fire Protection Planning

MEP Engineering

IT/Telecom Engineering

Industrial Engineering

Utility Capacity Planning/Matrix Development

Facility Benchmarking & Best Practice

Logistics & Material Movement

Optimization of Product & Material Flow

Facility Growth/Expansion Planning

Value Engineering/Analysis

Energy Modeling
See all Awards & Rankings
The Numbers Speak
Data Center Architecture
Building Design & Construction
Giants 300