We Design to Unite People and Elevate the Human Spirit
We design to unite people and elevate the human spirit — and recognize that it's strongest when practiced from within. As a full-service firm that combines architecture, engineering, experience and many other related design services, collaboration is at the heart of what we do. We combine the expertise of various disciplines to approach projects from every angle. This rigorous process balances the needs of the project with the needs of the client — delivering solutions that last longer than style or trend.
This process is supported by our use of design technologies, which manage and translate vast amounts of data into designs that can be tested and manipulated in real time. The advanced tools and activities we employ (along with proprietary modeling and return on investment software) form a robust platform for project design and delivery.
Innovative architecture and design must change us, move us and allow us to become something new. We're motivated by the curiosity to investigate how that innovation can work across projects, places and people.
Design Matters, Always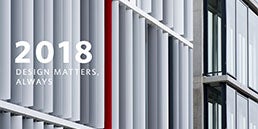 Doug Wignall, president of HDR's Architecture practice, reflects on some of our projects and shares how design matters — always — to our clients and staff around the world who use design as a common language.