Orange County Sanitation District Headquarters Complex
Orange County Sanitation District Headquarters Complex
"Honesty, Integrity and Respect" For Environment, Community
The new Orange County Sanitation District Headquarters Complex at Plant 1 is designed to illustrate OC San's core values of "honesty, integrity and respect for interactions between employees, the greater public and community." Working closely with OC San, our HDR team developed a design solution that engages the public through educational experiences, prioritizes employee well-being and returns value for public investment, all while focusing on precedent-setting, but cost-conscious, sustainability goals.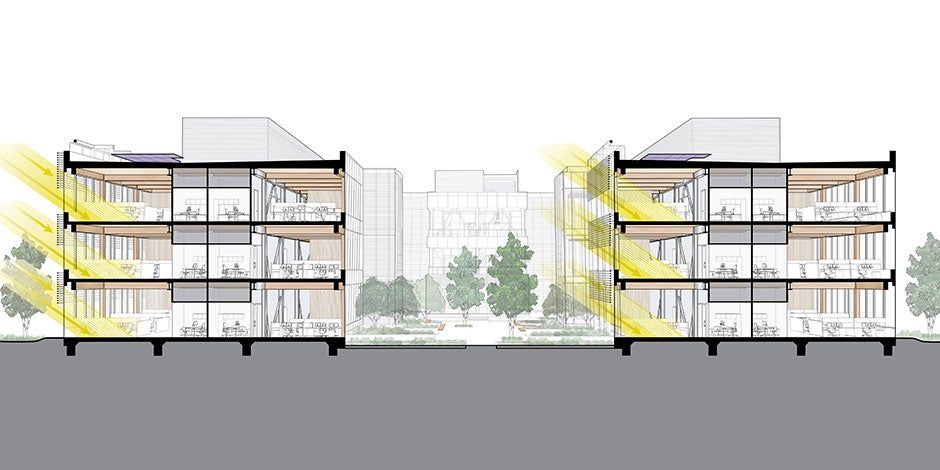 Net-Zero Design
With nearly every design feature contributing to improved green building performance, the overall design is practical, timeless, and thoughtful. Hybrid mass timber construction combined with expressed steel-braced frames reduces the overall weight of the structure and allows for faster and safer on-site erection. It also provides a natural warmth to the interior of the building while reducing the overall carbon footprint of its construction. Other sustainable design features that target LEED and net-zero energy certification include:
Electric vehicle charging stations
Low-impact development infrastructure
Sun-shading and building orientation to maximize daylighting while reducing glare and solar heat gain
Biogas energy generation and photovoltaic panels for net-zero energy use
100% building heating provided from waste heat of the plant operations
A Community Destination
Ergonomic workplace environments offer flexibility for different work styles, opportunities for connection and collaboration, and seamless integration of technology. Public spaces capture ample natural light, while being sensitive to glare and heat gain and supporting a high level of activity with acoustic sensitivity. To emphasize a welcoming posture towards the community, an immersive indoor/outdoor exhibit at the entrance of the space informs and inspires the wide variety of visitors coming to OC San. Public tour touch points are thoughtfully integrated throughout the indoor/outdoor exhibit and the building interior. A new pedestrian bridge spans from the Headquarters building over a heavy traffic road, to the inside of the secured perimeter of the treatment plant, providing safe access for employees, utilities, and visiting tour groups.
Jury Comments from AIA LA | COTE NEXT Awards 2019:

The integration of sustainable strategies was very embedded within the design. We appreciated how this team was really looking at innovation and new models that can impact future development within the region and have a bigger impact beyond just a single project. We were very impressed with the energy performance and the renewable strategies. This project had so many integrated sustainable strategies, many of, which are not in widespread use, such as mass timber frame. It's particularly notable for its use of biogas as a resource, which is normally something that's considered waste. What was unique about this project is the ability to use its own infrastructural processes as an energy source for itself.