Needles Third Main Track Expansion
Needles Third Main Track Expansion
Designing and Managing Construction of BNSF's Mega-Project in Southern California
Nearly 50 miles of new BNSF third main track along the southern transcontinental corridor through inland California will help connect Chicago to the California coast, supporting intermodal and freight supply line services through one of the nation's busiest corridors and to/from one of the largest international trading seaports in the world.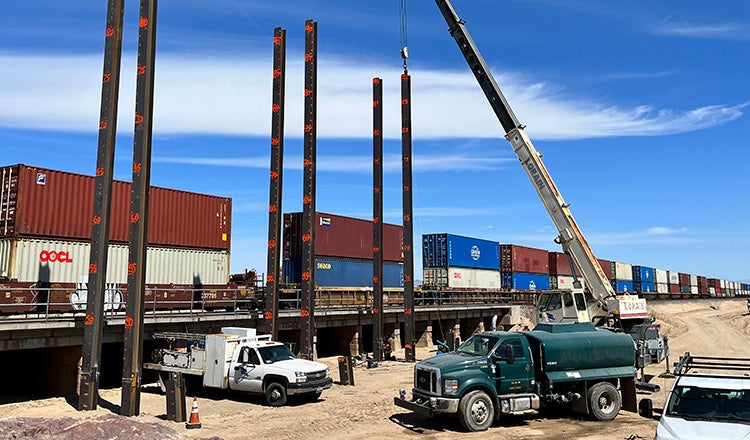 As the design lead, HDR is providing project management for this four-segment project and is playing a key role in assisting our client on delivery of the single largest capital expansion project for freight line goods movement in the United States. In addition to designing the main track alignment, profile and embankment, HDR performed all hydrological and hydraulic analysis to support BNSF's structural design of 50 railroad bridges in segments 1 and 2. We also supported the structural design of about 40 additional railroad bridges and bridge widenings in segments 3 and 4. And our team provided designs for several unique pipe culvert, arch and box culvert extensions of various types, geometries, sizes, spans and materials. Our team performed significant geotechnical field investigations and analysis to determine site-specific geotechnical recommendations including depth and capacity recommendations for more than 60,000 linear feet of driven steel pile and nearly 10,000 linear feet of socket pile installations.
HDR's scope of work also includes design of all turnouts, crossovers and signal pads, as well as new pier protection walls at the existing Caltrans highway I-40 overcrossing. Finally, we are redesigning the existing private and public crossings impacted by the proposed third main track alignment, requiring project coordination with several transportation agencies and local county authorities including Caltrans, California Public Utility Commission, and the departments of transportation for Nevada and Arizona.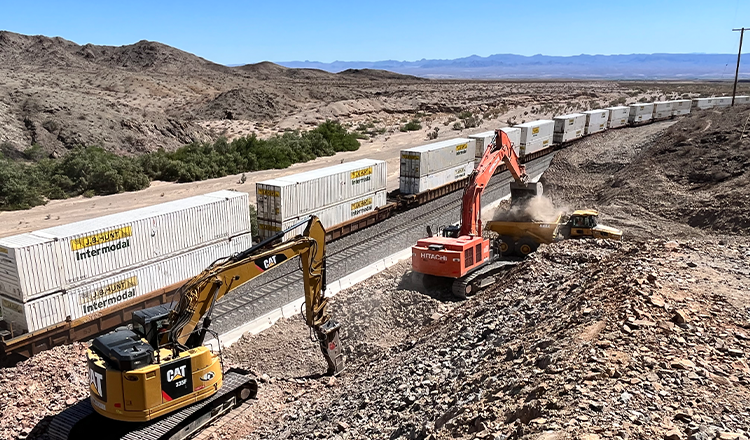 In late 2021, the first two segments of the project were put to bid and — with a contractor selected to commence civil construction services — the HDR team began field inspection and coordination services alongside continued overall project management. Our team will continue this work through the first quarter of 2023 as the first 30 miles takes shape.
As part of these field services, HDR:
reviews all material and workplan submittals provided by the contractor
addresses all field related issues and requests-for-information
monitors safety hazards and daily compliance per OSHA and BNSF's guidelines
addresses contractor design questions and contract specification interpretations
observes completed contract work and contractor's continued quality control/assurance
monitors project expenditures of contract bid items, coordinates with BNSF for approved change orders on any out-of-scope work
administers the weekly construction progress meetings including tracking of critical action items, minutes and coordination with all associated project workgroups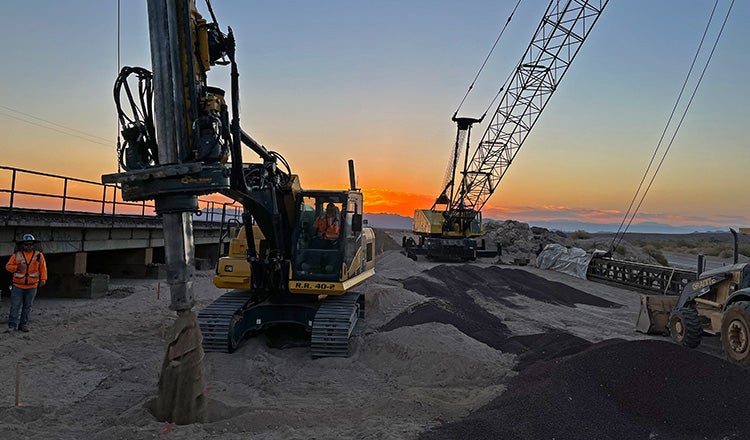 Key elements of the work and project challenges include:
All work must be constructed within existing BNSF property, with limited access to the BNSF rights-of-way through adjacent Bureau of Land Management territory
Minimizing impact to existing train operations and movements
Working in a remote, dry and hot desert terrain
Environmentally sensitive area, which includes coordinating work around live tortoise habitats, nesting bird habitats and other endangered or threatened species
Geotechnical parameters across the project limits requiring unique pile driving requirements and potential rock blasting through proposed excavation zones of hardened granite rock faces
Hydraulically sensitive area with potential sudden and fast-moving high storm water events requiring individually evaluated areas with unique rip-rap revetment designs to protect against localized scour or complete bridge washout; and,
Timing and phasing of project critical components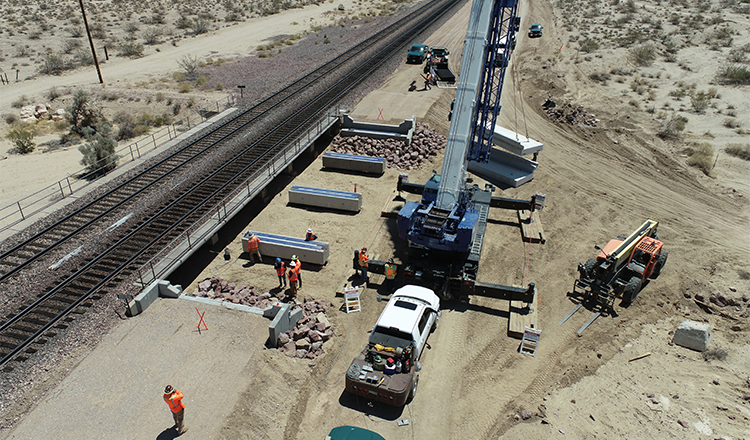 CM/GC-Lite
This project is being delivered through a modified version of a construction manager/general contractor setup. While the project was procured as a traditional design-bid-build, preconstruction services were provided by an independent cost estimator and constructability review services firm. That firm provided insights on constructability throughout the design phase and estimated rough order of magnitude costs for the client to evaluate in near-real time the estimated returns on investment. This methodology has been adopted widely at BNSF to minimize construction project delays and out-of-scope construction costs.
This structure allowed BNSF to plan accordingly for capital costs throughout the project life and reduce overall project construction risks to the railroad.  As a testament to this approach, through nearly eight months of construction services on the initial two segments of the Needles 3MT project, out-of-scope construction costs are less than 1.25% of the original construction contract.
Segments 1 and 2
This section is a $155 million capital improvements program that spans about 30 miles from Needles to Goffs in the Mojave Desert. It includes hills, grade crossings and nearly 80 culvert extensions designed by HDR with about 50 bridges designed by BNSF. The team has worked around several issues, including the need to supply fill material for berm/embankment widening for new third main track construction while limiting the global impact to environmentally sensitive areas and waters of the U.S., the need to build moisture conditioned embankments in the middle of the desert (e.g. construction water supply), and the need to minimize impacts to existing railroad operations while delivering new miles of mainline track for improved supply lines services as soon as viable.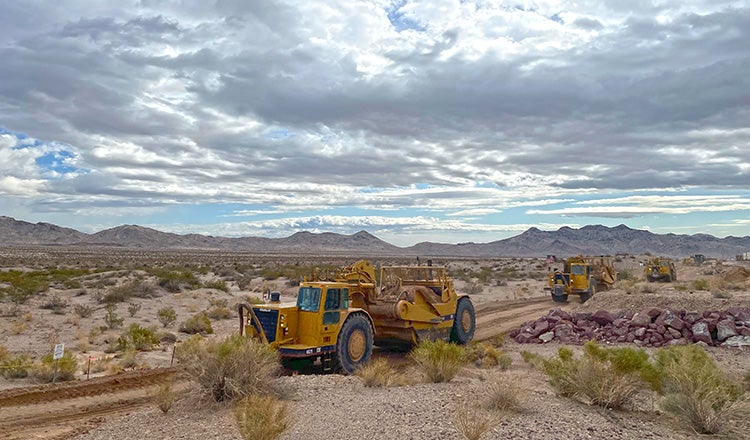 The goal of these two segments is to facilitate improved service operations heading into/out of Needles. It includes nearly 2,000 feet of elevation gain between Needles and Goffs. With increased train lengths and heavier freight loads, this hill is quite labor intensive to climb and can create operational bottlenecks. We reviewed several options to yield an optimized track alignment to double the track capacity heading west of Needles.
The site abuts the edge of the former Camp Ibis, considered a Formerly Used Defense Site by the U.S. Army Corps of Engineers. This is a historic site in the Bureau of Land Management land use strategy, and asphalt and road striping can still be seen through this area for abandoned stretches of the historic Route 66.
Construction for these segments is scheduled to be complete in 2023.
Segments 3 and 4
This stretch contains nearly 22 miles of new third main track and contains over 30 new capital expansion bridges (along the new mainline) from Ash Hill to Bagdad in the Mojave Desert, located about 50 miles east of BNSF's Barstow Yard near the I-15 and I-40 interchange.  This $100 million capital improvements program also includes seven HDR redesigned bridges slated for demolition and reconstruction along the existing double main tracks. Additional design work by HDR alongside the overall project management for these two segments includes more than 20 uniquely sized and shaped steel pipe, corrugated steel plate arches, and concrete box culvert extensions.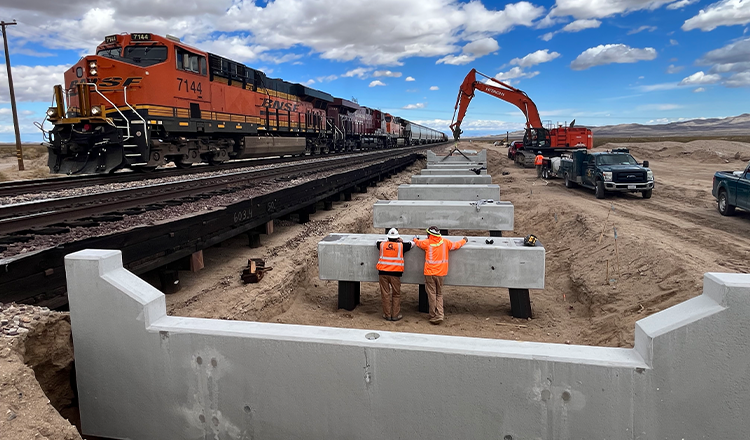 Like segments 1 and 2, segments 3 and 4 required our team to review several options to create an optimized track alignment that will essentially double the track capacity through the long mile elevation climb between Ash Hill and Bagdad.
Construction is tentatively scheduled for 2024-25.