North Island College Student Housing
North Island College Student Housing
Much-needed affordable student housing is coming to North Island College's Comox Valley campus with the design of its first-ever Student Housing complex. The project, comprised of two four-story buildings, brings 217 beds and a host of community-centric amenity spaces to campus. A range of living accommodations — studio, quad, two-bedroom family, and accessible apartments — supports the College's diverse student population. Amenities — including an outdoor kitchen, playground, amphitheatre, community and learning gardens, lounges, an interfaith room, wellness center and Indigenous gathering place — make on-campus living ideal for students from all walks of life.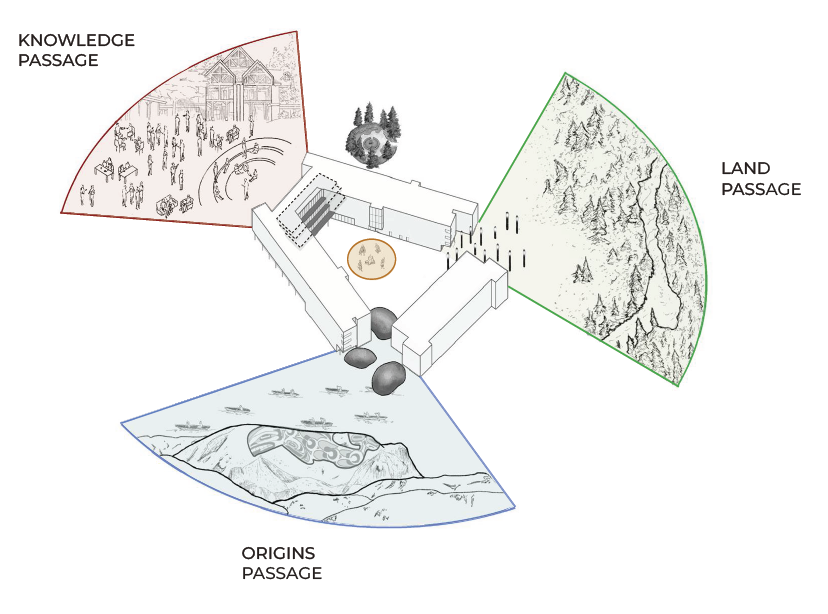 Indigeneity Drives Design
The site is a physical expression of North Island College's commitment to deepening awareness and understanding of the traditional territories where the campus is located. Extensive research into traditional methods of building and ways of living, informed by the K'ómoks First Nation, is woven into the building's orientation and organizational structure. Of particular importance are the powerful site passages at each corner of the complex — Origins, Land and Knowledge — each designed to be a physical manifestation of the history of the K'ómoks people. These spaces develop students' sense of belonging and pay respect to Indigenous peoples. In addition, a Hearth located at the center of the interior courtyard and an indigenous gathering space is included in the design to offer students the opportunity to experience Indigenous culture first-hand.
Sustainable Design for On-Campus Living
In alignment with passive house principles, the complex is designed for significant energy and greenhouse gas savings. Utilizing mass timber, a carbon sequestering material, and wood framing, the buildings will reduce embodied carbon over other materials. The landscape incorporates native planting for its resiliency and easy maintenance. A central, biodiverse stormwater feature filters rainwater into a garden that can be appreciated throughout the site. To support all students and visitors of the site, the building is designed to achieve Rick Hansen Accessibility certifications.