Article
Designing for Health Sciences Education: Specialty Instruction and Human Anatomy Labs
This is the fifth article in six-part Designing for Health Sciences Education series.
The last article in this Designing for Health Sciences Education series took a deep dive into the planning and design of clinical skills and simulation centers. Simulation spaces have certainly helped meet the moment in health sciences fields. They provide unique opportunities for hands-on, problem-based learning, interprofessional education, and technology exploration. But there are other active learning spaces to consider in health sciences education facilities that must be purposefully-designed for specific skills mastery within a particular discipline. It is a careful balance within any educational facility to provide both multidisciplinary, multiuse spaces and special-use spaces that serve particular functions.
Basic Science Instructional Labs
For allied health professions, nursing, public health and other health education programs that accept students as undergraduates, the basic life sciences of biology and chemistry form part of the early curriculum and require instructional laboratories. These labs will be the first opportunity that students have to manipulate materials that can be dangerous if improperly handled. The environment must support both safety and a productive learning environment.
Usually students have had a lecture session prior to their lab activity. Lecture sections are still often quite large, and then lab activities are broken into smaller sections, with one teaching assistant in charge of 12 to 16 students for lab. Teaching labs are commonly sized for 24 students for freshman labs and smaller lab sections for more advanced activity. 
Key design considerations include:
Optimized Group Work: Groups of 2, 4, 6 or 8 students often work together on a particular experiment. The space allocation and tools needed by each group must be considered as well as visibility by others, including the instructor.
Sufficient Circulation Space: Appropriate, sufficient circulation space within the lab that allows for transport of materials through the lab and waste to its proper location for removal.
Shared Resources and Storage: Shared resources such as chemical storage, dispensing and waste, safety showers, fume hoods and other common equipment must be located to maximize efficiency and safety.
Demonstration Space: Space for the instructor or teaching assistants to demonstrate the activity, which may be as simple as a whiteboard. Long instructor benches are often not needed in modern teaching laboratories, but a defined area for this initial instruction is vital.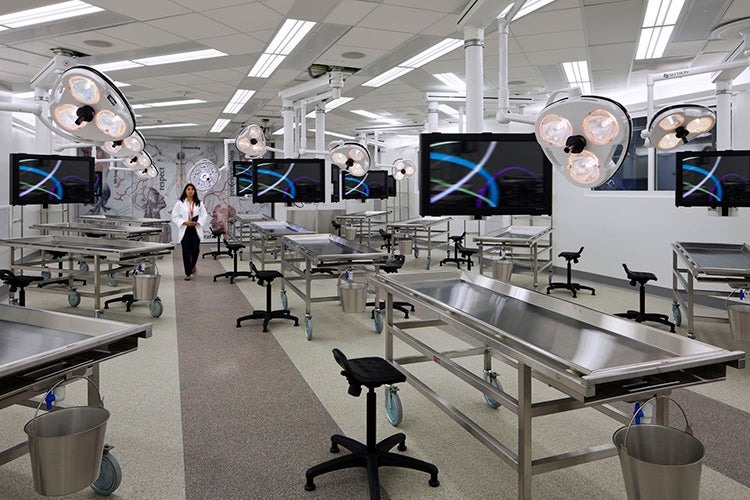 Gross Anatomy and Virtual Anatomy Labs
Another major area of active learning is human structures/anatomy. The method of teaching anatomy within health sciences education varies from institution to institution. Some institutions want students to have the physical experience of working with cadavers using all their senses; however, a growing trend is the rich use of technology to teach virtual anatomy. 
Today's advanced use of 3D technology allows students to observe and gain knowledge of more conditions than might be experienced with a single cadaver in a gross anatomy lab. Many health science education institutions want students to have both gross anatomy and virtual anatomy education as part of an undergraduate experience, while others provide gross anatomy capability only to graduate students. 
Key gross anatomy lab design considerations include:
Cadaver Transport: Transport of cadavers from origin to the anatomy lab should be as private as possible and not allow any observation by patients, families or casual observers.
Air Flow: Proper air flow is crucial. Air flow and utilities must be coordinated with both table selection (which can range from standard tables to backdraft or downdraft tables) and the corresponding fixed and movable equipment. 
Table Selection: The number of students working around each table should be understood, and access to all four sides of the table may be needed. If multiple levels of students/faculty are using the facility, one possibility is the rotisserie table, which holds two cadavers, allowing the one to be actively worked on to be rotated to the top while the other is underneath. 
Adjacent Resources: Changing rooms, scrub sinks and other ancillary support facilities must be adjacent to a gross anatomy lab.
Virtual anatomy may be taught in a variety of ways. It is often taught in a dry lab that is rich in technology and can be shared with other virtual functions. Anatomage tables provide 3D visualization for students to study anatomy, working alone or in small groups just as they would in a gross anatomy lab.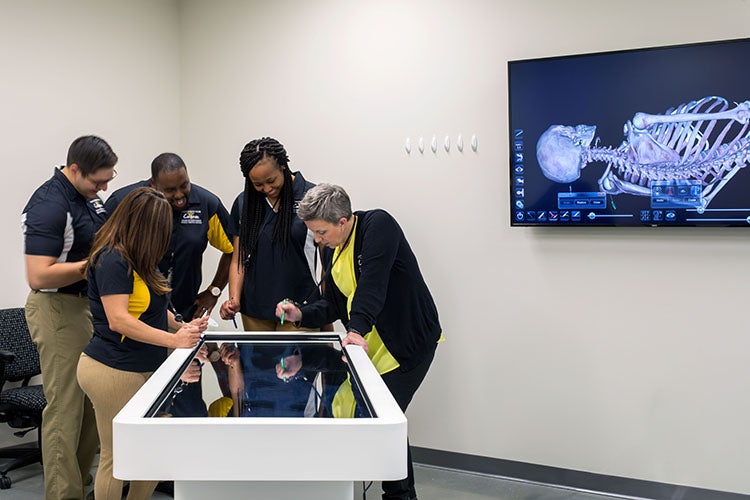 Specialty Instructional Labs 
Each health profession – be it medicine, nursing, dentistry, pharmacy, physical and occupational therapy, respiratory therapy, or another specialty — has specific labs and equipment that students need to master during their education. While some of these specialty spaces can be shared, their layouts and requirements are specific and need to meet the accreditation requirements of that professional organization. Therefore, designers need to avoid being overly generic in their attempts to be flexible. There are many ways to provide flexibility and multifunctional spaces, but there comes a moment when "too vanilla" meets the needs of nobody.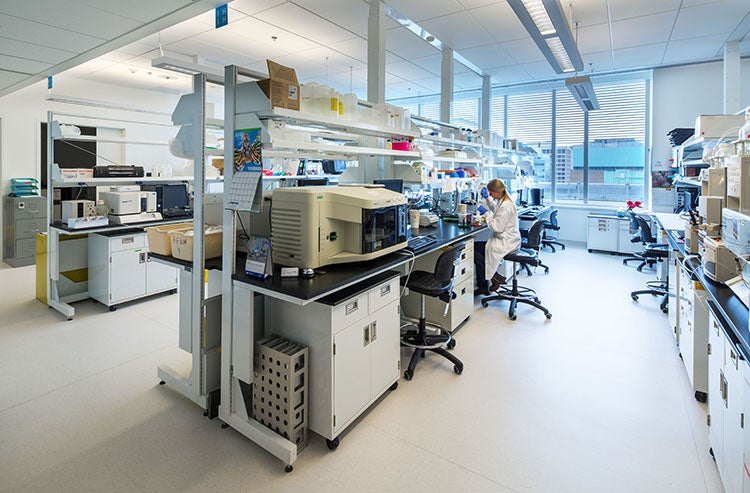 For these specialty spaces, the functions must be clearly understood, along with their space requirements, tools, and student stations. A physical therapy lab needs mats, tables and other equipment and may have different stations for different anatomical issues. A pharmacy lab may be needed to teach compounding, and this will require bench space, materials distribution and appropriate air flow. Respiratory therapy, occupational therapy, and food and nutrition labs likewise have particular functions that must be understood.
Bioengineering, or the incorporation of artificial materials and devices into the human body, is a growing focus area of medical science. Collaboration between medicine, engineering, physics, gaming technology and computational sciences is growing more common, and laboratories and active learning spaces for these disciplines to work together will be increasingly important in health sciences education. 
Conclusion
As the country emerges from the pandemic, it will be interesting to see how the new emphasis put on virtual learning will fundamentally change the way we think about health sciences education. Some of the new practices that emerged will be invaluable going forward, not only to allow both synchronous and asynchronous learning online, but to ease and enable distance learning and co-learning on different campuses. But active learning environments will continue to play a key role in education. And simulation centers, clinical skills environments, and human structures and instructional laboratories will continue to provide a safe place to practice the essential care skills that support successful patient care in the future. Designers must keep in mind not only the activities that will occur when the building opens; we must provide flexibility in both spaces and infrastructure to allow future changes in curriculum, pedagogy and technology without huge cost and disruption. This is key to designing successful educational facilities for our future health care providers.