Article
Unprecedented Access with Unmanned Aerial Systems
Data Acquisition Technologies Offer New Angles, Perspectives for Engineering Achievement
Much of what's written and discussed about drones — unmanned aerial systems — focuses on the uncertainty of this technology. Is it safe? Does it infringe on privacy? Does it replace the expert, trained eye of a technician? Who are the pilots and can I trust them?
Those elements of safety, privacy, precision and trust make each flight important. And, as we plan and take the right steps, the flight also leads to awe-inspiring moments. There's nothing quite like hovering 15 feet away from a dam spillway, a raging river cascading down a mountainside, and capturing that force of nature with the highest-definition cameras. Talk about a rush. My job takes me places I only imagined as a kid.
But what's more satisfying to me is talking with a dam or bridge engineer about their goals (i.e., the big picture) — what could be and where they're planning to go if only they had the means or perspective.
I love taking their ideas and saying: I think we can go there. We can isolate that place 75 feet above the river and 15 feet from the spillway — the place only viewable by propelling down the spillway with a rope or by, you know, a bird in flight — and help you determine if the dam has cracks that need repair. And we can send footage to a data scientist in our Data-Driven Design team who can build an artificial intelligence algorithm to measure and validate the findings. And thus we can help you protect the millions of people who rely on that dam.
Those discussions are absolutely thrilling to me. But I wouldn't describe the work as cavalier or uncertain in any way. We're talking about well-planned flights that provide increased amounts of relevant data to highly educated and skilled professionals. People who have been analyzing data and assessing the natural and as-built environments their entire lives.
I'm absolutely grateful to work alongside these colleagues. To support them, our data acquisition services range from the more procedural side of things to the truly innovative. And we perform our work with the best of intentions. We explore what's possible; do what's right; and create new realities.
In my more than 20 years of advanced surveying technology, managing teams that surveyed tens of thousands of miles of transmission lines, pipelines and railways, I've never seen a period where advancements occur with the frequency we see today.
A Few Recent Data Acquisition Technology Highlights
Diablo, Ross and Gorge Dams, Seattle City Light, Washington
We used drones to complement or add value on SCL's Diablo Dam. We also performed spillway inspection services for Diablo, Ross and Gorge Dams.
Our UAS services complemented and supplemented the physical inspection for the Diablo Dam. We captured video and imagery and set out ground control points to tie into SCL's survey network. A composite 3D model was created to provide additional data for the spillways. We introduced artificial intelligence to delineate the cracks and spalls on the spillway and presented the results to SCL.
Routine Bridge Inspection Using UAS, Kent County, Michigan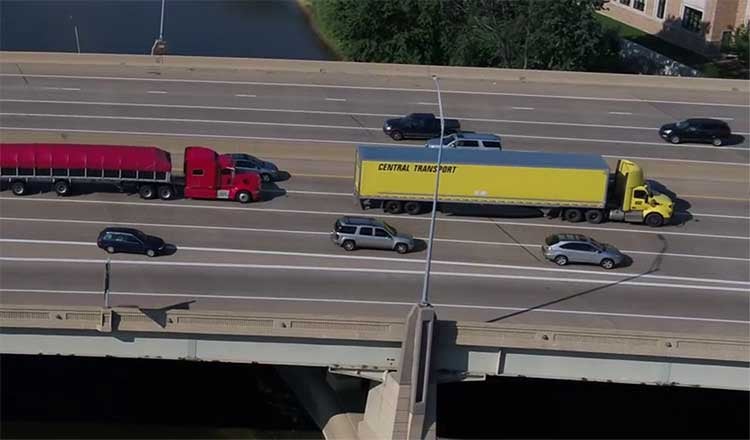 As a pilot project, and the first official bridge inspection using a drone for the state of Michigan, we provided a proof of concept that bridge condition data could be collected this way. We used a drone to prepare a routine inspection report, and we updated element-level condition state quantities and defect code reporting. For select components of spans over the river for side-by-side bridges, we provided routine visual and element-level bridge inspection services with UAS technology.
Resource Innovation Campus Master Plan, City of Phoenix, Arizona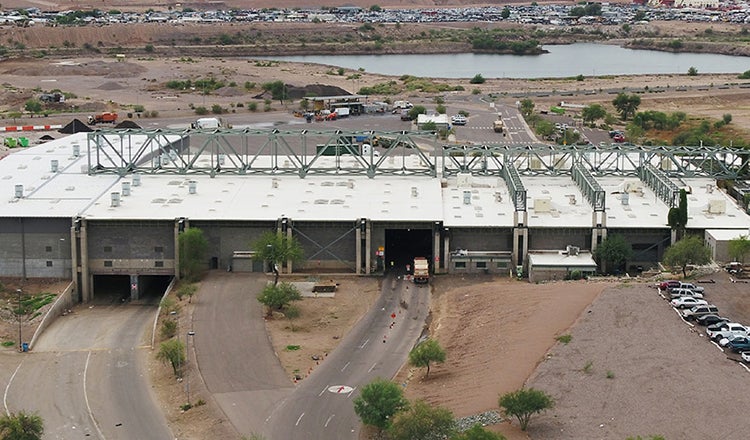 The "Phoenix Reimagined" initiative includes a goal to increase the city's solid waste diversion rate to 40% by 2020. We were entrusted to help create a campus-wide master plan to take inventory of existing tenants and to plan for build-out growth. As a 2018 task, Phoenix requested an updated aerial image to show the compost facility addition. HDR self-performed the aerial collection by using our drone program, and we provided a high-quality aerial image. We then exceeded expectations by providing 3D model and flyover videos of the projected campus through the use of UAS mapping.
How Do We Get Started? The Exciting Challenge Before Us
Our clients must address regulations and difficult financial decisions related to aging infrastructure, security and a changing operating environment.
Meeting these challenges begins with data. Our teams provide many data collection capabilities in aerial, marine and land settings.
We offer flight capabilities in-house, and we use our internal skills and service agreements with key partner providers to capture or process data and create unique deliverables in 2D or 3D format. Our planners and pilots are thoroughly familiar with Federal Aviation Administration air space.
An Open Forum
Let's create a dialogue. I'd like to share our team's data acquisition technologies with you. Going far beyond drones, we'll also look at LiDAR, geophysics, handheld GPS, ground survey, mobile survey, satellite image processing, hydrographic survey, non-destructive testing, and artificial intelligence. I hope these tools give way to new perspectives.