NEWS
First HDR Australia Fund Grant Delivers Food and Water to Flood Victims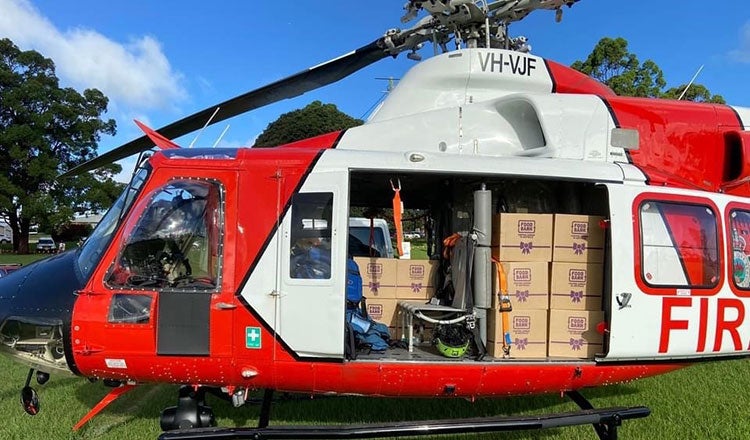 HDR Employees Raise $10,000 for Disaster-Hit Australians as Part of New Philanthropic Program
Employees across HDR's three Australia offices have responded to the catastrophic flooding in northern New South Wales with an AU$10,000 grant to Food Bank Australia.
The money will go towards delivering food and water to people displaced from their homes.
"HDR has a culture of giving to communities in hardship, and the floods have put many into dire circumstances," said Cate Cowlishaw, managing principal for HDR's architecture practice in Australia. "It felt important to help people rebuild their lives."
The grant is the first awarded through the recently established HDR Australia Fund, which gives HDR's Australian employees the opportunity to participate in philanthropic efforts including fundraising, grant sponsorship and grant-making. More than 100 employees rallied to raise the funds during the HDR Foundation's annual Day of Giving in March.
"The HDR Australia Fund provides another powerful way to support the local communities we serve every day through our contribution to the built environment," said Mark Fairweather, managing director for Australia. "I'm proud of my colleagues across Brisbane, Sydney and Melbourne for getting behind this cause so enthusiastically, ensuring flood victims continue to receive the support they need in the aftermath of this extreme weather."
The HDR Australia Fund mirrors the employee-driven philanthropic efforts of the HDR Foundation, which was founded in the U.S. in 2012. 
"The fund allows us to provide solutions that help restore and reinvigorate our communities," said Garry Wall, managing director of building engineering services APAC. "It drives our passion in everyday architectural and engineering jobs and aligns with HDR's professional aspirations."
With the help of grants and donations, Food Bank NSW & ACT has helped deliver more than 75,000 kg of food to flood-affected areas in northern NSW to date. This equates to nearly 150,000 meals. In addition, within days of the highways reopening, Foodbank trucks delivered 1500 crisis hampers, 15 pallets of water, and 23 pallets of bulk food, including Weet-Bix, feminine hygiene products, baby food, milk, and canned food.
About the HDR Foundation
The HDR Foundation provides grants to qualified organisations that align with HDR's areas of expertise: education, healthy communities, and environmental stewardship. As an employee-funded and employee-driven foundation, preference is given to organisations located in communities in which HDR employees live and work, and those with strong employee involvement. Since its inception, the HDR Foundation has provided more than $5 million in grants to over 200 organisations.
About HDR 
For over a century, HDR has partnered with clients to shape communities and push the boundaries of what's possible. Our expertise spans more than 11,000 employees in more than 200 locations around the world — and counting. Our engineering, architecture, environmental and construction services bring an impressive breadth of knowledge to every project. Our optimistic approach to finding innovative solutions defined our past and drives our future.