NEWS
HDR Wins Esri Special Achievement Award in GIS for Work on Ontario Line Subway Program
HDR has received a Special Achievement in GIS Award by Esri for its effective enterprise implementation of geographic information system technology to deliver better services. Esri is a global leader in GIS software, location intelligence and mapping, and each year, honors the clients and projects that set new precedents for success in the GIS community.
HDR was chosen from more than 100,000 customer organizations worldwide and honored for its work on the Ontario Line, a CA$10.9 billion rapid transit line with 15 proposed stations that will run nearly 10 miles through downtown Toronto, from Exhibition Place to the Ontario Science Centre. HDR serves as technical advisor on the project.
HDR developed a planning portal using Esri's ArcGIS Hub cloud platform to assist the nearly 1,000 staff on the project team. The portal serves as an integral source for reviewing the latest 2D alignment, properties, utilities, environmental impacts and 3D station design. It combines GIS, CAD and BIM data in a dynamic environment and acts as the single source of truth for all consolidated 2D and 3D data.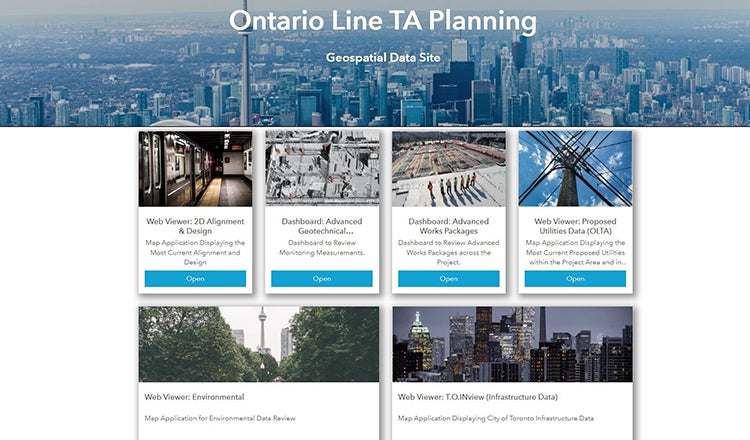 The integration of GIS and BIM means that team members realize enhanced efficiencies, removing the need to duplicate information from one ecosystem to another.
"The portal has been an incredible tool for the entire team," said Cameron Schaefer, P.E., HDR's transportation data acquisition and reality mesh director. "Designers, project managers and client representatives, along with team members who don't typically work in advanced design platforms, can access complex and incredibly large data sets through a single web link."
The award recognizes continued strides by HDR in integrating GIS and BIM technology. HDR also recently announced it was becoming a Platinum partner in the Esri Partner Network, one of just 17 firms at that level. The partnership will help support communities with data-driven geospatial solutions for infrastructure, buildings and development.