NEWS
PRSA Recognizes Public Communications of Louisville Water and HDR Team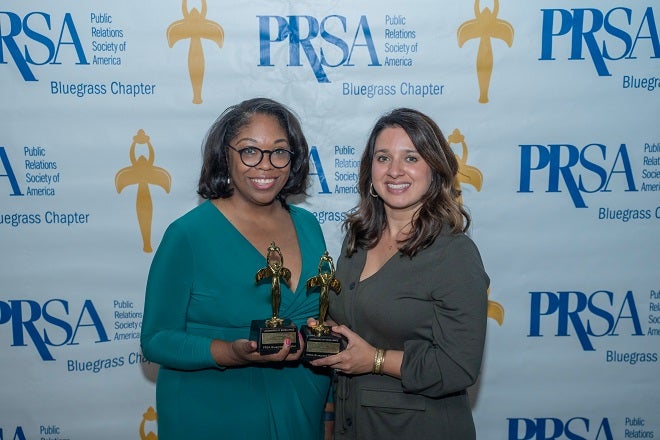 The Bluegrass Chapter of the Public Relations Society of America recently honored Louisville Water with two Landmarks of Excellence Awards. The awards represent the chapter's highest distinction in the Video Shorts category and the Public Service Communications category.  
Louisville Water, along with strategic communications partner HDR, attended the ceremony. Both awards recognized the communication work involved with the meter upgrade project and the launch of the Pure ConnectSM portal.  
The first award honored the team's public service communications plan for the utility's advanced metering infrastructure efforts, which include meter upgrades, a transition to monthly billing and the launch of the new customer portal branded as Pure Connect. The second award recognized the educational video series created to assist in the launch of Pure Connect. The portal was launched in March 2022. New customer portal usage increased by 150% in just six months and has reached more than 100,000 users. 
"HDR provided AMI communications support to Louisville Water so that brand alignment was prioritized throughout the project with internal and external engagement and communication planning, creative support, focus groups and overall change management facilitation," said Ameerah Palacios, APR, strategic communications lead for Kentucky-Tennessee-Arkansas and project manager for the team.  
HDR's Strategic Communications Project Team Supporting Louisville Water: 
​​​​​Project Management: Ameerah Palacios, APR 
Coordination: Stephanie McCullough Thomas and Chelsea Joyner 
Creative Director: Drew Watts 
Design Lead: Stefani Wilkens 
Copywriter: Marty Amsler 
Graphic Designers: Anna Deaton and Jordan Sheets 
Video Lead: Kevin Peleschak 
Animation Lead: Jake Scarano 
Advisor: Trina McGuire-Collier