Daniel K. Inouye (Honolulu) International Airport Restroom Modernization
Daniel K. Inouye (Honolulu) International Airport Restroom Modernization
Durable Solutions Create Comfort, Cleanliness and a Positive Impression on Passengers
With more than 20 million people passing through its terminals each year, Daniel K. Inouye International Airport is enhancing the passenger experience with a series of world-class modernization projects that HDR is supporting from our Honolulu office. Our work has involved design of multiple areas of the airport, among them dozens of restrooms — often passengers' first and last impression of a destination.   
In early 2018, we delivered design plans to modernize 23 existing pairs of lavatories and four family lavatories, plus one new pair for a total of 52 restrooms. In 2019, we began work on a second phase of restroom work, drafting designs for an additional 42 restrooms. Construction on the first phase of restrooms began in late 2018, and construction on the second phase began in 2020. Together the total construction cost is estimated at just under $50 million.
Challenges for the restroom modernization included an abbreviated design schedule, which required delivery of both sets of designs in 10 months or less. A sunset provision on the project's funding source drove the airport's aggressive timeline. We started right away by benchmarking passenger terminals at airports around the world, including Heathrow in London, LAX in Los Angeles and Sea-Tac in Seattle. 
Virtual Reality and Real-Time Design Feedback
We refined the interior design through constant engagement with the airport's management, custodial and maintenance staff, among other stakeholders. The critical role of stakeholder input, coupled with the compressed timeline, led to another innovative design technique for this type of project. We deployed immersive virtual reality to present our design concepts using the Google Cardboard platform, which made it possible for stakeholders to experience design features firsthand without having to wait for traditional renderings between design phases — and in a user-friendly format that did not require the ability to interpret drawings. Dozens of design options were explored for stakeholders through virtual reality, allowing them to see each possibility in place and make more informed decisions.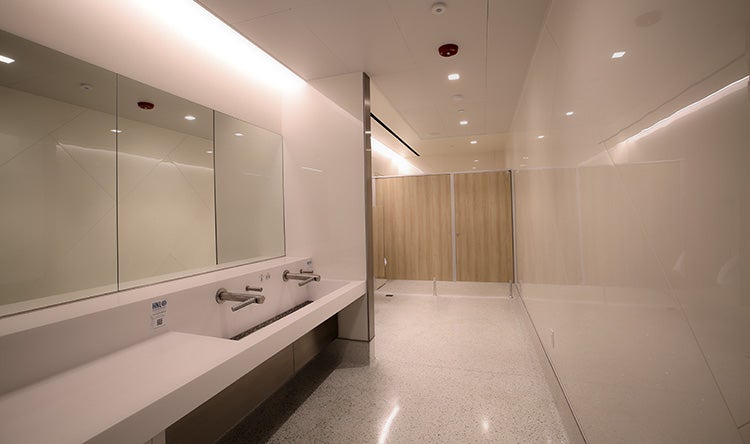 In addition, as restrooms in the first phase were completed, our strategic communications team used QR code surveys placed in restrooms to ask users about their experience in the new facilities. This real-time feedback offered data tied to each specific restroom and allowed us to refine plans to ensure our designs satisfied users as well as the Airport Division.
Innovating on a Compressed Schedule
Our designs were driven by the airport's need for durability, ease of maintenance, sustainability and accessibility. Drawing on our experience redesigning restrooms at Penn Station in New York City, we developed an approved palette of materials that could stand up to high-traffic, high-volume use, as well as being resilient in the face of vandalism or graffiti.
Sustainability innovations included addressing the Hawaii Department of Transportation, Airport Division's concerns about potential prolonged power outages resulting from a hurricane or tsunami event. For example, our restroom redesign includes the latest in product technology, such as self-charging flushometers. These allow water to flow through the receptacle and spin a turbine that stores the electricity needed to power each restroom fixture. 
At the sinks, we grouped the soap, water and hand-drying implements over a single, linear trough, eliminating maintenance related to soap drips and wet floors while also eliminating paper towel waste. Consolidated hand-washing stations also reduce movement inside the restrooms. Meanwhile, a central pumping system feeds soap to all dispensers, creating maintenance and cost efficiencies. 
Ensuring that the new restrooms are more comfortable and accessible for everyone was also a key design consideration. Bathroom stalls were made wider to accommodate travelers with suitcases or parents helping children. Family restrooms include adult-size changing pads. And new private lactation pods were added near the restrooms for nursing mothers, with custom Hawaii-themed graphics designed by our team to match the airport's aesthetics.