Interstate 24 SMART Corridor
Interstate 24 SMART Corridor
Originating in southern Illinois, United States Interstate 24 highway passes through Kentucky and Tennessee, to Georgia, where it links to Interstate 75 heading south to Atlanta. Interstate 24 forms the backbone of a commercial freight, high-traffic corridor route between St. Louis, Missouri, and Atlanta — with Nashville, Tennessee, located near I-24's midway point. This busy interstate highway doubly serves as the major daily commuter route for Nashville — number seven on Forbes magazine's 2018 list of America's fastest-growing cities. And to add to this fast-paced tempo, I-24 is the major gateway for millions of tourists who annually descend upon Nashville's "Music City," the heart of America's country music scene.
As a result, it is an ideal time for the Tennessee Department of Transportation to launch the I-24 SMART Corridor project. It consists of a comprehensive study which outlines a combination of geometric- and technology-based deployments to establish an innovative Integrated Corridor Management/SMART corridor along the I-24 corridor between Nashville and Murfreesboro (about 30 miles). The project's essential goal is to explore and put into practice the best methods to manage exponential traffic growth over the past decade along the Nashville region's I-24 corridor. Currently, traffic volumes during the morning and afternoon peak period exceed capacity, with a high rate of incidents. Even minor accidents can severely impact travel time and cause drastic traffic jams. However, physical, environmental and financial constraints along this corridor do not allow for viable short-term roadway widening projects. 
Taking an Integrated Approach
As part of the project team for TDOT's first-ever ICM study, our job is to design and develop an optimal mix of active freeway and arterial management, transit management, traveler information, ITS operations, technology, and infrastructure strategies to improve the mobility, congestion, safety and reliability of this corridor. This integrated approach examines how systems and solutions can link together to give travelers real-time solutions on travel across a broad corridor including freeways, parallel arterial roads, and connecting facilities to each. 
Representatives from HDR's Nashville office initially met with TDOT to discuss our service capabilities and define the scope, budget and schedule for this project. We worked with another consultant and TDOT to develop a project plan. Additional HDR ICM experts from other locations were brought in to help conduct a complex transportation study in an efficient and effective manner.  
The Federal Highway Administration first initiated ICMs via pilot programs in the mid-2000s. Currently, such programs are being set up more widely in heavily congested urban corridors nationwide. TDOT's SMART Corridor project provides for planning and systems engineering and construction of around $120 million in improvements as budgeted for the various solutions. We are performing a broad range of project roles: planning, modeling, alternatives analysis, stakeholder outreach and facilitation, system engineering, implementation planning, environmental analysis, and design.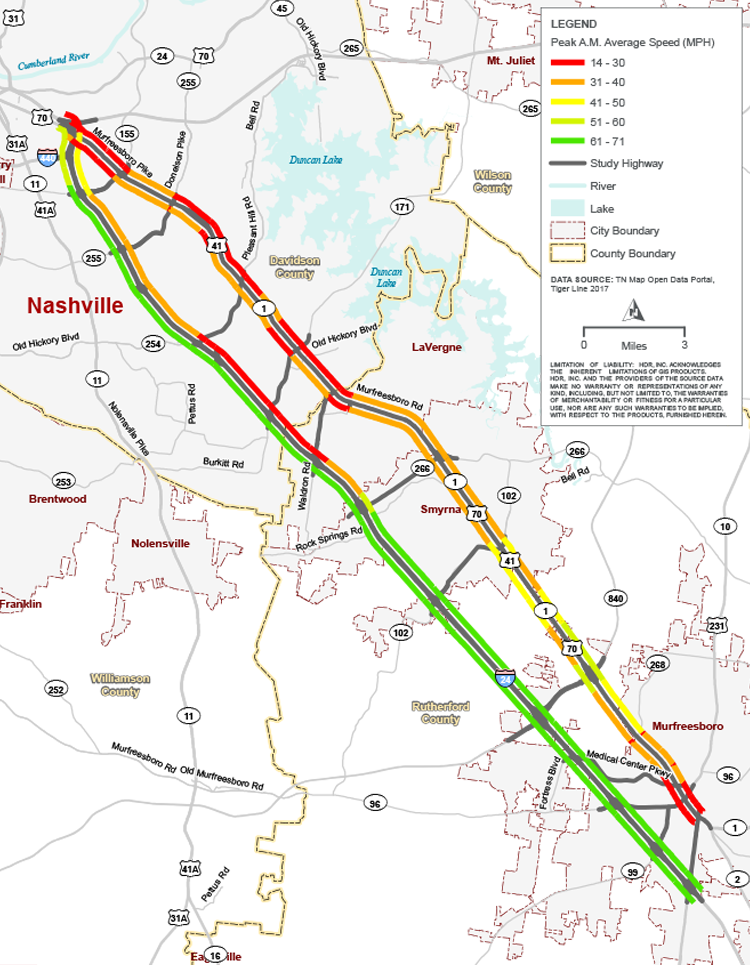 Identifying ICM Solutions
Our immediate aim is to help TDOT and its partners identify realistic short-, mid- and long-term ICM solutions to improve traffic mobility and travel-time reliability. These strategies include changing and refining policies, updating inter-agency procedures and communications, defining and implementing cost-effective infrastructure improvements, and introducing new technologies and assets to the integrated system. Additional strategies include the deployment of emerging technology-based solutions such as adaptive traffic signals with connected and automated vehicle priority/pre-emption capabilities and dedicated short-range communications along the interstate and arterial roadways. We analyzed all strategies under consideration by combining microsimulation, mode choice modeling, geographic information system and traffic analysis tools to assess the impacts, benefits and priorities of such strategies.
The project schedule is on the fast track, condensing what would typically require three years of work into 12-18 months. In addition, implementation (planning, design and environmental analysis) of the short-term project solutions will start within this same period. Our team thrives on this challenge motivated by our collective goal to help TDOT demonstrate to the public that the agency is committed to improving the reliability of this corridor as quickly as possible. Since this is TDOT's pilot program, it eventually could expand to include similar studies on other corridors in the state.