Interstate 70 Mountain Corridor Express Lanes
Interstate 70 Mountain Corridor Express Lanes
Managed Lanes Repurpose Highway Shoulders in Peak Periods to Improve Traffic Access
Residents near Idaho Springs and in Clear Creek County, Colorado, lived for years with weekend congestion on Interstate 70 that not only frustrated drivers but limited the response times of emergency vehicles and increased air pollution in the area. HDR partnered with the Colorado Department of Transportation, the Federal Highway Administration, local agencies, and other stakeholders to convert highway shoulders on both sides of the interstate into express lanes that operate under specified guidelines. This first-of-its-kind solution to the gridlock gets traffic moving more smoothly, without requiring the taking of more right-of-way in an environmentally sensitive area.
The Interstate 70 Mountain Corridor is Colorado's only east-west interstate and serves as the primary access route for residents and tourists travelling between Denver and the state's scenic Rocky Mountains. The Interstate 70 segment running from Empire Junction to the Veterans Memorial Tunnels east of Idaho Springs is one of the narrowest sections of the corridor, with the roadway located on the canyon floor adjacent to Clear Creek. This segment had experienced heavy traffic flows, causing severe congestion during peak periods, especially on Friday and Sunday afternoons. On some weekends, delays could be as long as two and a half hours to travel 8 miles. As a result, access was hindered to and from recreation areas (vital to mountain town economies) and also from western-slope mountain towns to medical services, education and employment in the Denver area, about 30 miles east.
Solutions to this severe congestion came in the form of two related peak-period shoulder lane projects: The $70 million Interstate 70 Mountain Corridor Eastbound Express Lane, opened in late 2015, and the $55 million Interstate 70 Mountain Corridor Westbound Express Lane, completed in summer 2021. Together, they significantly reduced the impact of this heavy traffic on businesses, residences and the overall environment. We provided planning, environmental analysis, design, context-sensitive solutions and construction support for both projects.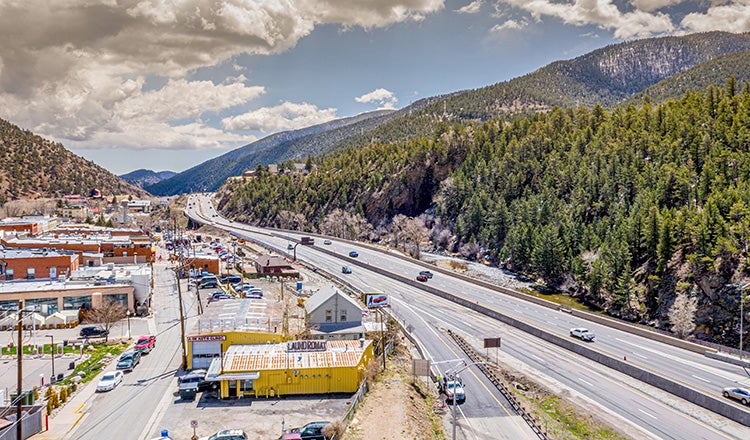 An Intelligent Transportation System Solution
Our team designed a 13-mile eastbound lane and 12-mile westbound lane within existing CDOT right-of-way, allowing traffic to use the shoulders during peak periods. These shoulder lanes are open only to drivers willing to pay a toll and use intelligent transportation system infrastructure, including active traffic management and dynamic pricing to manage reliability. The toll price falls to encourage drivers to use the lane and rises as the lane nears capacity.
When it opened in 2015, the eastbound lane was the first project in the United States to use a highway shoulder as a part-time lane based on recreational traffic instead of a regular commuter base. As talk began on relieving the congestion, serious public concerns were raised about any plan's potential impact on neighboring communities and the unique, fragile natural resources in the mountainous environment. Our team worked with CDOT, FHWA, local agencies, and other stakeholders to develop this context-sensitive solution, which operates the shoulder lanes on an interim basis and for a maximum number of hours and days annually.
This process and federal agreement allowed for local agency acceptance and avoided the need to acquire new right of way. It also avoided adverse effects to historic properties, minimized wetland impacts and minimized impacts to Clear Creek.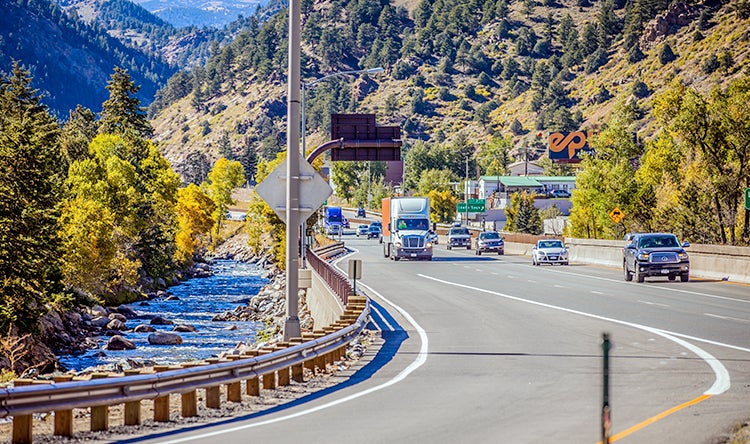 Faster Travel, Additional Improvements
Opened in mid-December 2015, the eastbound express lane has made a pronounced difference. The new lane contributed to a 40% decrease in travel time in the general purpose lanes in its first summer season. Traffic on adjacent frontage roads also was reduced. The corridor incident rate went down by 15%. Upon opening, travel speeds and improvements in the westbound lanes are expected to correspond with those already enjoyed by eastbound drivers. Similar benefits are expected when the westbound lane is opened in late 2022.
The projects also included the design and reconstruction of two major Idaho Springs interchanges, as well as two bridges, a roundabout, fiber optic upgrades, rockfall mitigation, strategic retaining walls to limit impacts to fishing and rafting along Clear Creek, and improvements to bicycle/pedestrian facilities and the historic Water Wheel Park — an iconic amenity in Idaho Springs. We helped improve wildlife connectivity by modifying existing median barriers so that wildlife can cross them. Safety and emergency response, maintenance and snow removal policies, and re-vegetation and erosion control measures were also addressed.
HDR helped CDOT obtain additional funding for the westbound project through a federal Infrastructure for Rebuilding America Grant. This not only helped fund the peak period shoulder lane project but also two important associated projects expected to complete construction in 2022: the Clear Creek Greenway and County Road 314 Improvements. The Clear Creek Greenway is a multiuse path that extends about half a mile east of Idaho Springs and is an important missing connection for the 13-mile Greenway through Clear Creek County. The County Road 314 improvements, which we completed as a blended team with CDOT, provide multiple roadway and multiuse path improvements. Both projects included close coordination with county and city leadership to minimize property impacts and to develop aesthetic treatments that set a design precedent for the rest of the county.