Judy Varner Adoption and Education Center
Judy Varner Adoption and Education Center
Transforming the Pet Adoption Experience for Both Animals and Humans
When Judy Varner retired, longtime Nebraska Humane Society President and CEO, key donors wanted to honor her decades of service and fulfill her dreams with a comprehensive shelter renovation.
The donor-funded modernization of their main shelter — originally a large warehouse-style grocery store which was repurposed through adaptive reuse by HDR more than twenty years ago — has now transformed the building into a state-of-the-art shelter. The renovation focuses on enhanced sheltering techniques with stress-reducing design with upgraded and tech-supported public services including a new adoption desk and gift shop, as well as welcoming and interactive adoption spaces.
By reallocating some of the shelter space, an additional 12,000 square feet of new animal housing space was made available. All aspects of animal housing and play areas have been upgraded to provide more space and greater comfort, enabling animals to feel more at ease and allow their personalities to shine through. The training room was upgraded to have collapsible partitions, which allow for flexible configurations and use a backup play space during inclement weather.
Historically at NHS, cats have been the most difficult to adopt, so the architecture wanted to feature them as a primary element at the entry lobby. To avoid stress from the busy rush of the space, the majority of the cats have been moved to a raised mezzanine overlooking the entry. The cats that remain on the first floor are given privacy through fritting on the glazed windows and soft barriers like extended benches.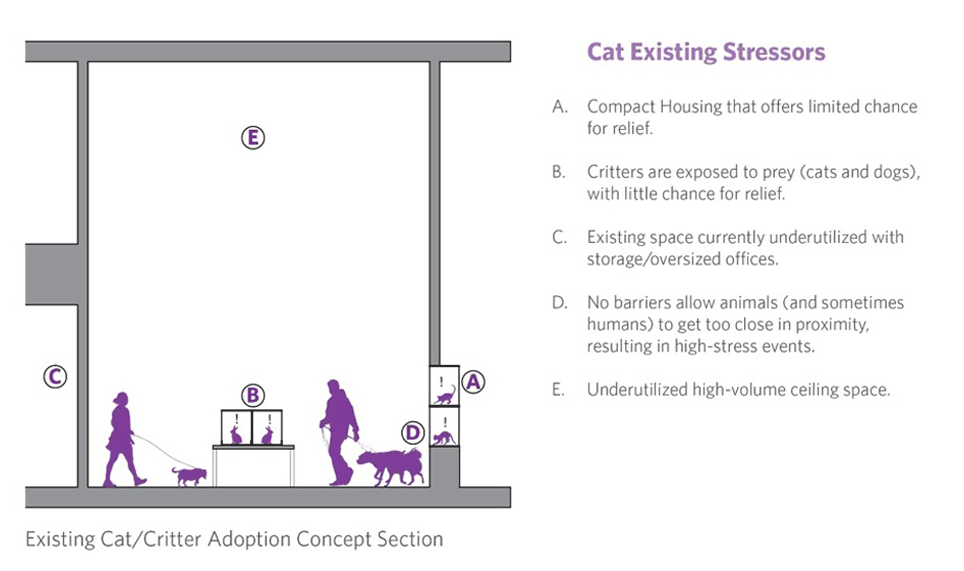 Housing for dogs was changed from linear, tight quarters that promoted bad-habits like pacing, to more spacious, home-like enclosures that offer the animals a chance for privacy if feeling stressed. Each dog adoption pod also was acoustically isolated from others to control noise. The outdoor dog run has new irrigation and shaded pavilions.
The space serves more than 20,000 animals each year. The renovation not only helps NHS continue to foster hope and enrich the lives of animals in need, it transforms the way the community views and interacts with adoptable animals.