Article
Designing Memorable Experiences in Women & Infant Care
Every woman — no matter her age, socio-economic status or general health condition — will experience gender-specific healthcare needs, whether for preventative screenings, obstetrical care, gynecological services or infertility treatments. This specialty area is often a woman's first window into the healthcare world, which creates an opportunity for health systems to treat the physical space as an important tool for fostering long-term engagement and loyalty. When a woman has a great experience, she's likely to return for follow-up care.
These eight fundamental design ideas create those memorable experiences, developed by our clinicians and women's health specialists who have studied approaches to women's design for over 20 years.
Design for a New Healthcare Model
Assist rather than hinder adaptability to emerging realities by anticipating change in delivery methods and patient care needs as healthcare markets continue to evolve. Consider acuity adaptable, similarly sized, flexible spaces that are integrative of new technology, process and staffing requirements.
In the case of a new OB unit, this may involve designing high-risk antepartum rooms to flex as labor and delivery or postpartum rooms depending on patient volumes, or sizing consultation rooms identical to exam rooms to ensure future flexibility in a new women's clinic.
In Minneapolis, Allina Health's Midwest Fetal Care Center/Minnesota Perinatal Physicians was designed from the beginning with the idea of creating "the clinic of the future." Designers thoughtfully considered every possible scenario that could arise today, tomorrow and beyond. A large teaming room at the core of the clinic is enclosed with glass walls, allowing acoustical privacy, yet encouraging transparency and collaboration. And a state-of-the-art conference room, which incorporates technological advancements that allow live communication with the teams in the operating room above, as well as with fetal care experts around the globe.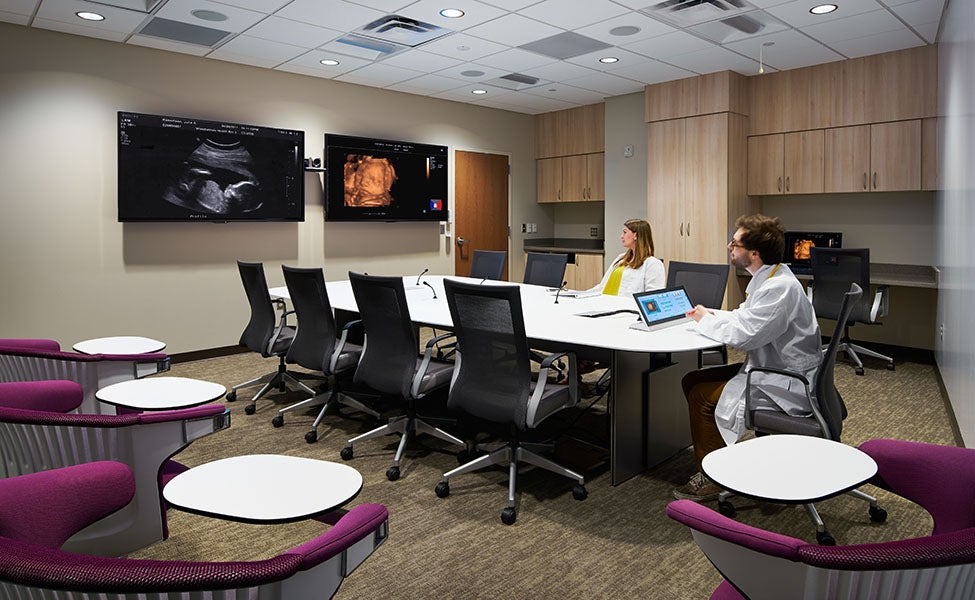 Provide Spa-like Amenities
In an increasingly crowded market, organizations providing women's services must think of ways to differentiate themselves from their competition. Women are some of the savviest healthcare consumers, who shop for the best money can buy. Thoughtful design can help organizations retain existing patients, as well as attract new ones.
The environment needs to be soothing, calming and provide positive distractions to alleviate stress. It can and should include an organization's brand elements, spa-like amenities, intuitive wayfinding and a distinctive front door. Spa-like elements can be present not only in the patient room, but incorporated in the bathing experience as well as public spaces.
Promote Healing Environment
Research shows that the more control a woman has during labor, the less likely she is to require a medical intervention, which greatly increases the chances of safe delivery and speedy postpartum recovery.
Utilize strategies that will allow a woman to personalize her birth experience. When it comes to spatial design of a birth center, promote an environment that can contribute to faster healing, utilizing corridors for walking, hydrotherapy in private bathrooms, space for birthing aides and dimmable lighting. Sensitive adjacencies is another important aspect of healing; for example, not placing GYN beds with patients recovering from hysterectomies near a postpartum unit with sound of newborns crying within earshot.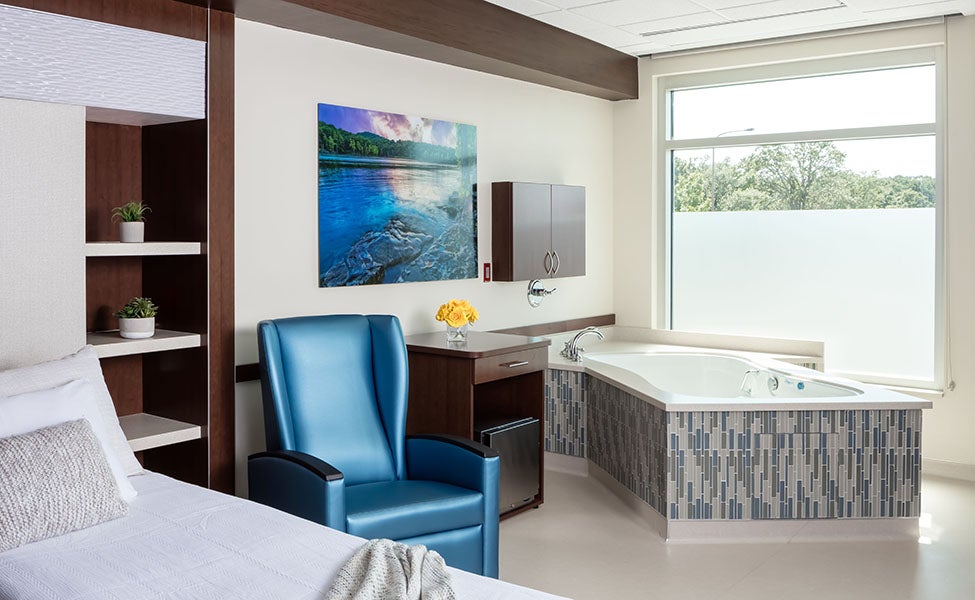 Consider Safety and Security
Safety considerations must be at the forefront of every planning effort. That includes infection prevention by using appropriate materials, achieving clinical and operational efficiencies by utilizing on-stage/off-stage work flows, and providing thoughtful programmatic adjacencies that allow for instantaneous access to state-of-the-art medical equipment should an emergent situation arise.
Another unique safety aspect is protecting the entire family unit while in the hospital and incorporating infant security. Safety during renovations requires extra planning and should include infant security protocols, ensuring appropriate capacity throughout the project, as well as construction noise mitigation.
Incorporate Family Space while Maintaining Privacy
Many aspects of women's health, particularly childbirth, are increasingly becoming a family experience. That experience generally starts at the parking lot, with amenities such as dedicated parking, valet service and clearly marked navigation. From both the functional and qualitative standpoints, spatial needs have to be considered for growing families. This can include spaces inside and outside of the patient unit, such as segregated/divisible waiting lounges with comfortable furniture, access to daylight, access to technology and space for siblings to play while they wait.
Ample floor space inside patient rooms must be maintained both to accommodate the birth partner's presence during childbirth and to allow for "rooming in," which is proven to support breast feeding, creating a strong bond between the mom and her newborn baby.
At the Mother Baby Center at Abbott Northwestern Hospital in Minneapolis, Allina Health combined a renowned obstetrical program with an entity known for excellence in neonatal care under one roof. The new facility allows mothers and babies to stay together and experience the highest level of coordinated care. A comforting, spa-like atmosphere with state-of-the-art technology achieves an environment that seamlessly balances function with the needs of families.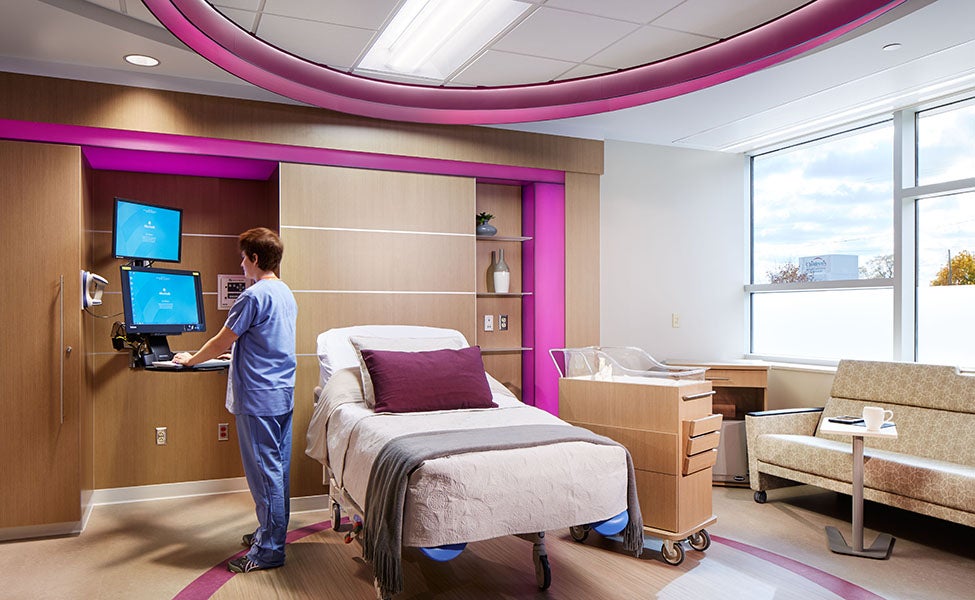 Leverage Evidence-Based Design
Use best practices that leverage evidence based design strategies and latest research to help create healing environments. Ensure that every aspect of design contributes to reducing medical errors, and increasing staff, patient and family well-being.
One aspect that is especially critical to address from the beginning of planning efforts is mitigating sound transmission and noise sources. We recommend providing a meeting or a huddle room for team members to meet and coordinate care to be away from the nursery spaces. Acoustical treatments and high STC value partitions can play a big role in minimizing unwanted noise in a NICU and LDR environment.
Engage Key Stakeholders in Design Process
Engage all staff to ensure key stakeholders are heard: from OB leaders to nursing staff to midwives, from janitors to security to kitchen to valet services, materials management and IT. Decisions like tubs versus showers, LDR versus LDRP, and others are often driven by cultural and staffing expectations and market norms. Involving staff and patient advisory groups will ensure that these decisions reflect competitive concerns and professional needs of nursing staff.
Minimize risk and streamline processes to improve the experience, efficiency and productivity. Use Lean, Six Sigma, discreet event simulation, experience mapping and other process tools to enhance the model of care and clinical processes. We also use data-driven design and parametric modeling to ensure that departments are planned with maximum efficiency and staff travel distances are minimized.
The design team for Methodist Women's Hospital in Omaha, Nebraska, held several visioning sessions with caregivers and weekly project team meetings to find the best way to concentrate its women's services offerings in one major facility. The result was a design that centered on its neighborhood context, provides a maximum positive experience for patients filled with hotel-like amenities and pays attention to the needs of doctors and caregivers as well.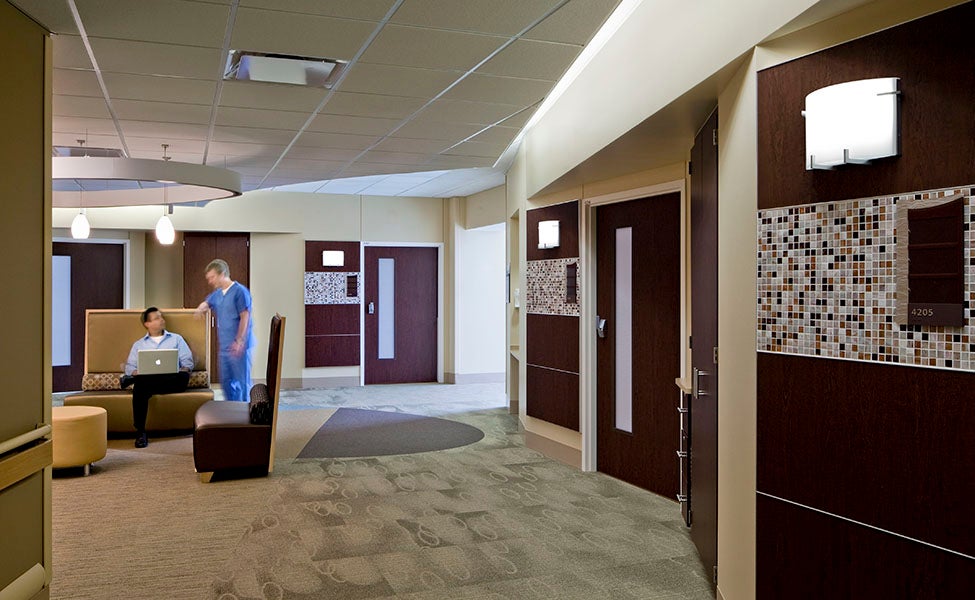 Incorporate the Before and the After: Antepartum and Postpartum Moms
Traditionally, women's centers put more emphasis on planning and design of labor and delivery areas. However, paying attention to the needs of antepartum and postpartum moms is also important.
Postpartum rooms need to be spacious enough to accommodate the new mom, the baby, mom's partner and the frequent visitors who come to see the baby. Ample seating areas are required, and incorporating a sleeper sofa for the partner is recommended. For high-risk pregnant moms who may spend weeks or sometimes months in the hospital, a patient room is not enough. Facilities may need to think about incorporating a separate lounge or a café-style space with views to the outside where women can socialize and spend time with their visitors.