Article
Five Elements of Modern Library Design
Libraries are essential to our communities. They welcome people of all ages, demographics, and socioeconomic backgrounds and, therefore, must accommodate various people through the environments and experiences they offer.
While you'll always be able to find a comfortable spot to cozy up with a book, libraries have evolved from quiet places to consume books to active hubs for collaboration, connection, and discovery.
Over my career, I have designed libraries for the continuum of change providing patrons with environments and experiences of all ages. Designing libraries is a gift I love to give to the communities we serve.
Many elements make a library successful for a community, though here are my top 5 through the lens of the design for the Belmar Public Library in Lakewood, Colorado.
Engage Community in the Design Process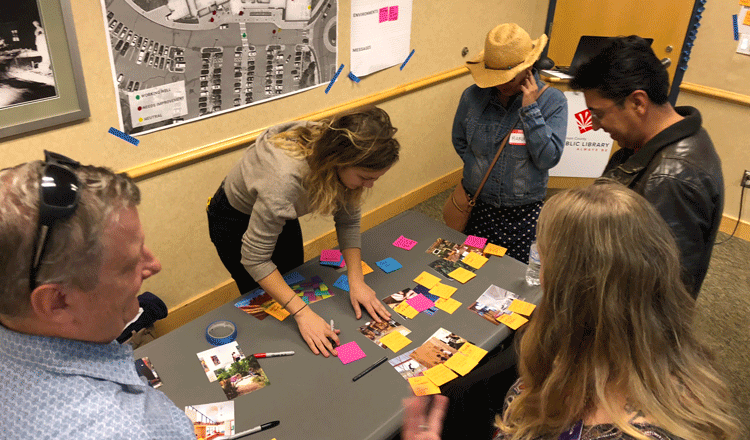 Libraries are representations of the communities they serve. Whether you're considering a renovation or new construction, facilitating community engagement sessions throughout the design process creates a forum for architects and designers to listen and incorporate what is heard.
We make this process inclusive by incorporating in-person and online components to reach as much of the community as possible. In-person sessions tend to be well attended, so it's best to break large groups into smaller, more manageable teams to encourage meaningful dialogue. The intention during these sessions is to provide the necessary parameters for groups to imagine how they want the library to look and feel and when and why they plan to use it.
Prioritize Adaptability Over Flexibility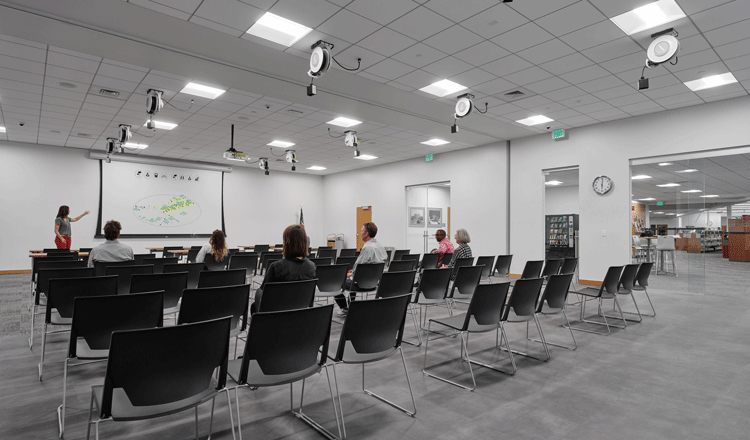 Contrary to what some may think, there is such a thing as too much flexibility. When something is too flexible, it can dilute its primary purpose. For example, multipurpose rooms should serve a purpose or a couple of purposes. A space cannot be all things to all people all the time. Take, for example, a meeting room. It can meet a variety of meeting room functions – lecture, town hall, tables and chairs, and perhaps limited maker space options though not all maker space functions like 3D printing, laser cutters, or woodworking.
Adaptability, on the other hand, gives a new purpose to a space every time it's changed. To allow a library to adapt for future needs, keep the fewest number of things tethered to the ground. Often, the only items that need to be tethered down require an electrical connection. The meeting room at Belmar features a moveable wall and adaptable space in the rear for maker space options.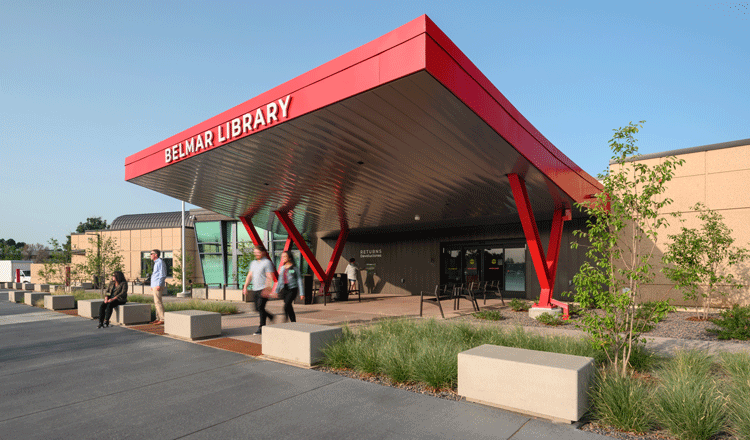 In addition to indoor spaces, outdoor spaces are necessary to increase the use and adaptability of libraries. This can occur adjacent to reading rooms, children's areas, teens, and even at the front door or porch – the idea of welcoming. We know access to nature improves cognitive skills.
Design for Choice and Autonomy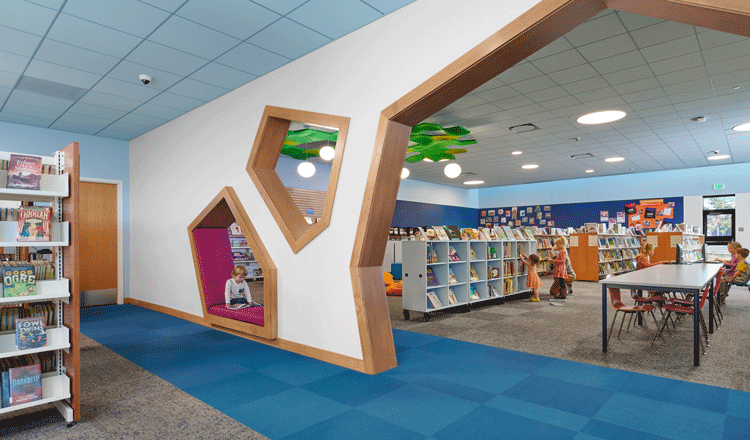 Dedicated zones in libraries promote choice for patrons and make them feel welcome, allowing them to have an appropriate experience suited to their needs. Children and teen zones are some of the most typical in libraries as they help fulfill the universal role of libraries supporting learning from adolescence to adulthood.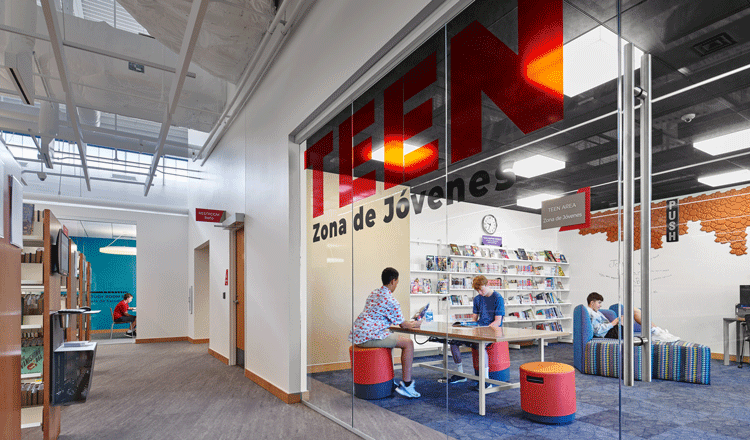 The design for the Belmar Public Library does this exceptionally well. The children's room and teen zone are both visibly open and connected to the main library areas though they offer a different experience unique to each age group. Flexible furniture, age-appropriate literature, and fitting finishes encourage children and teens to act naturally in a space that best suits them as individuals or groups. 
Integrate Intuitive Wayfinding into Design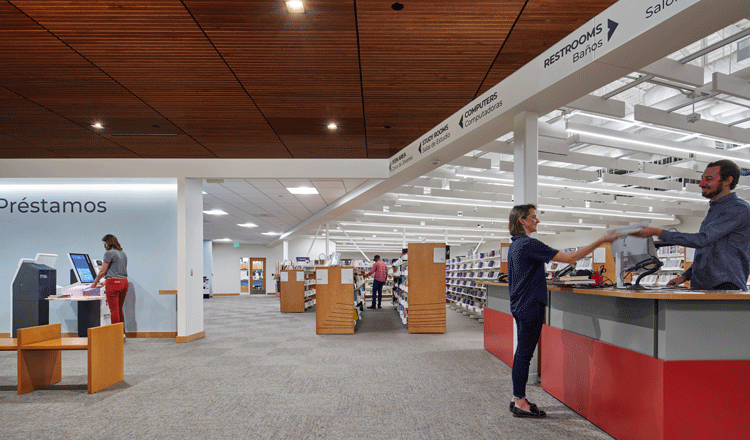 At Belmar, opening the main stack space to the clerestory windows, lowering, and reorienting the stacks provide the patron with a view across the space, connecting them visually. Patrons can see their destinations in the distance without relying on signage. The bonus: it provides a level of safety for the librarians.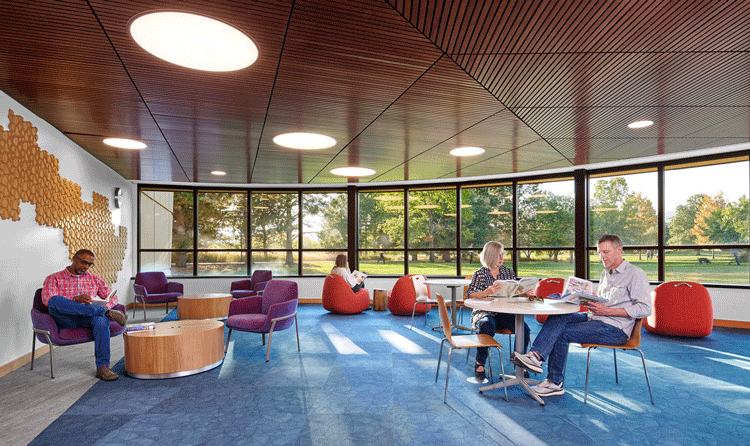 Wayfinding is a 3D experience. The best wayfinding intuitively guides users through a space with subtle cues on the floors and ceiling and with lighting and color. The design elements of wood, views of nature, and cozy seating indicate to the patron the quiet reading room expects a certain behavior without added signage indicating to be quiet.
Prioritize People Over Stacks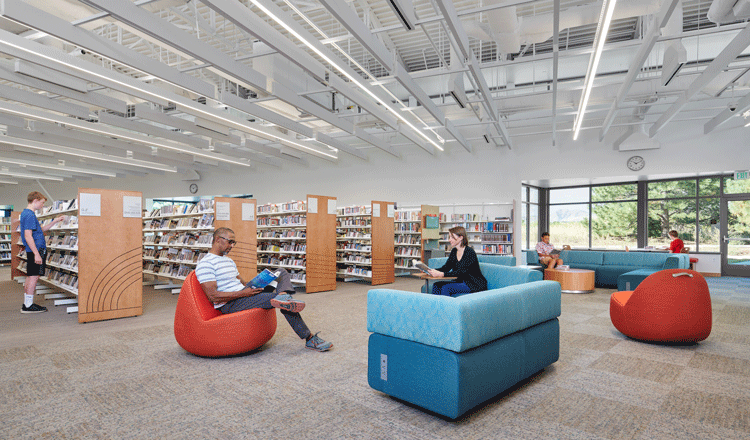 Centralized displays and depositories are great options for organizing collections as communities prioritize active and collaborative space in libraries over stacks.
Lowering the stacks, creating a 'hot' pick zone, and calibrating for more face-out displays will open the library to provide more programming. In addition to the books, spaces for programs draws patrons to the library and can even offer a revenue-generating opportunity that builds community and lifelong library users and learners. This is evidenced at Belmar with the design of the meeting rooms. They have direct access to the outdoors without going through the library so that other organizations can use the space.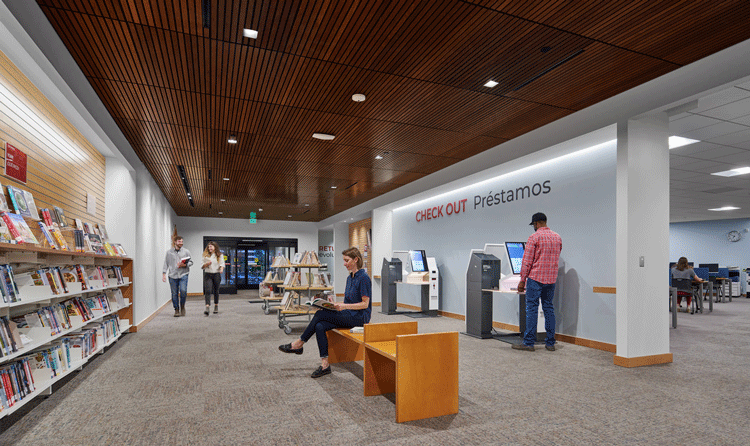 While there's no one-size-fits-all design solution for community libraries, considering these elements at the onset of your library project can help ensure your library is well received by the community.