Article
Getting Lead and Copper Pipes Out of Schools
This article was originally published in AWWA Connections.
LCRR Testing at Schools and Child Care Facilities
As schools begin returning to session, water utilities across the United States are busy preparing for fall 2024 when the U.S. Environmental Protection Agency's Lead and Copper Rule Revisions, or LCRR, will require a new level of communication and cooperation with schools and child care providers. 
School districts can be great partners, providing utilities a way to tell their water story through public education and inspiring a new generation who may one day be water operators. But schools operate very differently than many government agencies – from their funding sources to staffing and overall culture. Getting ready to be LCRR compliant means water systems must pay special attention to the needs of school districts and how to best collaborate with them. 
BE THE FIRST TO KNOW
Subscribe to receive our Water Insights
Water utilities are required to provide schools and child care facilities with a copy of EPA's Training, Testing and Taking Action (3T's) for Reducing Lead in Drinking Water in Schools and Child Care Facilities, as part of the LCRR sampling process. Utilities must sample at least 20% of elementary schools and 20% of child care facilities in their service areas for the following five years. During this time, utilities must also sample at secondary schools (upon a school's request) and are required to collect at least five samples for each school and two samples for each child care facility. After this five-year period, water utilities will only be required to sample at any of these groups upon request. 
Exempt from sampling are facilities that were built or that had all plumbing replaced after January 1, 2014. A key difference between school and child care facility sampling and residential sampling is the sample volume. Schools and child care facilities require 250 milliliters in volume and have a stagnation period of eight to 18 hours. Additional follow-up sampling is also 250 mL. 
This task can feel daunting, no matter the size of a utility service area. But here are a few tips to help you along the way.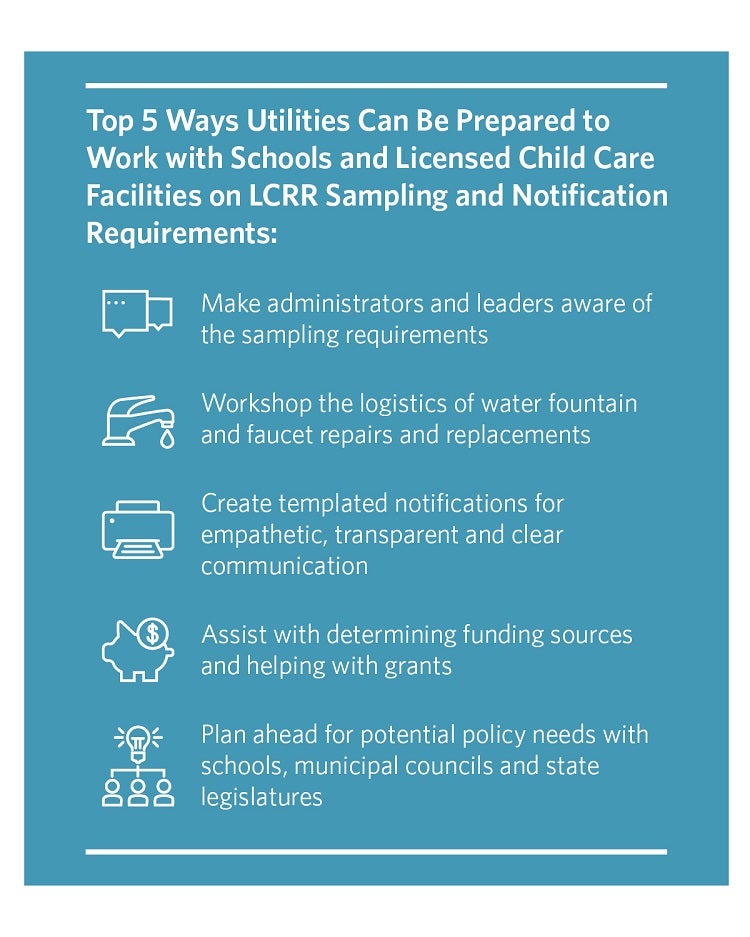 Begin Reaching Out Now to School, Child Care Contacts 
So how do you find the right contact information for schools and licensed child care facilities? You have options. Your state Department of Education can provide you with a list of public and private schools, which both fall under the LCRR. The licensing or rating agency for a child care facility may be the Department of Health at the local or state level.
Another point of licensure for child care facilities is the agency that issues occupancy permits — the Department of Health and municipal occupancy permit agency are both potential sources for up-to-date contact information about licensed child care facilities. This is particularly important because there are different environments for these types of entities, including a small business, nonprofit, or faith-based institution or school. 
Start by reaching out to facility leadership like principals, child care directors and other administrators to share basic information about upcoming testing. These leaders may direct you to central administrators for approvals or other support. Keep in mind that an entire school district may serve multiple municipalities and have more than one utility serving their system. Working first with building-level administrators establishes direct connections to the schools you will be testing.
Establish Protocols For Fountain and Faucet Repairs, Replacements
Utilities can work with schools and licensed child care facilities on protocols for decommissioning sites within the building that contain sampling exceedances. If a sample reveals lead, a school can temporarily shut off the faucet or bubbler until a long-term solution is implemented. Such solutions can include the installing of point-of-use filters, removing the water outlet and any associated piping, or replacing a portion of the plumbing with newer lead-free materials. 
Consider meeting with child care facility owners to help them budget for these solutions ahead of time in support of the repairs their business will need.
Be Empathetic When Communicating With Families
Keep in mind that parents and guardians do not often differentiate their children's ages when it comes to health concerns — so while secondary school testing is optional, a parent or guardian may not respond as expected to this clear LCRR guidance. 
Utilities can be prepared for hurdles like this by:
Acknowledging concerns and listening. 
Sharing relevant fact sheets and information in simple, easy-to-understand language, since technical information can cause speculation and fear.
Considering a water help line or landing page to answer questions. 
Families with school-aged children may not only be understandably cautious but also have a strong network that can help or hurt a utility's reputation in times of crisis. Empathetic, transparent and clear communication methods help utilities manage expectations and provide parents and guardians with the information they need to be confident that their children are safe. 
Have Funding Conversations and Form Partnerships
Schools are often beholden to state and federal funding sources with little room for surprises — even when that surprise is safe drinking water. Recognizing this challenge for schools and providing out-of-the-box solutions to school administrators can help keep students safe without taking funding away from the classroom. 
Consider having conversations with school and licensed child care facility administrators about grant support and identification. Explore whether a school could include service line, faucet and fountain infrastructure in upcoming capital investment programs or bond referendums. Finally, help school and child care personnel investigate area foundations that can partner with them. Consider setting up a plumbing apprenticeship that could reduce costs while also investing in the classroom.
Consider Policy Implications For Local School Boards
Some LCRR sampling requirements may trigger policy creation needs for school districts. Reaching out to school boards early, before testing is implemented, will make things more efficient should problems arise. Each school district has different policies and procedures in place. Some schools may have requirements like the ratio of drinking fountains to students or plumbing codes with a current set of testing standards. Keep in mind that school boards require multiple readings of new policies before they can be implemented, so if current policies are in place that make testing or remediation more difficult, getting in front of the issue will help everyone involved. 
There are many ways to partner with educators and school administrators to effectively develop a plan for LCRR sampling and testing notifications. By reaching out now to schools and licensed child care leaders in your area, you can begin conversations that eventually turn points of contact into LCRR partnerships.
Learn more about this LCRR topic in a video conversation with co-author Ameerah Palacios. Additional information is available in AWWA's Lead Communications Guide and Toolkit.