In The Media
Innovation in a Challenging Environment — the New Marc Basnight Bridge
The engineers and designers behind the new Marc Basnight Bridge on North Carolina's Outer Banks overcame a remote location and a challenging, constantly changing channel to maintain a connection for residents who live, work or vacation in this scenic area.
The new 2.8-mile-long bridge, designed with a 100-year service life, faced many challenges, but foremost was creating the right foundation. To achieve a more durable structure, the $252 million bridge incorporates concrete piles jetted and driven as deep as 130 feet below sea level. Their required depth was verified in the field using a first-of-its-kind method to determine long-term pile axial capacity after significant scour loss.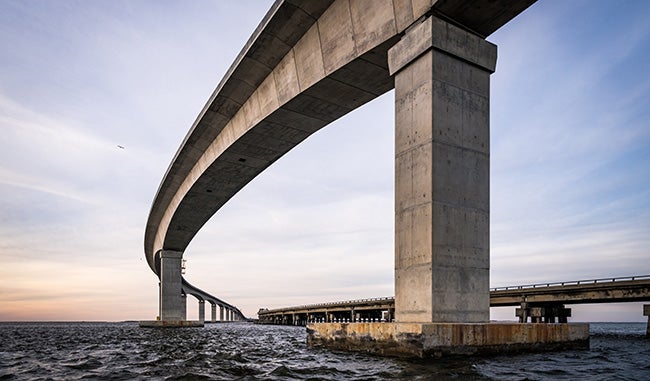 Given the harsh environment and strict requirements for durability, the foundations were the key to the entire project. In many ways, the project wasn't a bridge job — it was a complex marine foundation job with a bridge on top.
Senior HDR Bridge Engineers Domenic Coletti and Dominick Amico and Senior Geotechnical Engineer Elizabeth Howey wrote about the challenges they faced and the innovative solutions they devised in the August 2019 edition of Bridge Design & Engineering.
Read the article, republished here with permission.