Article
Monitoring Construction, Accelerating Progress: Unmanned Aerial Systems Inform, Aid and Enlighten
Constructors Usher in New Era on SunTrax CAV Test Facility
The people at the Florida Department of Transportation and Florida Turnpike Enterprise take ingenuity to another level. Pair them with our construction services professionals, who know how to find efficiencies on large-scale projects, and you've got a connected, autonomous team — which, by the way, describes the technology we're helping enable.
HDR is the prime construction engineering and inspection services consultant for the new connected and automated vehicle test facility at SunTrax. Located off I-4 between Orlando and Tampa, the large-scale, cutting-edge facility is a proving ground dedicated to the research, development, testing and safety of emerging transportation technologies.
At $140 million (SunTrax Phase II), the facility involves the construction of 200 acres of infield roadway and track infrastructure and 13 buildings totaling over 140,000 square feet, as well as stormwater management, civil site/utility and communication facilities. When complete, it will be used for technologies related to tolling, intelligent transportation systems, smartphone-based technologies and other advanced transportation systems.
Real-Time Construction Footage
We were thrilled to get the call asking about our data acquisition team's unmanned aerial system (i.e., drone) capabilities. When you hear that the world's most renowned and innovative car manufacturers are bidding to test their vehicles on the 2.25-mile oval track, you know SunTrax is a hub for forward thinking.
For our part, we monitor construction progress by capturing video and photography of the large site. Taken from a low elevation and clear angle, the footage allows our team to measure earthwork volume, identify on-site equipment and quantify personnel — presenting a real-time construction snapshot of SunTrax. High-resolution visuals add clarity and depth to the contractor's progress reports as they advance the project on an accelerated schedule. And the footage provides an added communication tool for FTE's public outreach and awareness efforts.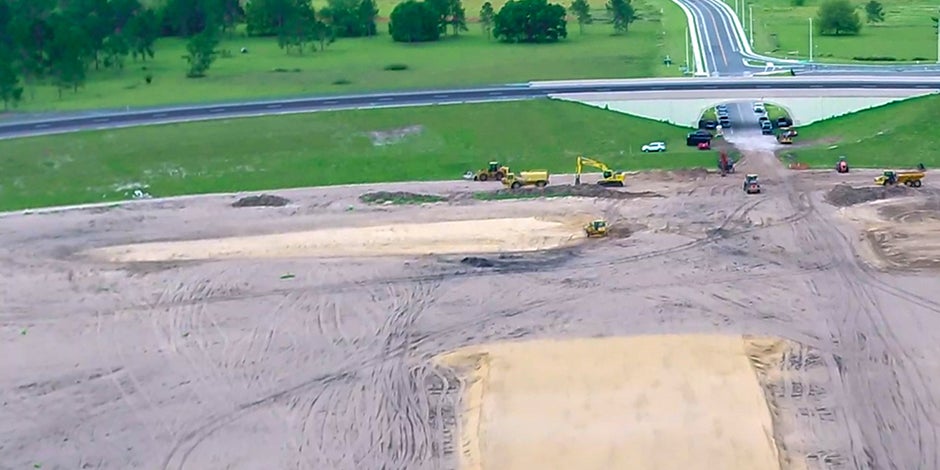 The Opportunities Ahead
Heavy traffic in and out of the site created a need to add capacity on the adjacent 3.5-mile highway. When FDOT procured a construction engineer and inspector, we were honored to hear of our selection and eager to take on the next challenge. Our early discussions suggested using a fixed-wing drone, with airplane-style wings, to capture the corridor.
​This type of teamwork isn't exclusive to Florida. We're working closely with construction managers in Arizona, New York and California, to name a few places, on large-scale highway and levee projects. Our goal: find new ways to turn data into knowledge for our clients.