In The Media
New Las Vegas High-Occupancy Flyover Is a Big Winner
The largest and most expensive public works project in Nevada history was conceived to address a simple issue: a constantly growing population. Project Neon is the Nevada Department of Transportation's solution to problems associated with a 3.7-mile section of I-15, which is the busiest stretch of road in Nevada. Every day, approximately 300,000 vehicles pass through the corridor, they perform 25,000 lane changes per hour and experience 3 crashes per day. By 2035, traffic is projected to double.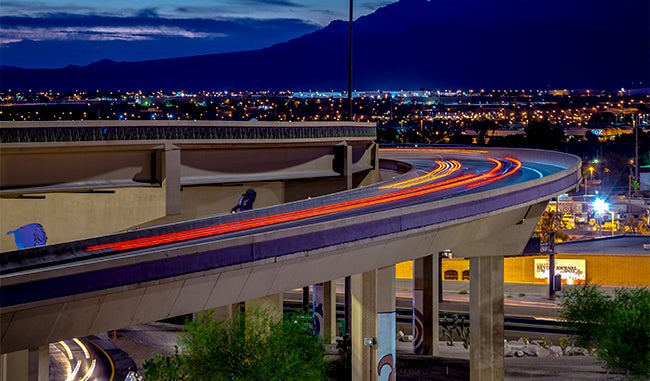 Seeking to improve safety, reduce congestion and improve air quality, NDOT moved to transform the corridor through road realignments, widenings, extensions, reconstructed interchanges and aesthetic upgrades.
But the NDOT tapped us for the project's most prominent feature: the high-occupancy vehicle connector bridge. The 18-span, 2,600-foot structure connects the new HOV lanes between U.S. 95 and I-15 and completes a greater than 90-degree turn on an 875-foot radius. Originally expected to be more than 4,600 feet long, our design team developed an alternative concept that eliminated more than 2,000 feet of bridge, creating roughly $20 million in savings.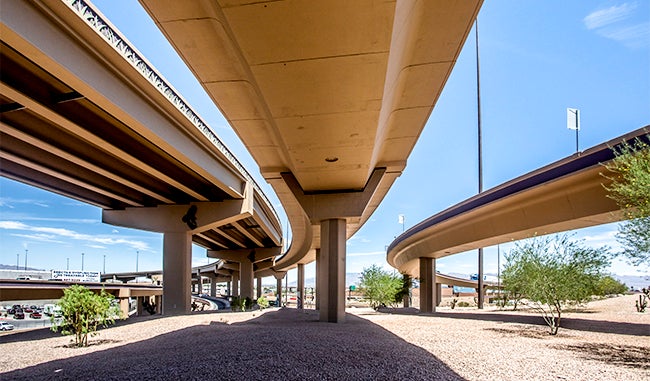 In the latest edition of ASPIRE magazine, HDR engineers Daniel Baker and Nick Eggen explain some of the extreme geometry the project demanded and the design choices the team made to control costs and maximize efficiency. As they write, "in times when infrastructure funding is tight and often difficult to secure, finding real and practical design efficiencies should be high on every engineer's to-do list."
With the bridge now open to traffic, the official completion of the project was marked with a public celebration and ribbon cutting in downtown Las Vegas on August 8.
The articles were originally published in ASPIRE, The Concrete Bridge Magazine from the Precast/Prestressed Concrete Institute, in the Summer 2019 issue. Available here with permission.