Article
Orléans Health Hub: A Gathering Place for Health
The Orléans Health Hub is a first-of-its-kind prototypical healthcare project for the community of Ottawa, the nation's capital in Canada. This transformative project, funded by the Ministry of Health and Long Term Care, is a unique and innovative model that will bring together seven distinct healthcare and community organizations, integrating a wide range of outpatient services, and welcoming people of all ages from newborns to seniors with included outreach services through the community. 
A new healthcare typology in the province of Ontario, the project will provide a place where a strong sense of community, health improvement and sustained wellness are fostered to focus on the region's needs.
The Hub will offer simple and efficient processes for ease of access to a wide range of outpatient services. For those suffering from multiple and interrelated conditions, the Hub will also offer an integrated continuum of care, ensuring interorganizational and coordinated care plans throughout the current framework of primary, secondary and community-based services that currently exist in multiple locations. 
Integrated one-stop-shop services include:
A wide range of specialized services for all ages, including access to physician specialists (such as a dermatologist, an orthopedist, or pediatrician), a wound management specialist clinic, and an autism program

A place for seniors, through the provision of community services such as day programs and home support as well as assessment and treatment services by teams of healthcare professionals

Care and support for community members suffering from mental health issues, from children to seniors, through the provision of services such as counselling, assessments and treatment offered by healthcare professionals in a safe environment

An extensive complement of rehabilitation services

Immediate access to diagnostic imaging tests such as an X-ray or MRI

The Carrefour will serve as a support to all family physicians and their clients within the residing area
Setting A New Standard Through a Comprehensive Service Delivery Model
The Hub will provide a comprehensive health and community continuum of care by breaking down silos inherent in health service delivery in Ontario. Through its three continuum pillars of health and wellness, condition management, and specialty services, it aims to better organize and integrate outpatient services. A comprehensive service delivery model will set a new standard for the delivery of care outside the traditional hospital setting. 
The integration of the model of care is as much a digital, operations-based approach as it is a physical one collocating typically disparate health and community services in traditional delivery in the Province of Ontario.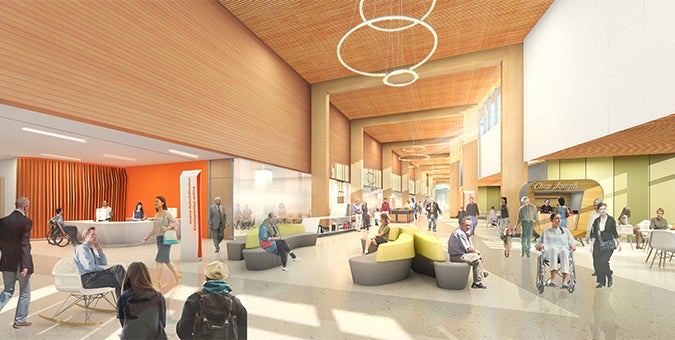 The approach to transforming service delivery through the planning process began by a grass-roots effort of creating and building strong partnerships as the foundation for change. A common vision, goals, guiding principles, and conceptual service model continue to be at the center of more detailed operational planning, as well as design choices. The future client's voice is also included to ensure decisions reflect opportunities for improvement from their lens and experience. Opportunities for exchanges between partnering organizations at all levels are created within the planning process to maximize diversity of thought and learn from each other's perspectives. For example, a week-long planning event, bringing together leaders, managers, health professionals, doctors, patient as partners, volunteers and regional planners came together to map out the Hub's future integrated operational processes and the architectural design concept which would best support these new ideas. Participants of this planning event continue to be ambassadors for change and refinement as planning continues.
"The beautifully designed OHH really demonstrates the active listening of HDR's team on what the community aspired to create: A warm, natural, healing space that promotes wellness for all, as well as collaboration between the several health services providers who will offer services."

— Mélanie Potvin, Project Director, Orléans Health Hub
A Hub for Health, A Community Center and the Re-Naturalization of Place
The Hub is not only a place where the integration of services offers the potential to break down the institutionalized silos of care by bringing it into the heart of the community, but the project also establishes a deep relationship between the community (a growing suburban region) and the natural history of place. 
The project partí is the result of a foundational study of the region's geology, geography, flora and fauna that seeks to offer an unprecedented approach to regeneration of place tied directly to the delivery of health, wellness and community services in Ontario. The project will re-establish a community market typology as a catalyst for gathering and to foster proactive health and wellness in the community.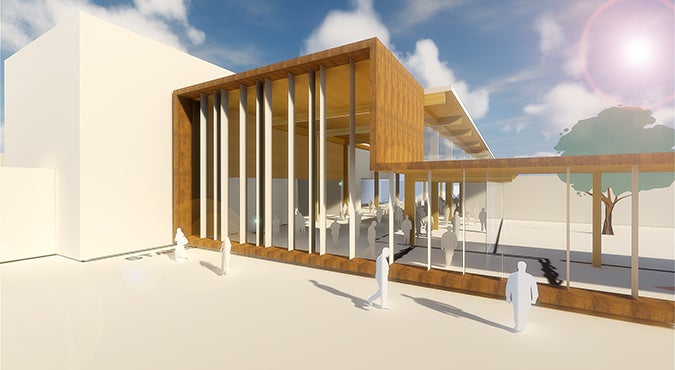 Bringing All Stakeholders Together in Design
The group of distinct institutions and the design team came together to realize a truly new prototype for care in the province. Lessons learned from designing other building types were applied to create a holistic facility and landscape that breaks from the norm of healthcare design in the Province of Ontario. By being carefully covert in the application of front and back of house planning, current infection control practice and area standards acceptable to the MOHLTC in the approvals processes, the facility traded excess quantity of space for focused quality of space through efficiencies developed through 3P planning and design events, predictive analytics and a study of the vernacular.
A thinner floorplate was mandated to ensure that both access to natural light and simplified wayfinding would be maintained throughout the facility in lieu of the expansive clinical floorplates typical as a result of the often singularly focused clinical planning approaches common in the region. Elements of the program were celebrated in the design as pavilions within the broader urban context and continuity of neighborhood pathways through the building were integrated into the design to offer potential for further activation of the space.
Anticipation and Excitement Abound
Once operational, the Hub will be an integrated, high performing health services center at the heart of the community. By working together to redesign the existing operational and clinical processes inherent and distinct to each of the partners, the anticipated outcomes include:
Improved client experience of care, making the journey more seamless, intuitive, and efficient

Improved quality of care

Improved efficiency and value for Ontario's health system by minimizing duplication and maximizing interorganizational collaborations

Facilitating and supporting the health and wellness of its community, empowering clients to take charge of their health.
The Orléans Health Hub project has already encouraged other institutions to consider new ways of health integration and has forced paradigm shifts at the local, regional and provincial level.
"The Panel commends the applicant on a great project with a building that relates well to its landscape. The Panel believes the project will help to set a standard for future neighbourhood development."

— Urban Design Review Panel, City of Ottawa, Ontario, Canada