Article
Paving a Smoother Road for ESA Compliance
Endangered Species Act Listing Process
Climate change, development, agriculture and domestic water uses — these are just a few factors influencing the quality of freshwater aquatic habitat in all corners of the world, and so, too, the species that depend on those waters. When habitats become imperiled and species numbers decline, regulatory entities take notice, and in some cases, species may be considered for listing under the Endangered Species Act. ESA listings, and their accompanying requirements, directly impact the projects HDR supports throughout the country. 
BE THE FIRST TO KNOW
Subscribe to receive our Water Insights
In the United States, the ESA provides a regulatory mechanism to conserve and protect species and their habitats. Section 4 includes provisions to add wildlife and plants to the list of endangered and threatened species. Once listed, the ESA extends protection to these species from being "taken," including harm and harassment, and requires the development of plans to promote species recovery. In many cases, critical habitat is also designated for listed species, resulting in protection of the species and the habitats upon which they rely.
Any projects implemented or funded by a federal entity, requiring federal authorization (e.g., Clean Water Act permits) or taking place on federal lands must comply with Section 7 of the ESA. For every project our team supports, the lead federal agency must ensure that its actions do not jeopardize the continued existence of ESA species or destroy or adversely modify designated critical habitat. Projects without a federal nexus, or projects or actions funded, authorized or carried out by a federal agency, must also comply with the ESA to avoid liability if a species is harmed or harassed. Section 9 of the ESA prohibits the take of listed species by any entity, though take authorizations for threatened species may be authorized under Section 4 via 4d rules. Section 10 of the ESA allows take when certain conditions are met, including take for scientific research or incidental take by an individual entity or private citizen. Take for non-federal entities may be authorized under Section 10 through the development of a Habitat Conservation Plan. 
ESA compliance often triggers the need to consult with the two federal agencies charged with administering it: the National Marine Fisheries Service for most marine species and anadromous fish, and the U.S. Fish and Wildlife Service for a few marine species, resident fish and terrestrial wildlife and plants.
Understanding ESA: The Listing Process 
Since the ESA was enacted in 1973,  1,722 species have been listed. Global climate change and the expansion of the human footprint have contributed to the rapid alteration of habitats around the world. In some cases, particularly cold-water fish, these alterations may occur at a faster pace than a species can evolve to successfully adapt. As a result, more species will likely face challenges that limit their potential for long-term persistence in historic habitats. These species may be considered for protection under the ESA, and this consideration process begins with a petition for listing under the act. Petitions are formal requests submitted to NMFS or the USFWS, collectively, the Services, to list a species, a subspecies or a discrete population segment of a species as endangered or threatened under the ESA. A petition to list a species under the ESA is the start of a process that may or may not lead to the species being listed.
Under the ESA, the Services are required to review each petition and publish their findings in the Federal Register within 90 days of receiving it. The Services can make one of two findings: (1) the petition presents substantial scientific information that warrants further evaluation and listing consideration, or (2) the petition does not present substantial scientific information and therefore no further action is taken. If the Services determine listing may be warranted, they must conduct a status review of the species, and, within one year, publish their findings in the Federal Register. If, upon completion of the status review, the Services determine that listing is warranted, several pathways are available. Those species determined to be warranted for listing with high priority are then "proposed" for listing. Proposed species may ultimately not be listed, or they may be listed as threatened or endangered within several months to a year of the final listing determination in the Federal Register. For the reader's awareness, the Services do not always adhere to review and publication timelines during the listing process.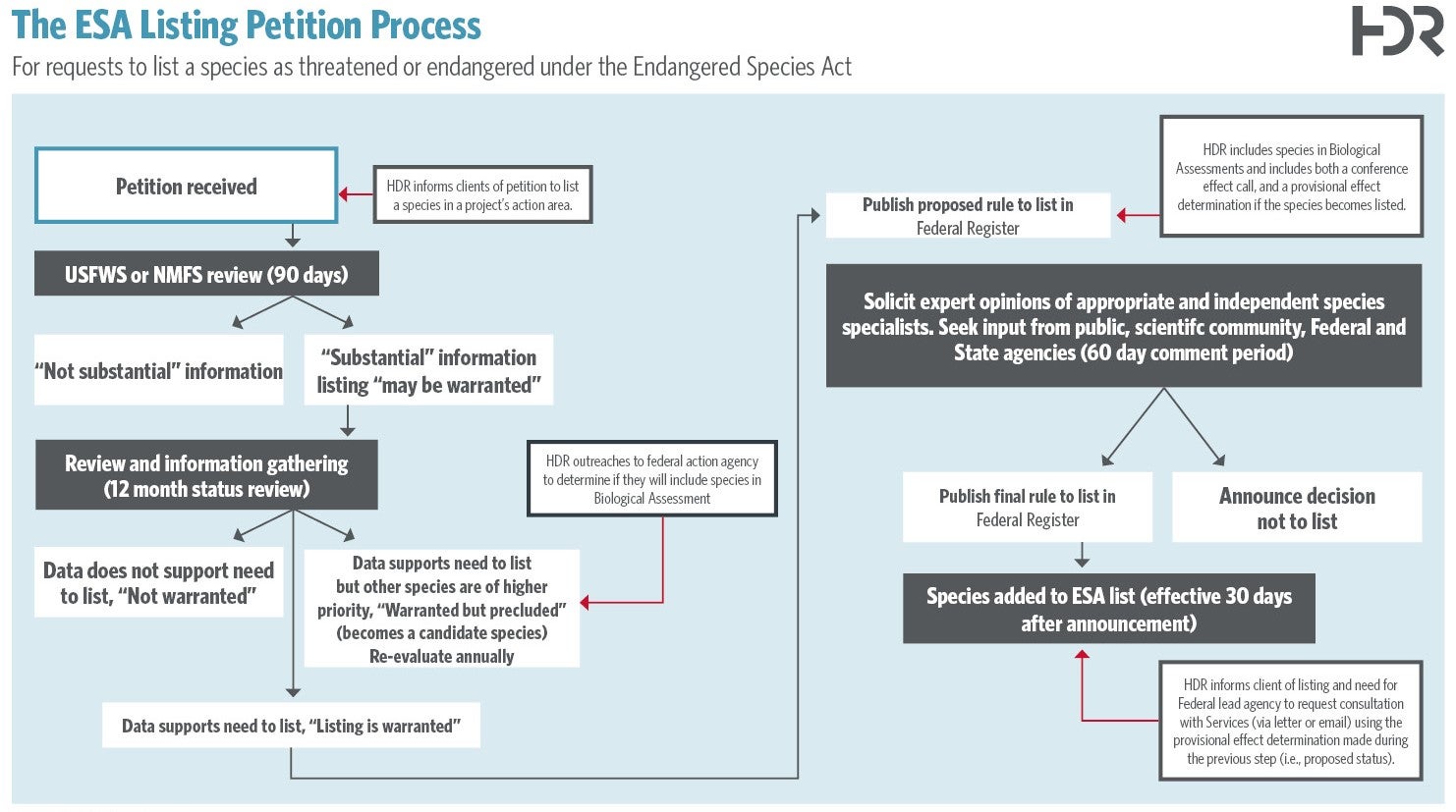 Source: U.S. Fish & Wildlife Service
Current Petition Case Study: Washington Coast Chinook Salmon
A recent example of a petition to list a population under the ESA is from the Pacific Northwest in Washington state. This petition, and potential future steps as described below, shed light on this process and its importance to our clients. On May 23, 2023, the Center for Biological Diversity petitioned NMFS to list the Washington Coast distinct population segment, or Evolutionarily Significant Unit as termed by NMFS, of Chinook salmon (Oncorhynchus tshawytscha) as endangered or threatened under the ESA with designated critical habitat. The Washington Coast ESU of Chinook salmon includes individuals that spawn in freshwater tributaries to the Pacific Ocean along the coast of Washington. The ESU includes both spring runs (those fish that return to freshwater in the spring and hold until spawning in late summer/early fall) and fall runs (fish returning in the fall and spawning soon after arrival). Although the fall runs included in the ESU are relatively healthy, because the spring runs return to freshwater in the spring and hold during the summer, warmer summer water temperatures negatively affect access to and use of historic holding areas. The Center for Biological Diversity contends this is contributing to significant declines in the spring run. As a result, they petitioned NMFS to list the ESU as endangered or threatened, or, alternatively, split the ESU into a fall and spring run and list the spring run only. 
Why Do Petitions Matter? 
As noted above, a petition for listing kicks off a process that may or may not result in listing of a particular species; however, in the case of cold-water salmon in Washington state, climate change is contributing to habitat degradation that may result in population declines over time. For marine and freshwater cold water aquatic species, ESA listings, or petitions for listing, are expected to increase in the coming years, which may impact client projects throughout the country.
The petition request that NMFS list the Washington Coast ESU of Chinook salmon under the ESA is particularly of interest to several HDR clients. We currently support multiple projects that overlap the geographic boundary of the Washington Coast ESU, many of which involve in-water work taking place in waters of the United States. Most projects that discharge fill material into these waters trigger a federal nexus (i.e., permitting under Section 404 of the Clean Water Act by the U.S. Army Corps of Engineers). Therefore, projects taking place within the boundaries of this ESU would require consultation under Section 7 of the ESA. In its petition, the Center for Biological Diversity specifically cited a client project as one of the threats to spring Chinook salmon in the ESU. Per the request of our client, we reviewed the petition with other team members to determine the accuracy of information regarding the project. Although this review was completed on behalf of the client, it is important that we remain objective in such circumstances and focus solely on what we know about the project.
If this petition continues down the flow chart and the ESU or some form of it is listed, projects with a federal nexus that may affect this population will require Section 7 ESA consultation. In Washington state, this means a lengthy review process, particularly if a Biological Opinion is required (taking 2-3 years currently in Washington, per NMFS). Projects without a federal nexus that may affect listed species could require even longer review times. All projects with the potential to adversely affect ESA-listed species will have longer review and processing timelines and will cost more to implement, particularly if mitigation or conservation offsets are required by any reviewing entity. In some cases, the Services may request or require such offsets for specific actions. In the case of listed fish, particularly anadromous salmonids, these offsets may include habitat restoration, conservation hatcheries or the development of new or improved fish passage facilities. Each of these elements can be supported by our fisheries science and design services team. 
Additional Federal Listings That Will Impact Clients 
The Washington Coast ESU of Chinook salmon is just one of several fish, wildlife and plant species that may be afforded protection under the ESA in the coming years. The monarch butterfly (Danaus plexippus) may be proposed for listing in the next year, and the status of the little brown bat (Myotis lucifugus) is currently under review. The potential future listings of these two species are particularly important to track because they have widespread ranges spanning a significant portion of North America. For this reason, potential effects to these species will need to be considered, and potentially mitigated, for many projects HDR supports. Conservation measures, including best management practices, will likely become standard requirements for projects and clients should be prepared for this. For example, in the case of monarch butterflies, requirements could include seasonal timing restrictions for habitat disturbance and ongoing best practices to prevent the use of insecticides or herbicides along maintained areas within a project footprint or along a linear corridor. 
The USFWS maintains a national listing workplan to identify listing priorities for both species and critical habitats for a minimum of five years into the future. NMFS does not maintain a similar workplan; however, their species directory provides a list of all listed, proposed, candidate and petitioned species. Our own biologists and environmental scientists are encouraged to review these sites frequently to track potential listings and decisions. 
What is HDR Doing to Prepare Clients for New Listings? 
Our biologists and environmental scientists actively track listings and leverage our relationships with the Services to better understand the measures and approaches we can apply to projects to avoid or minimize effects to listed species and their habitats. We work collaboratively with design engineers to avoid hotspots and pitfalls that may become much larger issues as a project progresses. We educate clients on species timing and sensitive periods early, so they are aware of schedule implications for construction and operation. By doing this early in the permitting process, we avoid surprises and pave a smoother road for ESA compliance. 
As discussed above, we have supported our clients to review a recent listing petition and provide input on the accuracy of content. We will continue to support the client through the listing review process as necessary. If NMFS determines that spring-run Chinook are warranted for listing, we will incorporate the species into its ongoing Biological Assessment for consideration during ESA consultation.
It should be noted that these issues affect many of our projects and not just those for which the client has already identified the sensitive habitat issues within our scope of work. Building partnerships with our regulatory experts is a smart way to identify and mitigate or avoid risk to projects early and to provide value to our clients in a more meaningful way. 
Another way we can support our clients in the dynamic world of ESA listings is to track the USFWS workplan and NMFS species directory and notify clients when new species or critical habitats are added. To ensure coverage of petitioned or candidate species for projects that have relatively long schedules, we can outreach to the Services to explore the inclusion of these species in ongoing consultations. This is a way to provide ESA coverage for take of that species, through a Biological Opinion and Incidental Take Statement, should they become listed before the end of the project. Tracking species that could be proposed for listing in the near future allows us to anticipate impacts on projects and provide increased regulatory certainty for our clients.