In The Media
Pittsburgh Terminal Front Bridge Featured in Bridge Design & Engineering
Design Team Tackles Aesthetics, Tight Constraints to Create a New Airport Front Door
The Pittsburgh International Airport is in the midst of a $1.39 billion terminal modernization program to update and right-size the airport's facilities. The largest component of the program is the construction of a new airport terminal, which is designed to host 12-18 million travelers each year. And on the front of that terminal will be a new two-level, 1,300-foot bridge. The bridge will serve as the entryway to both the departure and the arrival levels at the new terminal.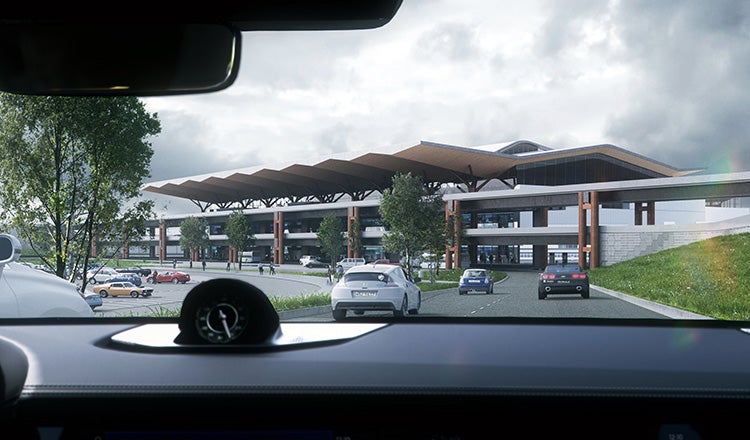 Bridge aesthetics design leader Michael Fitzpatrick and bridge engineer Kevin O'Connor wrote about the challenges of designing the bridge for Bridge Design & Engineering magazine. HDR is the lead designer and engineer for the bridge, as part of the design team that is tackling the overall project: Gensler and HDR, in association with luis vidal + architects.
The bridge design faced multiple constraints, including having to work around three active tunnels and very tight movement tolerances due to its proximity to the terminal building. As a pickup and drop-off spot for travelers, it required a strong focus on pedestrian features such as seating and lighting. The design also complements the terminal's aesthetics, providing a cohesive and comfortable experience for travelers from the moment they arrive at the airport.
"The overall goal of the design was not to impress travelers with features, but to create a bridge that functions as the front door to Pittsburgh," the authors wrote in the November 2021 issue of Bridge Design & Engineering.
Read more about how the team designed this unique bridge, the challenges they overcame and the unique features it includes in "Ready for Departure," republished here with permission.