In The Media
Runway Repaving at Lexington's Blue Grass Airport Featured in Airport Business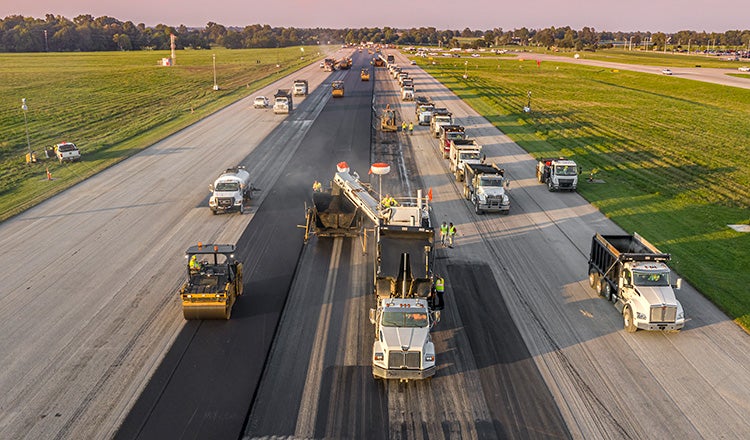 When the sole commercial runway at Blue Grass Airport needed rehabilitation, the Kentucky airport turned to HDR to organize an unusual project: Repaving the entire runway in one weekend.
The project was featured on the cover of Airport Business magazine's January/February 2022 issue as one of its projects of the year. HDR has been involved in leading airfield upgrades at the airport since 2016 and the weekend runway rehabilitation was the culmination of much of these efforts.
Airports typically rehabilitate pavement every 10 to 15 years. And most facilities complete the work by addressing smaller sections through nightly closures over a period of months. Seeking to minimize disruption, Blue Grass opted instead for a single weekend in August 2021.
Planning and design began years earlier, with airlines notified two years in advance to plan appropriately around the 72-hour closure. The $16.2 million project improves the safety, performance, and operational efficiency of the airport's runway pavement while also upgrading the energy efficiency and durability of airfield lighting systems.
One benefit of compressing the work into one weekend was a more continuously paved runway that reduces cold joints, extending the overall life of the pavement, requiring less maintenance and improving safety. But completing a 7000-foot runway in 72 hours takes detailed scheduling and planning. At the peak, 300 construction crew members were working on the runway, in addition to about 100 others from the airport and consultants.
"Everyone just had to be more prepared,"said Tim Ward, HDR design project manager and construction manager. "During normal construction, you have the ability to make adjustments as needed, but accelerated construction with an end date, we had to think about all the what ifs well in advance."
Read more about the project in "Blue Grass Airport Repaves Its Commercial Runway in 72 Hours" in Airport Business.