Article
Student Leadership and Campus Life for the Century Ahead
Adaptations is an ongoing series of interviews with educators and administrators from around the world, representing diverse backgrounds, disciplines and institutions. These interviews examine how educational institutions are adapting to the ever-changing education landscape and how the built environment helps or hinders them in that effort.
This interview has been edited and condensed for clarity.
As part of this series, we sat down with Marianne Simm, Vice Principal of Students, at Brescia University College to discuss the changes she has seen on the Brescia University College campus and across the higher education landscape. Our interview captured Marianne's perspective on what "leadership" means to Brescia, how academic institutions are adjusting to lifelong learning and new student pathways, and the inherent benefits and challenges of collaboration with the industry and other institutions.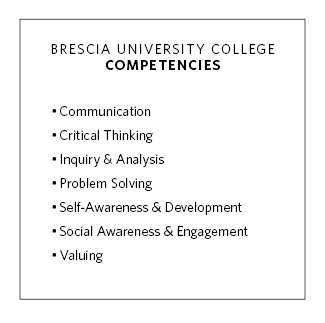 Doubling-Down on a Mission to "Choose Leadership"
HDR: Brescia is celebrating its 100th anniversary this year. How has the mission of Brescia held steadfast over that time and how has it changed? Specifically, how have you seen it evolve over the last decade?
Marianne Simm: Over the past decade, we have really reinforced our firm belief in the relevance of single-gender higher education institutions, along with our core mission of providing women with higher education opportunities. We are focused on not only providing those opportunities for post-secondary education, but also providing opportunities for women to learn and practice leadership — which resonates with our tagline, "Choose to Lead."
HDR: Speaking of leadership, what is Brescia University College's unique perspective on the idea of "leadership" and what does it add to the larger higher education landscape?
Marianne Simm: Many higher education institutions understand that to be a leader you have to be self-aware, you have to be knowledgeable, you have to have all those skills that typically come with a university education, and you also have to have the environment that allows you to practice those skills. What is different at Brescia is our emphasis on the idea that a leader can really come from any place. A leader can be a more traditional type — the one that is at the forefront, or a leader can be within a group, or they can even be coming from a place of support on the sidelines. We also intentionally emphasize that call to "choose leadership" as opposed to "becoming a leader" or "forming a leader." We think it's important to encourage our students to choose leadership, especially in the face of challenges or times of uncertainty.
HDR: How do you demonstrate the value of the intimate learning environment focused on building leadership qualities that Brescia University College fosters? What does this add to the skills and knowledge gained in a specific discipline?
Marianne Simm: About three or four years ago, we identified seven core competencies that, regardless of the academic program, we feel are necessary to be a Brescia graduate. They are embedded throughout our academic curriculum. These core competencies acknowledge that a student might come to us and study an academic discipline and end up working or in a post-degree program, or they might be doing something entirely different. Regardless of what their future holds, we feel these core competencies will help them think critically and participate actively in society. These are attributes that we hope will benefit them their entire lives.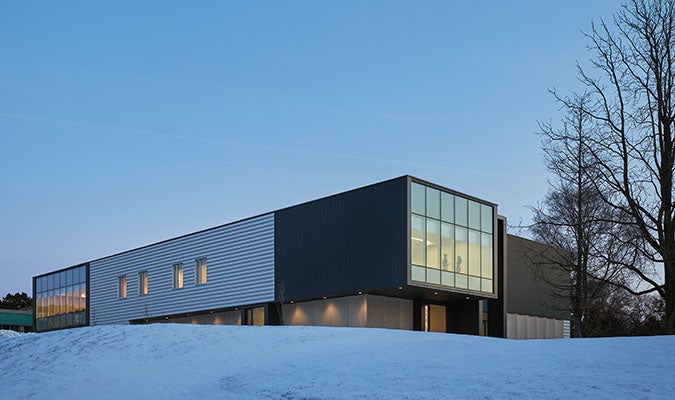 Maintaining Individuality in Collaborative Partnerships
HDR: Can you share a little bit about how Brescia University College collaborates with the community, other institutions and/or industry partners?
Marianne Simm: As a small community of only 1,500 students, being completely insular would be a very limiting experience. But by working closely with community partners, industry partners, and our institutional partners, we've been able to provide opportunities for our students to explore different areas. It might be academic programs. It might be partnerships or mentorships.
For example, we currently have a mentorship program, and at one point, the thinking was to limit the role of mentor to our alumna. But we decided that it is too limiting for our students. So we opened it up and we now work with different communities or individuals who step forward and are the right fit for what our students need today.
We also offer experiential learning with either a community-based organization or with an industry partner or even another educational partner, giving students a chance to apply some of the knowledge that they've learned in the classroom. I think that has always been key to who Brescia is at the core. We were founded by the Ursuline sisters who had very high academic standards, but also had a real mission in terms of community engagement — an awareness that just learning is not enough. It's learning and doing.
HDR: What are some of the challenges associated with these types of collaboration?
Marianne Simm: As higher educational institutions, we know that we have to think of alternative pathways for students. We have to think of shared programming. Sometimes that's difficult because you get into a clash in terms of pedagogy or program outcome. Even though that is the future, it does have its unique set of challenges that come with it.
As a smaller institution, one of our biggest challenges is to make sure we stay focused on our mission and goals to make sure our unique point of view, or campus culture, does not get lost as a result of any collaborative effort or initiative. As universities and colleges, we generally have similar academic goals, and the only difference is when you come on campus or encounter the individuals from that institution and sense what is different or unique. We have to make sure we maintain that.
The New Normal of "Zig-Zag" Student Pathways
HDR: What are some of the other challenges the current higher education landscape presents and how is Brescia University College addressing them?
Marianne Simm: In terms of larger higher education trends, the other thing that I'm keenly aware of is that students today have so many choices in terms of their post-secondary path. There isn't just one single line for students. We have mixed everything up so students can zig-zag through their educational career. They can leave, come back, and I think that's exciting for students. As an institution, it is more difficult because there is less certainty looking forward in terms of "What do we look like today?" compared to "What we will look like in five or ten years?"
In some of our academic programs, this idea of life-long learning has been very much embraced. For example, in our nutrition program, we have a number of students that come to us for a degree either after a working career or even after a master's degree, and they make the turn because they become interested in that subject area. So what we've had to do is look very carefully at mapping prior experience — specifically, academic work and how that fits in terms of the student coming to a second degree program. As an institution, I feel our next challenge is looking more broadly at how to be ready to respond to students either returning to school to start a new path or enhancing their prior education, and helping equip them with new skills or new knowledge to help them face challenges that can be posed by "coming back" to school.
We also see a shifting base of students. They're coming from different backgrounds, demographics, nationalities, and cultures. So we are constantly trying to adjust to that so that we can really serve our students today, but also think about their future. How are we really building the leaders of tomorrow by giving them the core competencies today?
Showcasing Possibilities in Brescia's New Academic Pavilion
HDR: What value do you think the new academic pavilion on Brescia University College's campus will bring for prospective students and faculty?
Marianne Simm: I think the space provides a lot of opportunities to showcase possibilities. That's a challenge we often have when dealing with younger students. They are not always aware of what happens in those university classrooms. So in designing the space for the Pavilion, we were really curious about how we could open it up and really showcase what's happening. This enriches and informs the culture of the entire campus.
Building Campus Community in the Internet Age
HDR: Technology has fundamentally changed how we learn in many positive ways. But it has also led us to question what learning looks like in the age of the ubiquitous access to information. How is Brescia responding to this new, technology-rich learning environment?
Marianne Simm: There's a lot of conversation about the right path through that. Brescia does have this unique experience, and part of that experience is that physical connection and in-person community building. When we think about other forms of learning, one of our biggest question is "How do we maintain that richness of building community when it might not be that face-to-face community?" We're actually working collaboratively with a suite of women's colleges in the United States. They are asking those same questions and we're piloting some new opportunities to do some work collaboratively and answer the question of whether we are looking at the technology to replace some of those face-to-face elements or just enhance them? We're hoping it's going to be the latter.
Balancing Internationalization with Community-Building
HDR: As Brescia University College turns 100 and you look towards the next 100 years, where are your priorities as an institution?
Marianne Simm: Internationalization is certainly critical. When we think about internationalization, it isn't just bringing international students to our campus. It's really looking at our curriculum, looking at the experiences to ensure that internationalization is embedded across the institution. Brescia has always had a commitment to internationalization, but I think we will be even more so moving forward. As a society, we are more intentional about working with one another across the globe, regardless of location. We are connected, and there is definitely a desire for our students to connect globally as well. We also know there are students from around the world who are really interested in coming on our campus and sharing in our experiences.
HDR: One of the fascinating challenges that presents is being able to create that intimate connection globally.
Marianne Simm: It's also interesting because not all cultures resonate with that. So for some cultures, it's jarring to have this connected community on campus; whereas for other cultures, it's very natural and that's what they seek. As these cultures blend together, how can we learn from one another and respect those differences? When I scan across the different areas that we're involved in regions around the world, there are different perceptions of what is expected from a university experience. We definitely have our definition of community at Brescia, but I also feel that our definition is being challenged and informed and enriched as our community changes.
For more information about Brescia University College:
Inside Today's Food Science Labs & Classrooms