Article
'Team Thunder' Roars for Tinker Air Force Base
Photo (above) courtesy of United States Air Force
Dave Eaton ponders the Tinker Air Force Base (AFB) facility management project. It's been his life for two years, but our EOC Program Manager and former U.S. Air Force civil engineering officer takes a moment to find the right words to describe it. And then, unassumingly, he mentions an important feature.
"Tinker is gigantic. Imagine all the infrastructure and buildings in a 31,000-person city. When you look at the scale, and you experience some of the tight deadlines, you begin to appreciate the challenges." - Dave Eaton
The 72nd Air Base Wing is the host organization for Tinker. Among its missions is support of a 62-building aircraft maintenance complex. Personnel dismantle planes — including the KC-135, E-3, B-52 and B-1 bombers, and the C-130 Hercules — inspect them, and return them to service for defense missions.
An installation this size and age (built 1941) requires vast architectural, engineering and construction skills to sustain facilities, infrastructure and the environment. With 76 years of wear and tear, Tinker needs upgrades.
Located in southeast Oklahoma City, Tinker is the largest single-site employer in the state of Oklahoma. Its economic impact compares to an Amazon headquarters.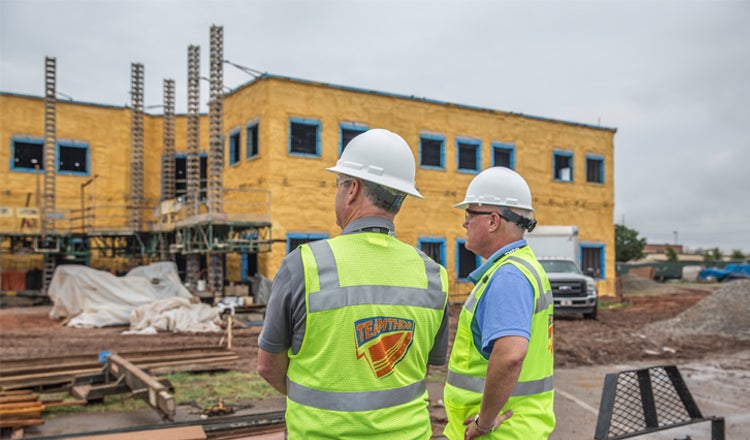 'Team Thunder' Responds Emphatically
Our EOC group and our partner, Tehama, began work in June 2016, using a federally approved mentor-protégé joint venture that we successfully apply on other projects.
Together, we provided necessary facility management and operations staff to the base with the moniker "Team THDR," which phonetically became "Team Thunder." Playing off of the Oklahoma City Thunder basketball team's name and the Tehama-HDR JV, we showed our team's commitment to the community.
It did not take long to become ingrained locally. Within 14 days of contract award, we engaged the majority of the 85 on-site and off-site personnel to support this contract.
"We brought on people who were not afraid to try something new," Dave said. "They were people who were not afraid to take on responsibility. Above all, they brought the requisite credentials, which are not always easy to find. These people proved to be highly dedicated and qualified."
With the Air Force's requirement to keep most infrastructure and facilities fully operational during construction, team members worked many weekends and holidays to minimize disruption.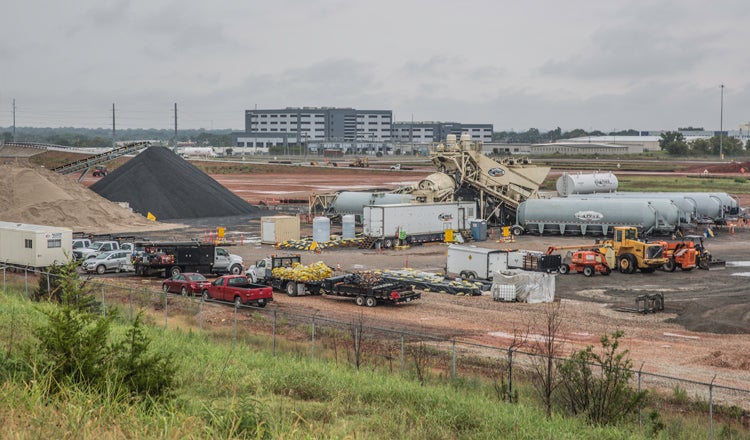 Meeting Wide-Ranging Client Needs
In less than two years, we've left a sizable imprint on the base, preparing more than 100 work packages in fiscal year 2017. The construction value on these design projects alone has exceeded $100 million.
Tinker building projects include operations, command, housing, medical, fueling, hangar, labs, air traffic control and maintenance. Linear projects encompass roads, airfield, natural gas pipes, and water pipes/pumps.
Our overall scope includes facility management; operations engineering; construction management; A-E design, consulting, investigations and evaluations; drafting; surveying and mapping; project management; and work order by contract.
"From the beginning, we knew this job would be different in terms of using all our disciplines," said Sean O'Brien, Managing Principal of Operations and Construction Services. "The Air Force privatized Tinker's public works department more than a decade ago. This project represents our first large project entry into the Base Operations and Support Services arena of federal contracting, which is a $10 billion market."
We've organized our team in five areas:
Technical and Engineering-Related Services. We prepare work packages to the 35 percent mark with a Sustainment, Restoration and Modernization (SRM) team and a Consolidate Sustainment Activity Group (CSAG). The SRM team provides design and construction management services to "Tinker Main" — the airfield and administrative facilities on the base. CSAG provides the same services as the SRM team, but for the industrial depot side of the base.

Construction Inspection. Working on 50-100 simultaneous projects per year, our inspectors help deliver:

Building B460, a 60-year-old building that exhausted its original design life. It was demolished, and its functions were relocated to buildings B7005, B1002 and B1014. Producing an effective "tenant fit-up" to accept all functions of Building B460 into the other buildings took significant planning and coordination. We executed the construction phasing without major disruption of daily operations to receiving buildings.

Building B1002 was 100 percent repurposed to accommodate a new Wing headquarters. This building had never served this purpose before. Our on-site construction management services team effectively executed contract documents while balancing demands of the end user tenant.

Reachback Engineering through the Architecture, Structural, Mechanical, Electrical and Civil (ASMEC) Centers. The ASMEC Design Center, based out of San Antonio, completes 100 percent design on projects. Our work, which sometimes reaches $1.5 to 2 million in fees, needs to be completed in 120 days, whereas other clients would allow six months to complete the same scope.

Operations Engineering. Similar to asset management assignments, our operations engineers conduct facility condition assessments, and we manage a facility component database (i.e., perform project controls). The system, called BUILDER™, houses more than 12,000 items. We develop and update Tinker's 5-year maintenance plans for all major systems such as roofs, boilers, HVAC systems, pavements and exterior protective coatings. We also monitor the operations and maintenance contractor's predictability maintenance program.

Surveying, CADD, GIS, Utility Outages and Dig Permits. As the base's facility management technical professionals, we also maintain all real property as-builts, the base-wide AutoCAD file and all GIS files. We provide on-site surveying, and we help coordinate utility outages across the base during our 100 projects per year. In addition, we move more than 100 dig permits through the system each year to help verify utilities are not accidentally disrupted during construction.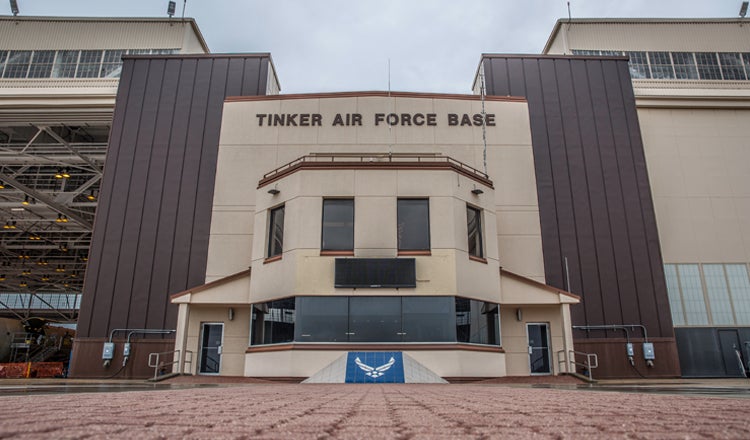 Continuing Service
By engaging experts from the entire company, our Field Services team fulfilled its scope and met the Air Force's high standards for quality. Given our performance in running the facility management technical departments, the Air Force renewed our contract through March 2019.