Article
Tips to Overcome Common Project Challenges during Mine Site Remediation: A Former Regulator's Perspective
About the author: Kate Garufi's expertise stems from her past experience at the U.S. EPA Superfund Headquarters office, where she supported remediation for many of the largest abandoned mine sites in the country. Many of Garufi's recommendations come from her national program experience at EPA as well as her leadership in defining and employing adaptive management, a flexible project management strategy, at complex, Superfund sites. 
Over 150 years of U.S. mining history has resulted in more than half a million abandoned or inactive coal and hard rock mine sites. The impact of mines sites can be significant; contaminants from mining affect the biological, recreational, industrial and municipal use of watersheds for many miles. 
Abandoned or inactive mines may include waste rock and overburden dumps, tailings, unstable surface and underground mine water impoundments, acid mine drainage (or draining adits) and heap leach piles. In addition to environmental hazards, abandoned and inactive mines may present threats to public safety including open shafts and confined spaces with atmospheric hazards. 
Aside from the sheer magnitude of potential sites and widespread impacts, many of the original mining companies are long gone, leaving a significant funding shortfall and liability challenges that further complicate the management and remediation of these sites. 
Effective project management can help owners and project teams avoid challenges that frequently sideline mine remediation efforts. The tips below may seem like common sense; however, in practice, the most fundamental project management techniques can be overlooked causing project delays and failures.
Challenge 1: Inadequately Integrating Technical and Non-Technical Site Factors Into Remediation Strategies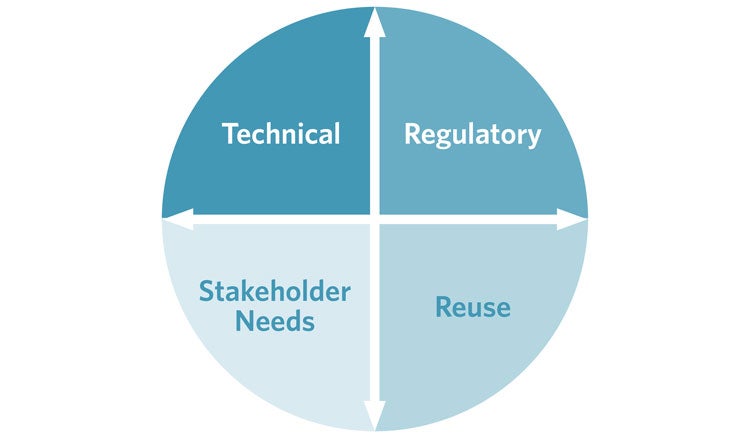 Remediation projects are like snowflakes; no two projects are ever the same. Each abandoned or inactive mine site has unique technical, regulatory, stakeholder (political, social, cultural), and reuse (recreational, renewable, ecological) factors; balancing these factors is critical to timely and cost-effective mine remediation project completion. The concept of "right sizing your remediation approach" is widely accepted by the industry and practitioners; however, execution tends to fall short. 
The key to effectively integrating the unique factors of each project is strong leadership and project management skills. Having a project manager without the tools or skills to effectively manage and integrate technical and non-technical factors can lead to a lopsided remediation approach. For example, if a regulatory groundwater expert is managing a complex mine remediation project, they will defer to a regulatory-focused and groundwater-driven remediation strategy which may not consider stakeholder concerns and needs, or desired property reuse. This lack of community and end-use consideration often leads to delays in the project at key decision points where stakeholder input is required. 
Tips: Plan For and Customize Your Remediation Approach  
Use project management tools and controls. Provide project managers with access to management tools and strategies. Evaluate lessons learned and other project management tools from similar projects and tailor them for your needs.
Build a multi-disciplinary team with differing opinions and viewpoints. Ensure your team has strong regulatory, technical, stakeholder and reuse representation, and that each team member understands their role and responsibilities for all phases of the project. Foster a project team culture that encourages brainstorming and idea sharing, and focuses on compromise and problem solving. 
Be inclusive during project planning. Conduct the level of planning necessary to set the project up for success. To be effective, project managers should spend the time necessary to effectively plan and integrate technical and non-technical considerations and project needs into project goals and remediation strategies. 
Prioritize and document site goals development. A lack of documented project goals can result in "perceived consensus" on the fundamental goals and outcomes for the project. Varying priorities and unclear communication can impact trust and relationships within the project team and with project stakeholders. Assemble your multidisciplinary team early in the planning process to discuss goals. Then strive for consensus, and write down your agreed upon goals. Early and inclusive development of project goals supports stakeholder buy-in and can be used to identify potential regulatory or legal hurdles, inform a remediation approach that is viewed as a win-win, and keep the project team working towards common goals.
Let science drive decisions, not politics. Non-technical factors have their role in how a remediation strategy is shaped and are critical to coordinating regulatory remediation requirements with social, cultural and political needs. Social, cultural and political motives or agendas can be a loud voice in the room. When it comes to remediation decision-making, don't allow politics to drive your decision. Ensure site decisions and recommendations are based on a firm understanding of the site conditions and rooted in the sound use of science and technology. 
Challenge 2: Linear Project Management Mentality and Aversion to Change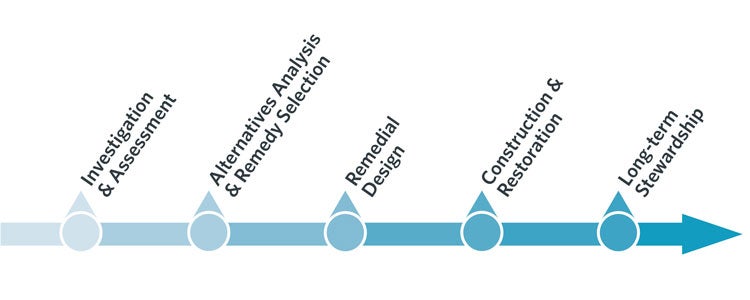 Most environmental remediation regulations and programs are written or portrayed as a linear process that is rigid, task oriented and does not follow a flexible or adaptable process. All too frequently, to match a seemingly linear regulatory approach, project teams fall into the trap of applying a complementary waterfall or task-oriented project management approach to environmental remediation projects. So where is the issue?  
A waterfall or task-oriented project management approach works best on project with a low level of uncertainty or project risk, meaning this project management approach works well when you have near-perfect site information and the solution can be reasonably anticipated. Mine remediation projects are typically full of uncertainty and project risk. Linear project management is not your best fit. 
Regulatory processes have the ability to incorporate flexibility and adaptability within the process. The key to maximizing these flexibilities is to have a team that embraces change and a project management strategy that facilitates remediation strategy changes and modification. From my experience, linear project management applications at mine remediation projects stifle or limit adaptability and do not adequately account for and manage project risk and uncertainty. Once a task or area of the process is completed, the decision is portrayed as final, and assumptions or uncertainties are not captured or carried into the next phase. As a result, issues fall through the cracks and uncertainties remain. When risks or uncertainties are realized and change is needed, it is difficult and sometimes costly to implement. 
Tip: Employ Adaptive Project Management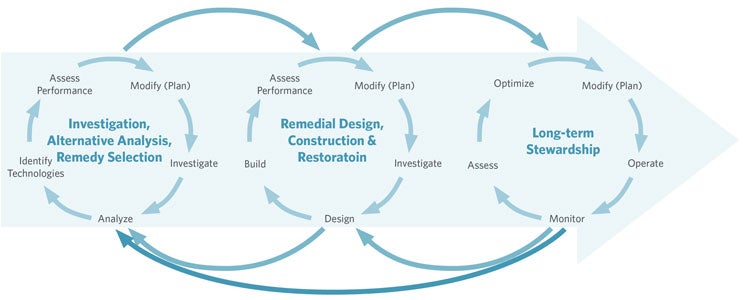 Track and manage project risk. All mine remediation projects will have risks and uncertainties, and these elements of the project can greatly impact the scope, schedule and budget of your project. While there is no way to control all potential risks, tracking and managing risk can save projects from failure and management by crisis. Integrate risk management into your planning and decision making. Understanding project risks will allow the team to make informed decisions regarding data collection priorities and analysis of potential remediation solutions at a site. 
Don't be afraid to look back and question decisions and assumptions. Decision making in mine remediation projects is never 100 percent certain. Project teams and decision makers make decisions with the best information available at the time. This information is comprised of facts and strategic assumptions. Don't mistake assumption for fact, and understand the basis for each assumption. Encourage the project team to document assumptions and revisit them throughout the remediation process to ensure previous decisions are still appropriate and most advantageous for the project. 
Debrief and capture lessons learned after key decisions. Ensure your project team is adequately managing risk, understanding uncertainty and questioning assumptions by debriefing and capturing lessons learned after key decisions. Adaptive management or strategic project management is centered around "learning by doing" with a focus on continuous improvement. To support remediation execution and progress towards site goals, capture lessoned learned throughout the project so the team understands key assumptions and uncertainties, and can target key information needs for the next phase of work. 
Embrace change. Regulations, stakeholders and the site conceptual model are subject to change throughout a project. Promote a culture and management structure that allows the remediation strategy to change when it is needed. Change can result in reduced remediation costs, return more sites to productive use, hasten property redevelopment and comply with environmental laws and regulations.
Proactively addressing these common challenges with adaptive management is an effective, strategic approach to keep mine remediation projects on track for successful outcomes.