In The Media
Understanding New Zero Emission Transition Plan Requirements for FTA Grant Applicants
As a result of the 2021 Infrastructure Investment and Jobs Act, the Federal Transit Administration is dedicating a historic level of federal funding to U.S. transit projects. Through 2026, grants in the Buses and Bus Facilities and Low or No Emission programs are expected to provide nearly $11 billion in funding. In 2022, transit agencies can compete for up to $1.5 billion in applications accepted through May 31. As transit agencies eye this funding, many are considering zero emission vehicles and facilities. It's important for agencies to realize, however, that the act also sets out new requirements for any transit project related to zero emission vehicles.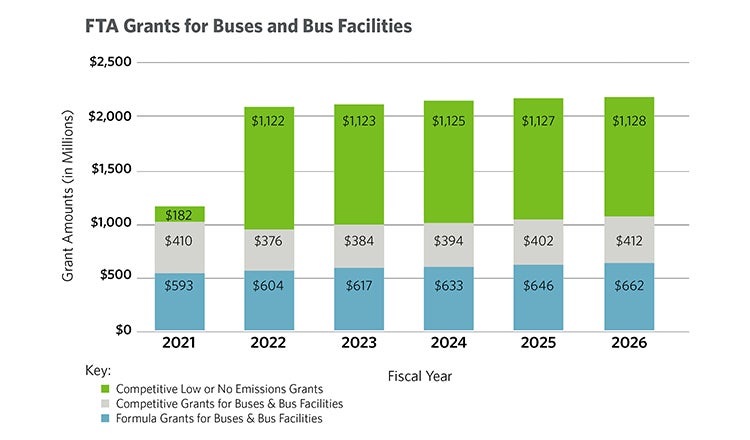 Writing in Metro magazine's March 2022 issue, HDR's Jeff Owen, Eric Rouse and Rob Mowat explained the new FTA requirement for a Zero Emission Transition Plan. This single document consolidates necessary information about a transition, describing how an agency plans to make needed changes to fleets and facilities, and outlining expected steps for long-term success.
Owen is a mobility project manager for HDR with public sector transit experience at small and mid-size transit agencies in strategic planning, regional coordination and emissions reduction. Rouse is a principal consultant for HDR who specializes in developing financial strategies for major transit capital investment projects. And Mowat directs HDR's zero emissions mobility practice, where he led the development of Zero+, HDR's fleet transition modeling tool. He has helped guide multiple agency fleets through transitions and modernizations.
The three explained the six main components called for in Zero Emission Transition Plans and offered ways agencies' plans can stand out amid stiff competition for federal funds. Depending on how much information agencies have already compiled, developing a compliant transition plan could take a few weeks or many months. For those trying to complete a plan quickly, new tools such as emission estimators and vehicle simulations to model power consumptions and vehicle capabilities can be applied to rapidly meet the new requirements. The data can then be used to consider the feasibility and operational viability and better plan for the transition to zero emissions.
Read all of their advice in "Meeting and Exceeding New FTA Grant Requirements for Zero-Emission Transition Plans" in Metro Magazine.
Learn more about the requirements and how to better position for zero emission grants with our details and tips primer. Questions are welcome at zeroemissions [at] hdrinc.com (zeroemissions[at]hdrinc[dot]com).