NEWS
HDR Foundation Announces First 2022 Grants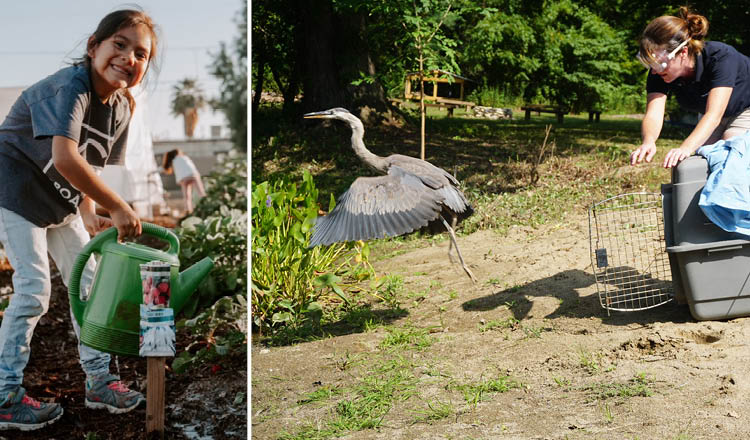 The HDR Foundation announced nine new grants totaling $127,972 as part of its first grant cycle of 2022.
Each grant is sponsored by an employee who already volunteers with the nonprofit, and employee sponsors showed a particular interest in environmental causes in this cycle.
"As a volunteer at the Ohio Wildlife Center and employee at HDR, I value the opportunity to play a small part in mitigating the damage to wildlife habitat from human activities," said Eric Plapper, HDR senior transportation technology planner, who sponsored a grant to restore a pond with native vegetation and aquatic wildlife.
Grants in this cycle include projects designed to inspire student interest in water quality through technology, restore disappearing coastline and improve wellness through outdoor activities. A unique grant also considers the role an indoor environment can play in a therapeutic space.
"It's so great to see this project get funded for all the good work they do, but also see how HDR continues to make a difference in the communities where we live," said Leanne Ziettlow, HDR project manager, who sponsored a grant to Heartland Family Services to install artificial grass in a sensory atrium designed to calm students experiencing a behavioral health crisis.
Employees also continued to recognize the need to educate and empower disadvantaged communities to combat food insecurity through community gardening.
"I am very proud and excited that G Road was selected for an HDR Foundation Grant," said Becky Santiago, HDR transit planner, who sponsored a grant to enhance G Road's after-school gardening program by expanding storage space and adding a shade structure for outdoor learning. "Located in and focused specifically on the neighborhood I live in, G Road's mission is to support young people through creative programming and intentional relationships. This will make the space more functional for the programs year-round."
Read more about the latest grants at hdrinc.com/2022-hdr-foundation-grants.
Global Food Bank Grants
Following our annual employee day of giving, the HDR Foundation, HDR Canada Fund and HDR Australia Fund also awarded more than $164,000 in grants to food banks in the communities of employees. The special challenge resulted in grants to 67 food banks in locations of HDR offices.
Upcoming Grant Cycles
The HDR Foundation and HDR Canada Fund will accept grant applications from May 9-June 12. To learn more or apply for a grant, visit HDR Foundation Grant Application Process.  
About the HDR Foundation
The HDR Foundation provides grants to qualified organizations that align with HDR's areas of expertise: education, healthy communities and environmental stewardship. As an employee-funded and employee-driven foundation, preference is given to organizations located in communities in which HDR employees live and work, and those with strong employee involvement. Since its inception, the HDR Foundation has provided nearly $5 million in grants to over 200 organizations. You can learn more at hdrinc.com/foundation.
About HDR 
For over a century, HDR has partnered with clients to shape communities and push the boundaries of what's possible. Our expertise spans more than 11,000 employees in more than 200 locations around the world — and counting. Our engineering, architecture, environmental and construction services bring an impressive breadth of knowledge to every project. Our optimistic approach to finding innovative solutions defined our past and drives our future. For more information, please visit www.hdrinc.com.