NEWS
HDR-Designed BRT Project Opens in Vancouver, Washington
The Clark County Public Transit Benefit Area Authority has officially opened The Vine on Mill Plain, a bus rapid transit line in the Vancouver, Washington, area that was designed by an HDR-led team.
In a Sept. 30 grand opening event sponsored in part by HDR, the community celebrated the opening of its second BRT line. Service began Oct. 1.
The Mill Plain BRT Project is a $50 million project that runs approximately 10 miles along Mill Plain Boulevard between historic downtown Vancouver and the growing Columbia Tech Center in East Vancouver.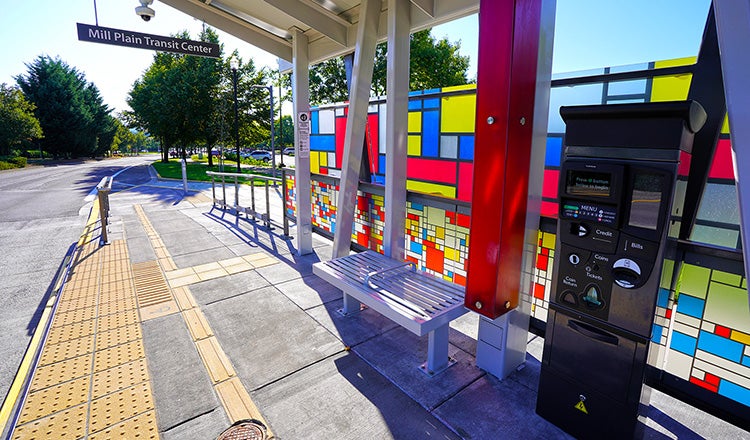 HDR has been with C-TRAN every step of the way, from planning through final design, helping C-TRAN to secure Federal Transit Administration Capital Investment Grant funding, and continuing into construction and implementation support.
"It is gratifying to see this project come to life," said Tom Shook, HDR's Oregon business development leader, who also led HDR's design services on the project. "Through our design, we worked to ensure that the project served riders' needs while staying on budget — and opening early."
HDR has led many BRT planning, design and implementation projects across the U.S. and beyond. The firm has contributed to South Carolina's first BRT system, an expansion of the successful Twin Cities BRT, and Albuquerque's first urban transit system to use a dedicated guideway.
HDR's experts have a thorough understanding of rapid transit system requirements, operations and administration; in-depth experience with transportation facility and corridor functional definition, site assessment and preliminary design; and a strong background in understanding the impact of transit initiatives on the customer.
About HDR
For over a century, HDR has partnered with clients to shape communities and push the boundaries of what's possible. Our expertise spans more than 12,000 employees in more than 200 locations around the world — and counting. Our engineering, architecture, environmental and construction services bring an impressive breadth of knowledge to every project. Our optimistic approach to finding innovative solutions defined our past and drives our future.