METRO C Line
METRO C Line
Connecting Communities Through Bus Rapid Transit
Metro Transit had an ambitious vision to build a new $37 million, 8.4-mile bus rapid transit line between the downtown area, North Minneapolis, and Brooklyn Center. The METRO C Line was conceived to advance the agency's network buildout of fast, frequent, high-amenity transit and bring together the communities.
We came in as the lead design firm for the C Line. The project consisted of designing 23 new suburban and urban stations, redesigning eight intersections and adding a half a mile of new roadway. The entire line was completed on schedule and on budget.
State-of-the Art, Unifying Design
Our team was challenged to find a unifying design that was easily identifiable, yet representative of both the urban and suburban areas that the buses pass through. In residential areas, transit space is delineated from the sidewalks and front yards by lean rails, bike racks and benches. Downtown, where there are more riders and differing aesthetics, our team designed longer stations with more open space and less delineation between the buildings and the transit areas. Common amenities, branding and architecture unified the stations.
The new stations feature premium BRT amenities and security features such as cameras, enhanced lighting and emergency telephones. They're each linked to the operations center in real-time through fiber-optic cables.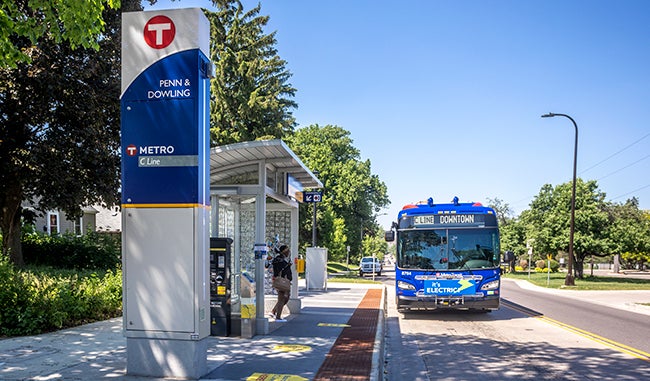 To avoid impacting utilities below each station, the design team turned to a unique spread footing that connects the pylon to the shelter. The design required a 12-i­nch concrete pour to spread loads over a greater distance but eliminated a 6-foot-deep footing that would have been required. The pylons also were designed to fit all communications systems – eliminating the need for a secondary electrical cabinet and saving up to $20,000 per shelter.
The C Line also serves as a pilot project for electric buses, which will be a testing ground for projects across the United States.
Impacting the Community
The C Line is more than just a way to get around — it's intended to boost the local economy and enhance livability along the corridor. The unemployment rate in North Minneapolis is 89 percent higher than in Minneapolis and 143 percent higher than Hennepin County overall. This route was built to improve access to jobs outside the corridor, connect residents to transit and transportation infrastructure jobs, and increase resident spending power with transportation options that reduce automobile dependence.
The C Line corridor is projected to carry 9,300 people per day by 2030. It's already seen a 30% increase from pre-construction ridership. The line hit one million rides in November 2019, five months after it opened.
As a result of the success on this project, we continue to support Metro Transit's build out of their Bus Rapid Transit network as the prime consultant for the design of the METRO D Line and architecture/transit systems lead for the METRO Gold Line.