NEWS
Novel Method Shows Positive Results Removing PFAS from Landfill Leachate
A pilot study conducted by HDR leveraged a novel method that removed up to 99% of the most common PFAS from landfill leachate, reducing PFAS contamination to levels below drinking water standards adopted across the United States. Using a process called froth flotation, the project was conducted over five days at the Ann Street Landfill in Cumberland County, North Carolina, and is one of the first applications of this technology.
The most notable result was the drastic reduction of common long-chain PFAS compounds, including PFOS and PFOA, with removal rates between 95% and 99%. The process also removed between 40% and 60% of GenX, another emerging contaminant, and other short-chain PFAS. The resulting concentrated residue stream was less than 1% of the total volume treated, about five to 20 times less than traditional concentration methods.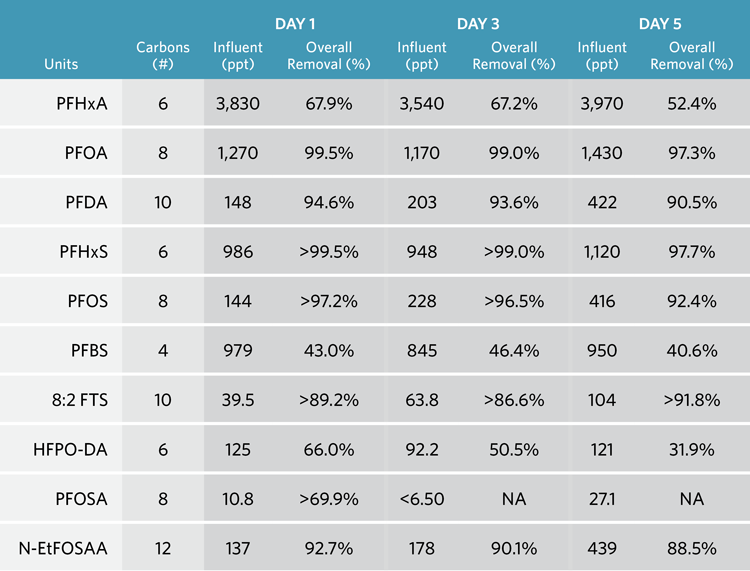 "These results show this is the right approach for landfill leachate and other industrial wastewater," said Jeff Murray, HDR landfill practice lead. "We were trying to find ways to be a part of the solution for the PFAS problem. This technology is one step in stopping PFAS in leachate from passing through wastewater treatment plants to rivers and streams." 
Located along the Cape Fear River, the Ann Street Landfill offers a valuable public service and manages about 200,000 tons of solid waste every year. The site produces about 30,000 gallons of leachate per day, which is stored in a lagoon prior to gravity discharge to the nearby wastewater treatment facility. Initial leachate testing found extremely high levels of PFAS. Cumberland County partnered with HDR to assess the use of froth flotation, developed by HDR's John Schubert, as part of the treatment process to help relieve the burden on the wastewater treatment facility and prevent potential PFAS water quality impacts from landfill operation.
Led by Schubert through HDR's Fellowship Program, testing is underway to develop an additional method to destroy the concentrated PFAS compounds after its removed, with the goal of creating one of the first full-scale treatment plants to both remove and destroy PFAS in wastewater. These methods could potentially be adopted for other applications in addition to landfills, like municipal water treatment plants or water reclamation projects.