Advocate Outpatient Center Oak Lawn
Advocate Outpatient Center Oak Lawn
Integrated Team Delivers on Innovative Ambulatory Strategy
Once a vacant lumber yard, the Oak Lawn Outpatient Center is now a beacon of health for this southside community. By repurposing a former brownfield site on a prominent thoroughfare, the new Advocate Outpatient Center has become a full-scale transformation with ambulatory specialty services, the result of a highly collaborative partnership with an integrated lean project delivery team. This team of stakeholders, designers, builders, and trade partners developed a standardized operational model with consistent architectural language that was adaptable to the community's specific healthcare needs and local context.
Seamless Integration into An Established Neighborhood
Located in the southwest suburbs of Chicago, the new outpatient clinic serves the community of Oak Lawn and surrounding areas. Bounded to the south by single-family homes, the east by multi-unit housing, and to the north by Oak Lawn's commuter rail station and bustling downtown, the new center is more than a medical office building — it strengthens the fabric that is the heart of Oak Lawn. The new facility brings a host of specialties and services to the community including pediatrics, obstetrics and gynecology, sports medicine, cardiology, family medicine, general surgery, imaging, neurology, and an immediate care facility as well.
The design team worked closely with contractors and fabricators to elevate ordinary materials using simple techniques: subtle brick projections amplified by the sun; precast concrete masonry units of varying aggregate colors and sizes, derived within the limitations of standard fabrication methods; and perforated corrugated metal panels laid out using maximum panel sizes to minimize cost in both material and installation. These elements, part of the established architectural brand developed for the client, are used to echo the contextual identity of Oak Lawn.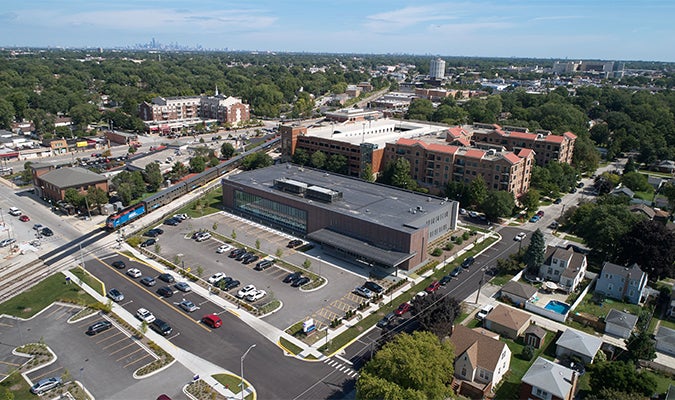 Efficiency, Comfort and Familiarity from Outside to Inside
As with every Advocate project, the transition from outside to inside is carefully considered, treating the entry as a front porch with convenient and comfortable outdoor seating for patients while projecting a warm and welcoming presence. Inside, the patient-centered experience focuses on intuitive wayfinding by minimizing signage and using interior design and materials to gently guide patients and staff to where they need to be. Colored glass clinic entry portals serve as bright beacons and wayfinding elements and cast colored light into corridors to enrich the experience. At night, the portals are visible from the outside further reinforcing the carefully choreographed, seamless experience for patients and staff inside and out.
Flexible design standards reinforce and support the desired operational model and drive the design for a more efficient and effective staffing model. This involved creating pods of exam rooms that allow the number of rooms assigned to a provider to ebb and flow. Depending upon the type of practice and specialty, each provider may be assigned two to three exam rooms resulting in better staffing efficiencies and improved outcomes.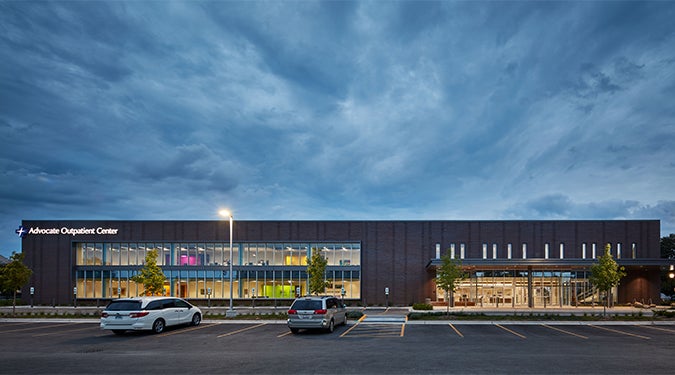 Modularity and Prefabrication
Through robust collaboration of ILPD team partners, the innovation teams stormed each challenge with outstanding results. A series of circulation studies achieved optimal site placement and a construction sequencing plan to accommodate access without traffic disruption to satisfy city approval requirements.  A modular approach to both operational models for the module switch resulted in an area reduction and ultimate cost savings.
Many components were prefabricated off-site including exterior wall framing with sheathing and air/vapor barrier applied, mechanical/electrical/plumbing racks and ductwork, and full exam rooms complete with electrical, plumbing, finishes, casework, and accessories. Inspections were coordinated with routine visits to the factory to inspect plumbing and electrical rough-ins. Prefabricated Exam Rooms helped to achieve schedule and beat the original date for 'first patient.'