Innovation Square (iSQ)
Innovation Square (iSQ)
Anchoring Boston's Emerging Innovation District
Innovation Square, a life sciences development in Boston's South Seaport, was envisioned by Related Beal as an alternative to Kendall Square, Cambridge's thriving, bio-pharma campus. Sited at the heart of the Raymond L. Flynn Marine Park the project has become a catalyst for the transformation of what was once the South Boston Naval Annex. 
HDR was engaged by Related Beal to help develop the master plan for iSQ, as well as the shell and core design of two buildings (Phase 1 and Phase 2). Before the groundbreaking, the largely undeveloped industrial seaport might have seemed an unlikely location for a thriving research campus. However, the design taps into the full potential of the location with the building design reinterpreting the existing, industrial character of the district as a dynamic place for research and discovery.
A Contemporary Interpretation of Maritime Vernacular
The buildings are a contemporary interpretation of the established maritime "head-house and tail" vernacular. The new "head-house" has a chiseled glass expression where the C-suite resides, symbolizing the commitment to cultural transparency and the exchange of ideas. The "tail" has a highly articulated pre-cast concrete expression where lab research occurs.
Phase 1 includes a four-story, 125,000-square-foot life science building with 84 parking spaces integrated into the landscape. Phase 2 includes a four-story, 235,000-square-foot life science building with 168 parking spaces, both below grade and in a nearby parking facility.
Key features of both buildings include: 
High-bay research and development/manufacturing space for pilot programs

Creative lab/office environments for "science on display" opportunities

Complimentary amenities such as conferencing, retail/restaurants, fitness center, bike storage, and a four-story courtyard garden to accommodate team building and industry-lead social events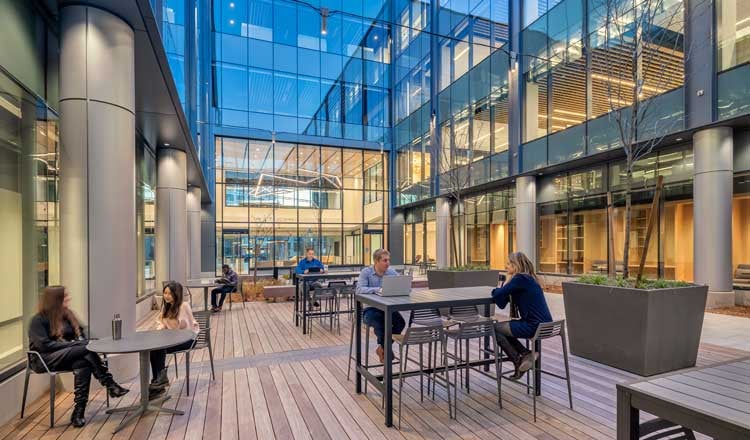 Buildings that Accommodate a Wide Range of Uses
Base building strategies — including dual entries, ample infrastructure support spaces, and a large and flexible service zone — allow each of the buildings to adapt to the specialized needs of single or multiple tenants. As a result of this flexible infrastructure, Phase 1 has been leased to three separate tenants, while Phase 2 has been leased entirely by a single pharmaceutical company. 
To further attract global entrepreneurial ventures, the design incorporated a fitness center, a four-story courtyard garden, and roof-top decks for industry-led social events. Adjacent retail outlets and restaurants round out the area and infuse vitality into this formerly underdeveloped area. 
The project meets Boston's Climate Change Preparedness and Resiliency requirements; by elevating the building above the 100-year flood line and accommodating deployable flood barriers at strategic locations.