Kiewit Luminarium
Kiewit Luminarium
STEM-Inspired Center to Inspire Next Generation and Revitalize Omaha RiverFront
The Kiewit Luminarium is an innovative community space and learning environment that is part workshop, part museum. It serves as a dynamic space where people of all ages, identities, and backgrounds can explore extraordinary phenomena at the intersection of science, art, and human perception through interactive displays and engaging exhibits.
The interior space is designed to be warm and inviting to suggest that science is friendly, familiar and approachable. The interior walls are constructed with custom-milled 4-foot by 8-foot sheets of plywood that act as a "pegboard" for interactivity and modularity.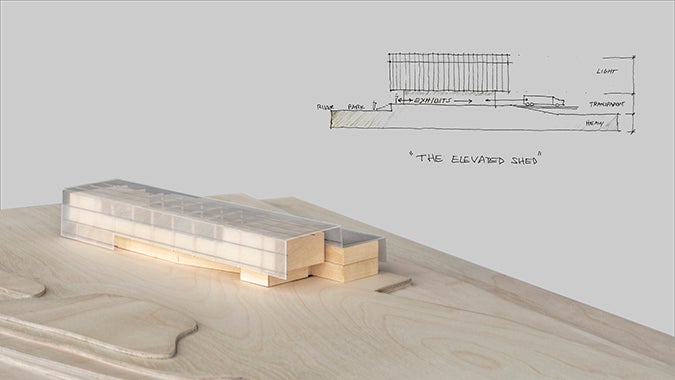 The building is thought of as a "container" like the classic Nebraska vernacular "machine-shed," simple, honest, performative — where apertures in the aluminum exterior envelope strictly adhere to optimal shading based on the orientation of the façade. The building geometry emerged out of an apparent "grain" to the landscape that organizes the building into two forms. On the west, towards Downtown Omaha, it "lifts" off the ground, which creates an elevated "canvas" into the air and acts as a billboard to the city. The space under the cantilever then becomes a pedestrian space — a large bus stop for group collection and lingering. The east form along the river anchors into the site along the riverfront boardwalk. The vertical shading fins along the east provide exciting glimpses into the interior, thus animating the façade experience as pedestrians meander the riverwalk.
The privately-funded, community-backed science center aims to become a family-friendly destination, serving as a cultural amenity for Omaha that helps inspire children's interest in STEM.