Loop 202 South Mountain Freeway
Loop 202 South Mountain Freeway
General Engineering Consultant for Arizona DOT's First Public-Private Partnership Freeway Project
The largest single freeway project in Arizona history, the $1.7 billion South Mountain Freeway relieves urban traffic congestion in the United States' fifth-largest city and improves mobility in one of the nation's fastest growing regions. The Arizona Department of Transportation chose HDR to serve as the general engineering consultant for the project, ADOT's first to use a design-build-maintain agreement. The approach allowed the freeway to open three years earlier than if it had been built using a traditional approach, with a cost savings of more than $100 million.
The Loop 202 South Mountain Freeway connects the east and west valleys of the Phoenix metropolitan area and offer much-needed, greater mobility along the city's southwest quadrant. The highway extends 22 miles with eight lanes (three general purpose lanes and one high-occupancy vehicle lane in each direction), and opened to the public on December 21, 2019. The project includes 13 service (crossroad) traffic interchanges and one system-to-system traffic interchange with Interstate 10. There are 40 bridges, including five multi-use (wildlife) crossings, plus a pedestrian bridge and a 6-mile long, shared-use path for pedestrians and cyclists.
The state-of-the-art freeway emerged in well-orchestrated sequences as builders methodically constructed a complex rolling-profile freeway with elevated, at-grade, or partially depressed road levels. The goal of this type of design is to optimize safety and efficiency while minimizing environmental damage.
P3 Expertise
Since 2001, we've provided a series of consulting services for ADOT to help steer a project of this magnitude forward. For example, we produced the environmental impact statement, refined design concepts and fine-tuned P3 initiatives. Our expertise in lining up P3 delivery formats meant ADOT could deliver the project three years ahead of schedule, saving at least $100 million. Such preparatory efforts laid the groundwork for ADOT to select us in 2015 as the project GEC with our winning strategy of "Continuity, Innovation, Capacity, Locally Delivered."
We advised ADOT and oversaw design and construction work by the developer, Connect 202 Partners (Fluor, Granite and Ames). The project involved staff from across our service offerings, including strategic communications and public outreach professionals; roadway, drainage, structural, geotechnical, and traffic engineers; environmental scientists (biology, hazardous materials, cultural); utility coordinators; project controls, scheduling and document control professionals; labor compliance managers; administrative staff; construction inspectors; and materials and quality managers.
Our entire project staff strategically and creatively collaborated to share findings and best practices that could improve and augment project delivery methods. When our project controls team implemented the first fully integrated, enterprise Project Management Information System for ADOT, they coordinated their data-gathering requirements with HDR project colleagues from other disciplines. That way, they could develop a more-targeted data treasure trove and strengthen our overall capabilities to monitor and manage project operations.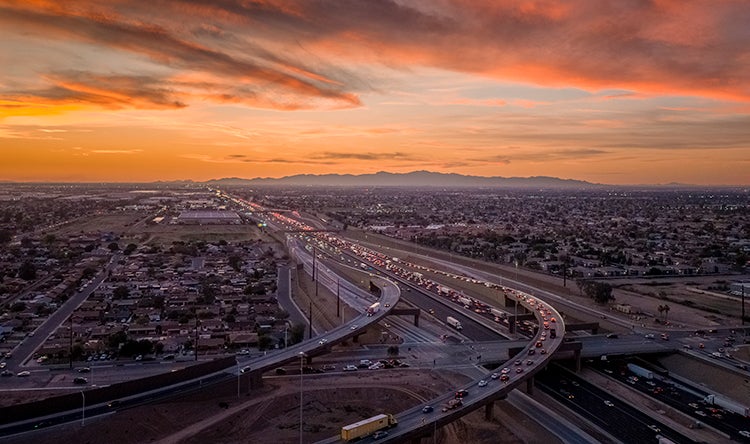 GEC Capabilities
In our GEC role we've demonstrated how we can offer, pull together and streamline our varied services to meet or surpass ADOT requests on a complex project. Several HDR services served full-time on the project, including environmental services, field services, geotechnical, project controls and strategic communications; while additional services such as value engineering; visualization + interactive design; architecture and engineering, structural, mechanical, electrical and civil; economics; geospatial solutions; and real estate services have been provided as needed to maintain project development and schedule. 
Professionals from our water group also reviewed water/sewer design plans and analyzed how the project could impact pump-station capacity for existing ADOT pumps, while our power and energy staff assisted in project coordination with local power clients.
On mega-projects like South Mountain, the team is constructing over a million dollars of infrastructure each day, so making the right decisions at the right time is critical to timely and under budget delivery of the project. We were able to foster an environment where at each critical junction of the project, we had the right people, making the right decisions at the right time.   
Now complete, the freeway is projected to carry about 117,000 vehicles per day in its first year and will benefit Arizona drivers for decades to come.