New York Interstate 95 Reconstruction
New York Interstate 95 Reconstruction
Cutting Through Difficult Terrain to Complete Intricate 'Last Mile' Project for Improved Commutes
The Interstate 95 Last Mile project represents the culmination of many commitments by state officials, contractors and consultants to improve New York transportation.
As an economic driver, it reconstructs the last mile of a 15-mile segment between the Bronx and Connecticut, which is an important trucking route from New York City to New England. In terms of quality of life, the project improves access for more than 150,000 motorists per day, mitigates noise for residents and increases safety for all. And, with respect to time, the project shows a sense of urgency and incredible resolve by builders to maintain traffic during construction and keep the project on task during the COVID-19 pandemic.
Our team provided construction inspection support services to the New York State Thruway Authority for the Last Mile. At the project's peak, the team included 18 crew members who contributed more than 8,500 inspection reports and 1,000 resident engineer diaries to document and drive progress.
The final phase of a decades-long series of projects, the Last Mile extended from just south of the I-287/I-95 interchange to the Byram River New York-Connecticut Bridge — milepost 14.1 to milepost 15.0. It addressed roadways that were not up to current design standards and bridges that were structurally deficient.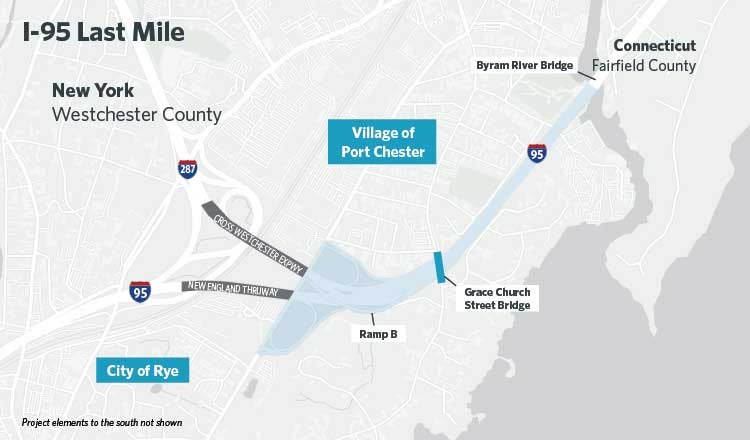 The New York State Thruway Authority, its contractor and the HDR team completely replaced two bridges and upgraded four additional bridges. One of the bridge replacements connected I-287, coming from the new Mario M. Cuomo Bridge, with I-95 northbound. This critical new connector bridge vastly improved geometry, increasing speeds, efficiency and safety onto Interstate I-95 northbound.
To keep traffic moving throughout construction, the team built a temporary, 400-foot-long by 40-foot-wide Acrow connector bridge between I-287 and I-95 northbound, alongside the existing bridge, and rolled each segment into place.
Additional Last Mile project features included:
Full-depth reconstruction of 6 lanes and shoulders of I-95, widening the corridor 60 feet with rock-blasting techniques. Each blast was documented with a precise report that told the depth of the predrilled hole, the number of charges to the blast equipment, and results from nearby vibration monitors. All told, rock blasting spanned 21 months.
Construction of 6 new I-287/I-95 exit and entrance ramps, lowering the longitudinal profile 3 feet under Ramp B
Installation of more than 5,900 linear feet (1.13 miles) of new noise and retaining walls — some with intricate tieback systems and ascending 55 feet high for as long as 500 feet
Safety upgrades, including new pavement markings, guardrails and barriers
Extensive drainage work
Intelligent transportation system updates
New paving
Utility relocations
Bioretention ponds
Substantially completed in November 2021, the $140 million project aligned with New York's Drivers First Initiative, which verified construction would have the least possible impact on motorists.