PacWave Wave Energy Permitting Support
PacWave Wave Energy Permitting Support
FERC Licensing for the First Pre-Permitted Wave Energy Testing Facility in the US
PacWave South is a commercial-scale, utility grid-connected wave energy test site off the U.S. Pacific Coast. In coordination with Oregon State University, we led the development of the project's Federal Energy Regulatory Commission license application for OSU, resulting in PacWave South becoming the first pre-permitted marine renewable energy test facility in U.S. federal waters.
Our role included the development of an applicant-prepared environmental assessment, as well as a draft biological assessment, which evaluated potential effects to species listed under the Endangered Species Act. We also supported OSU with development of environmental monitoring plans and mitigation measures, and agency consultation and strategic planning. We conducted environmental and cultural resource surveys for the terrestrial portion of the project.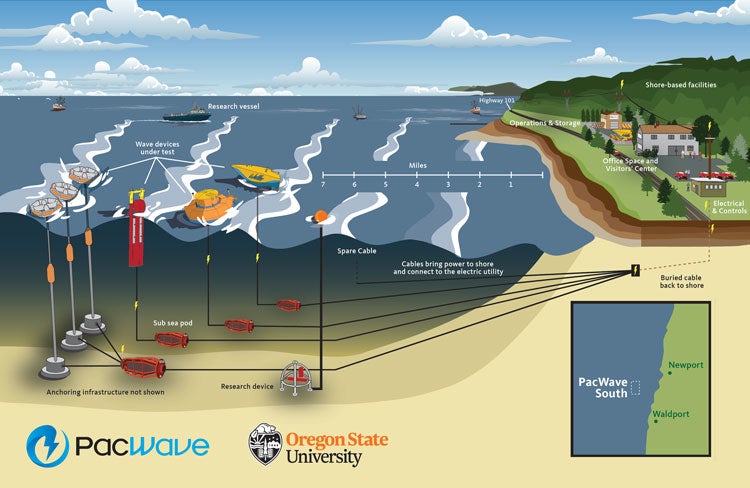 Located seven miles off Oregon's shoreline, PacWave South offers wave energy developers the opportunity to test different technologies for harnessing the kinetic energy of ocean waves and transmitting it to a local electric grid. The facility will feature four test berths that could collectively support the testing of up to 20 wave energy converters and associated moorings, anchors, subsea connectors, subsea power and communication cables, and onshore facilities. Power and data cables buried below the seafloor will connect the ocean test site to a shore-based facility. PacWave South will enable developers to test wave energy conversion devices and collect interconnection and grid synchronization data.