Siena Francis House Baright Building
Siena Francis House Baright Building
Human-Centered Design Approach to Addiction Treatment and Recovery
The Siena Francis House mission is to welcome and empower those experiencing homelessness to navigate their path to housing. Following the completion of a new low barrier emergency shelter on the Siena Francis House campus, the now vacant men's shelter building held the potential to house additional services to aid in the fight against homelessness. The goal was to dramatically renovate the existing utilitarian structure to create an environment where the Miracles Addiction Treatment & Recovery Program could succeed.
The existing building had minimal window openings, bulky detailing, and a drab interior and exterior color palette. Since the exterior and interior finishes were in poor condition, the entire existing building was gutted – leaving only the structural bones intact. By cutting back the roof overhangs and removing dormers, the overall building form was simplified to a clean gable roof expression. The use of a white, monolithic exterior metal cladding system aimed to create a bright beacon of hope on the campus.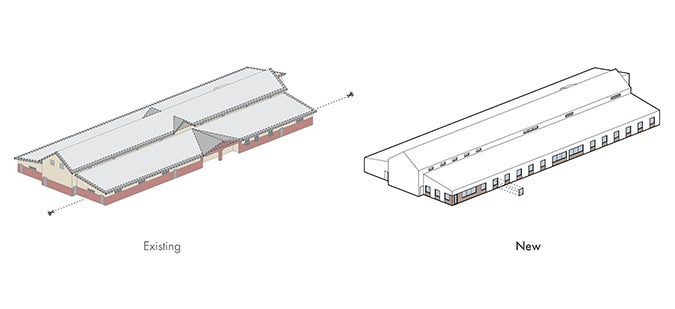 A new, robust mechanical system replaced under-designed equipment that required excessive maintenance. Large windows were introduced into the 20 sleeping rooms that house a total of 80 beds. In addition, light monitors were utilized to passively illuminate large, shared kitchen and living spaces for the residents. Bright, minimal interior finishes mirror the exterior expression and allow natural light to penetrate deep into the floorplate. Soft geometries of the circular light fixtures contrast the linear form of the building and provide an organic thread that weaves throughout the interior.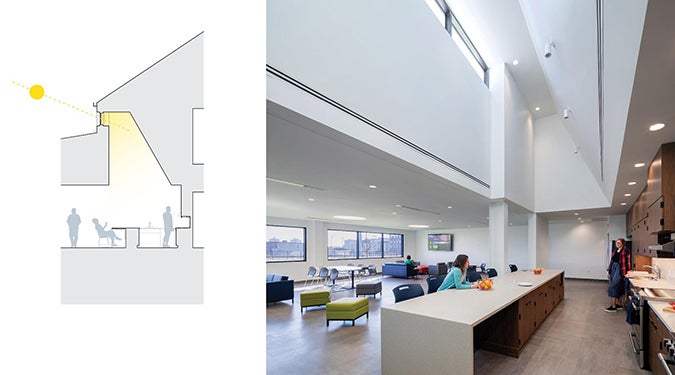 In addition to the sleeping rooms, the facility includes multiple group therapy rooms and a series of individual therapy offices that support the program's treatment philosophy that is anchored in a human-centered, trauma-informed approach. Addiction treatment and recovery is a critical step in the journey out of homelessness. The Siena Francis Baright Building allows the Miracles Program to support those in need to pursue a better life.