UNO Maverick Park
UNO Maverick Park
University Ballpark Designed with Shared and Equitable Access to Amenities 
The University of Nebraska Omaha continues the development of their Center Street campus with the addition of Maverick Park — a new baseball and softball stadium complex. The requirements for different geometries prevent the use of the same field for both sports. Often, the two field solution results in facilities that are inequitable between women's and men's sports. The project brief established the fundamental tenant of equity, and equity became the main driver of the architectural parti.
The site rises sharply away from the street to the west climbing 45 feet with a continued rise into multi-family residential beyond. The north/south topography remains constant allowing for each field to occupy one of the two ideal orientations.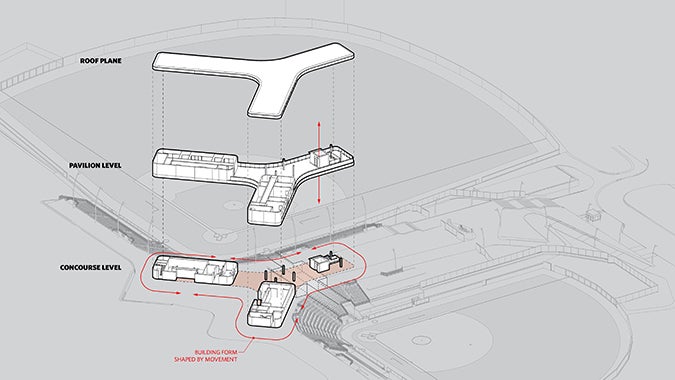 The new complex's sequence of arrival guides fans along an ascending path to the open concourse and pavilion, which establish a plinth 17 feet above the first point of entry. From the concourse, patrons then descend into either seating bowl, which is carved into the hillside. On the concourse rests the "Y" shaped pavilion, which contains fan amenities. Above the covered deck is a covered, open air second deck open to both fields (Tal Anderson Field and Connie Claussen Field). The remainder of the pavilion consists of press and broadcast facilities for each field.
The cast-in-place concrete seating bowls and synthetic turf fields are carved into the hillside. The press box and pavilion building components are structured with a hybrid system of load bearing concrete masonry units and a steel frame. The primary building material of white cement stucco and radiused geometry echoes the recently completed arena and establishes a family of athletic facilities. A distributed audio system creates an all engaging fan experience across both fields.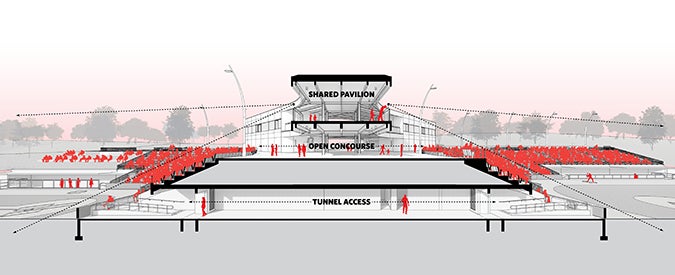 Designed in collaboration with Lempka Architects, LLC