Article
Designing for How We Learn: Lecture Halls
In my last article, we talked about 'One Simple Mantra' — See + Hear + Do = Remember. These are the components of active learning, and the design of spaces where we expect learning to occur needs to optimize sightlines, acoustics and the ability to work in groups within the space. In this post, let's look at how the largest learning spaces should work and how the "See + Hear + Do = Remember" concept can be applied.
In large lecture halls and auditoria, it is crucial to understand from the beginning how active the learning will be, and what combinations of activity may occur. It is fairly common at the start of a project for institutions to request extensive adaptability and flexibility. For example,  they may want room for five hundred seats that can be subdivided into several smaller rooms, with all movable furniture so it can be cleared out and used for a completely different type of activity (e.g., dining). Although some designers may suggest that this can be easily done, the reality is that it may not be a plausible or financially responsible solution.  
Designers need to probe a bit to understand what the uses for the space might be, and help owners visualize how the room(s) would look and feel in each scenario. In reality, several issues need to be considered first to decide what level of flexibility is the right solution for the needs, and to bring that idea to fruition. Here are some things that should be discussed and considered before making a decision: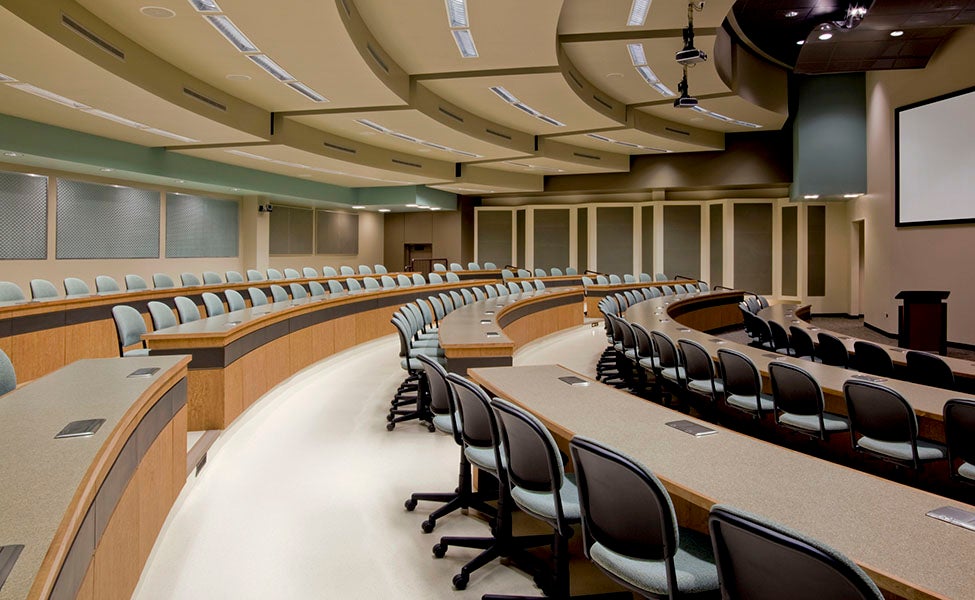 See
The only way for 500 people to see what one person is actually presenting is on very large screens that need to be within acceptable sightlines. It is quite a challenge to provide those sightlines for 500 people in one room, and then to have the same acceptable sightlines when the room is divided into, say, four rooms of 125.
Tiered vs. Flat Floor: Cases can be made for both. Arguably, it is easier for good sightlines to be observed with a tiered auditorium. In that case, we often put two rows of seats per tier, allowing students to turn around and work with the row behind them for group work during the lecture. This has an added benefit by lessening the ceiling height requirement and the ramp angle and lengths within the space.  
In a flat floor solution, the option exists to raise the stage, as well as to provide non-fixed seating in the form of bleachers or more sophisticated solutions. This, of course, provides added cost for the enhanced flexibility of the flat floor. Sightlines to screens must be carefully anticipated without students having to look up, craning their necks to an unacceptable degree. Again, the ability to take notes ideally requires a surface for the students in conjunction with the seating. 
Hear
Acoustics in a large room or auditorium have to be geared towards what it is being used for: one size does not fit all. Acoustic treatments for musical performances by an orchestra may be quite different than those needed for a single speaker. If the room is to be used for a variety of functions, then an acoustics engineer on the design team is crucial.
When subdividing the room with movable walls, there is huge variability in the acoustic properties of movable walls on the market. Nothing is more frustrating than investing in movable walls only to find out that when the walls are in use, you can hear what is going on in the next room as well as in the room you are in. The lesson here is that, if you are going to invest in moveable ones, make sure you are investing in good ones. They should never be value engineered.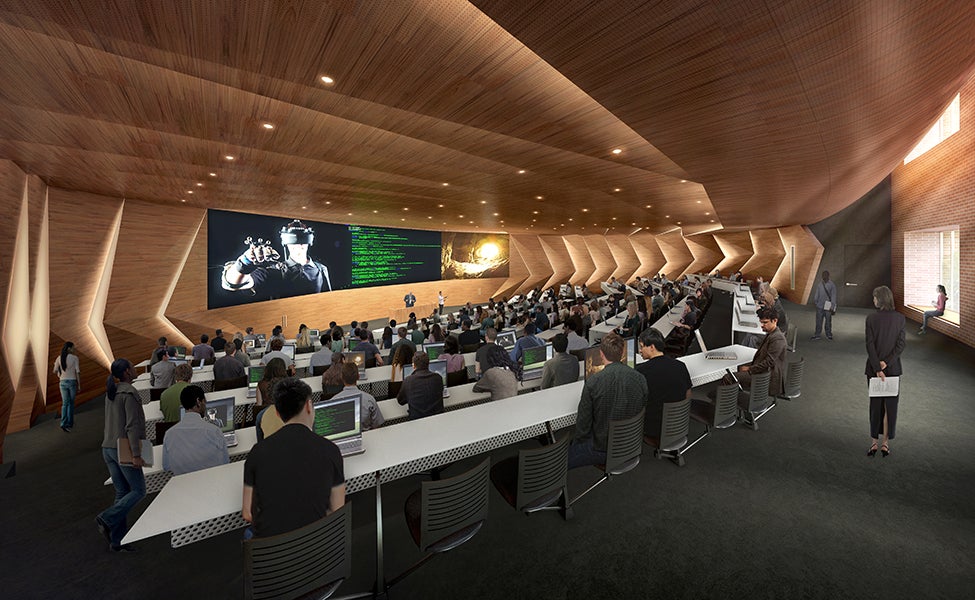 Do
If this room is only going to be used for presentations by famous people who will draw a crowd regardless, then and only then is old-fashioned theater style seating acceptable. In any scenario where notes are to be taken, people need a surface to put tablets, laptop computers or notebooks. The most versatile setup is with fixed tables and movable chairs. This allows students to move around and work with each other, yet provides enough structure that the room is left in some sort of order. If movable tables are used as well, the storage for the tables and chairs needs to be planned nearby when the room is to be used for other functions.
In thinking about a versatile set-up, ALL students should be considered. This means paying attention to aisle widths and ADA clearances from the very beginning of the design process. University clients more and more are asking designers not just to meet the law, but to go beyond it and respond in a fashion that will allow wheelchair-bound students to sit with their friends, in any row and not just at the front or the back, to make them truly a part of the population.
Design of large learning spaces can provide excellent active learning environments with the right planning. This means engaging with the users early in the planning process to help them think through what the spaces might actually be used for and then designing to those solutions. Sometimes this means one large multifunction room with special attention to "See, Hear, Do," and sometimes the right answer can be simplifying the auditorium design and creating other flexible spaces.
READ MORE FROM JUNE'S DESIGNING FOR HOW WE LEARN SERIES.