In The Media
Gov. Mario M. Cuomo Bridge's Smart Design Means Better Traffic Intelligence and Maintenance Data
Completed in the summer of 2020, the Governor Mario M. Cuomo Bridge in New York was planned from the beginning as a smart structure designed to enhance traffic flow, improve the owner's knowledge of bridge conditions and preserve the health of the bridge for the next 100 years.
One of the driving forces behind this complex system, Mike Whalen, recently collaborated on an article about the bridge's connected systems and high-tech design for Roads and Bridges magazine.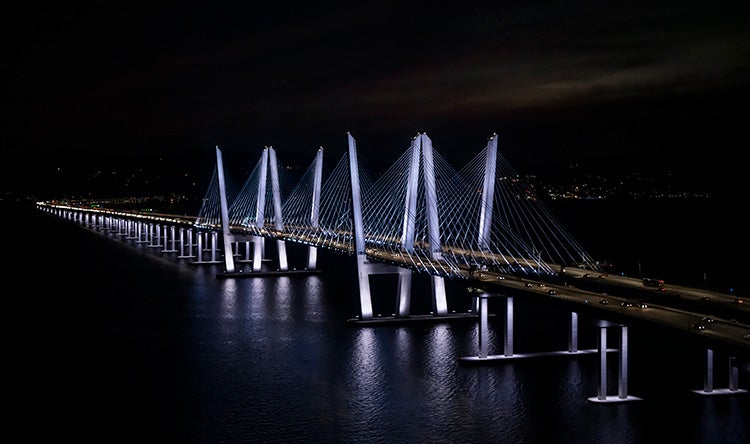 HDR was the lead designer on the $3.98 billion, 3.1-mile structure, the largest bridge project in New York history. Whalen leads our NY/NJ mechanical/electrical engineering practice and was the bridge systems lead engineer on the bridge. Together with other experts in our program, he helped craft and track the integration of numerous enhancements to support traffic efficiencies, safety and the bridge's 100-year service life.
The article describes our future-focused work on structural health monitoring, Intelligent Transportation Systems, a BIM-powered as-built database and more. The pair describe how this technology not only gives the owner better insights into current conditions — improving traffic management and lighting — but provides the knowledge needed to attain the bridge's expected 100-year service life.
"The smart systems on this bridge — SHM, ITS and BIM — give operators the power to do intelligent, proactive maintenance," the authors wrote. "BIM turns data into information. Information is readily available on every element from a girder to a light fixture — plans, as-builts, inspection reports, manuals — along with real-time data on current performance."
Read more in the article "A Bridge with Brains" in the January 2021 issue of Roads and Bridges.