Article
Imagining the Airport of the Future: Autonomous, Health-Conscious and Personalized
Wellness-Focused Airport Design in the Autonomous Age
By Hamed Aali, Tyler Dye and Sally Lee
As the world changed in recent years, we took on a deceptively simple yet radical question: What should the airport of the future look like? After months of research, design and discussions, our answer came down to three words: Autonomous. Healthy. Personalized. 
Biometrics, self-identification and big data are reshaping the expectations of consumers, who are demanding experiences that are controllable and effortless. A customized airport experience can meet these expectations, provide flexibility and new efficiency for facility operators while also playing a greater role in global health and wellness.  
Autonomous systems make this change possible, by significantly reducing the transmission of infectious diseases while simultaneously improving the efficiency of operations. These systems are valuable not just for transporting passengers and improving traffic flow but can also be used for moving goods and delivering services. They offer the possibility of a fully immersive, health-focused and autonomous experience that takes health-conscious travelers from home to gate safely and efficiently. 
The current traveler experience is characterized by queuing and the congregation of large groups of people waiting to complete a task that typically takes just seconds. Single points of service, counter-top check-ins, inefficient security procedures and crowded gate areas highlight a few of the issues in airports today.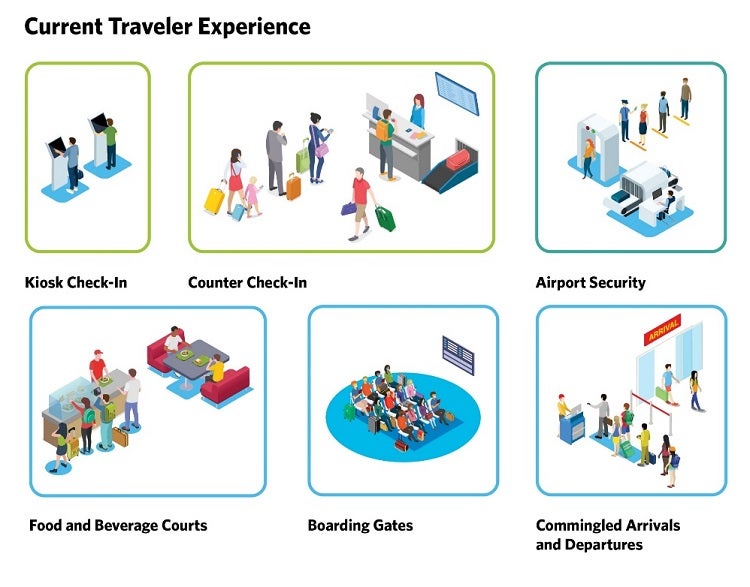 But what if we could change that? Using autonomous systems for transportation and baggage handling can streamline check-in processes. An extended, dynamic screening process can move passengers through security more easily — and pleasantly. And air lounges designed around the human instead of the aircraft can both improve passenger comfort and satisfaction and decrease the risk of spreading infection.  
Autonomous Airport Journey Begins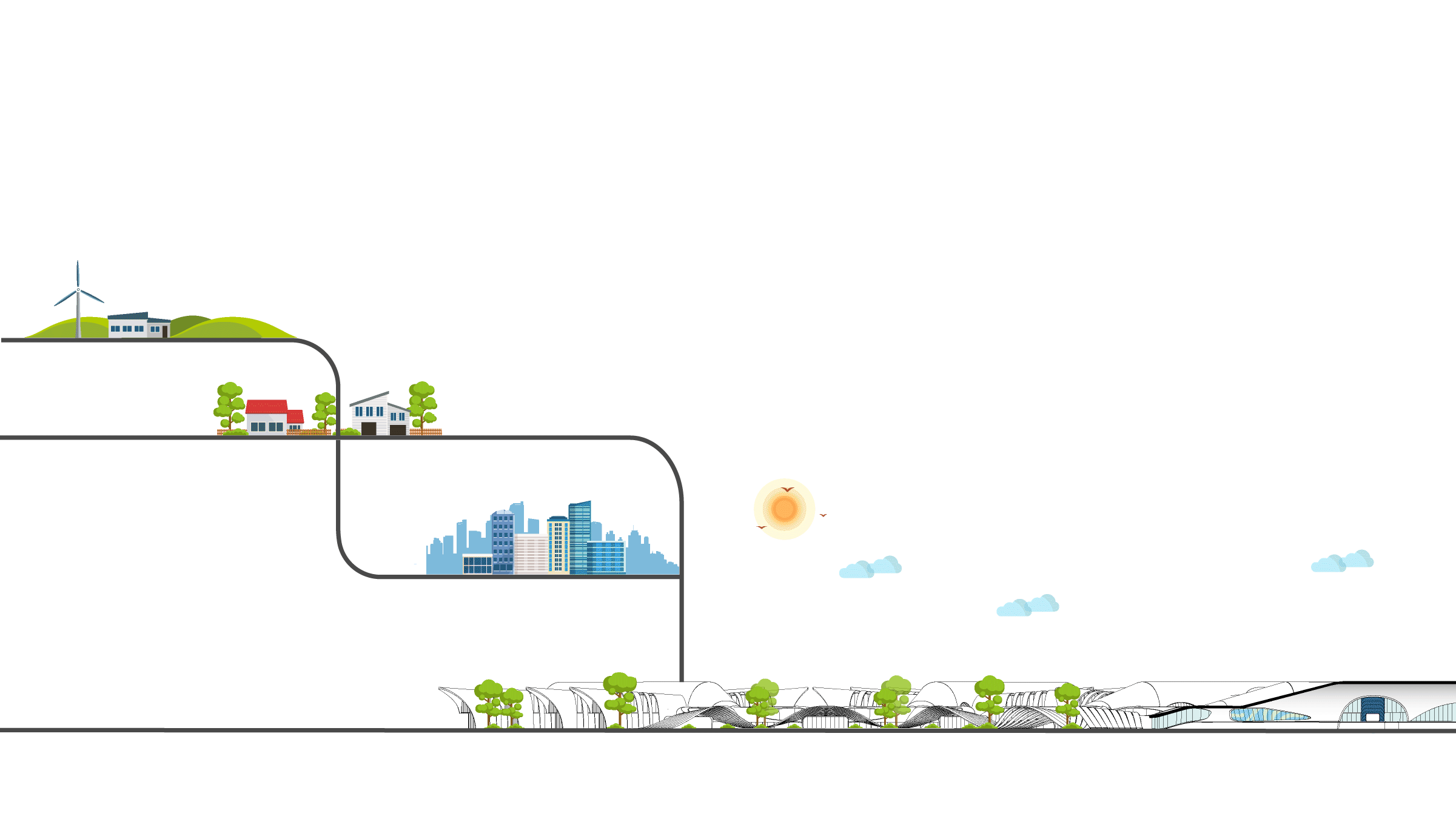 The journey begins at your front door, where passengers in this reimagined airport system are picked up by an autonomous vehicle provided by their airline or airport. Luggage is handed off at the beginning, to be delivered to a separate distribution center, freeing passengers of the responsibility from the start. Check-in and initial screening begin during the ride to the airport. Visitors can even order their favorite beverage to be waiting for them when they arrive.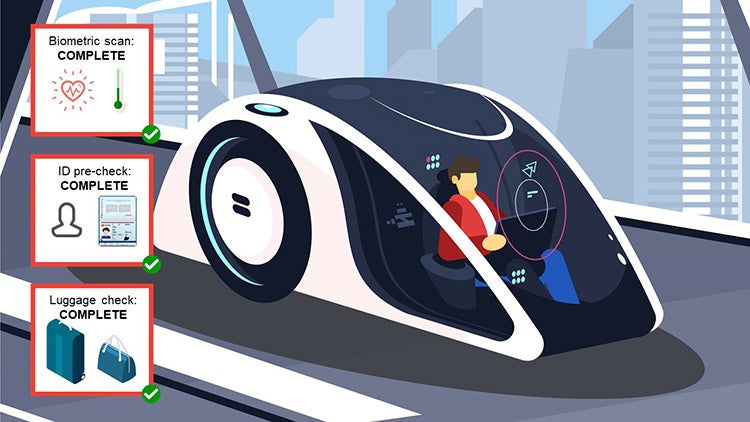 On arrival at the airport, travelers encounter a reconfigured floor plan that creates more space for travelers and new options for amenities. Many airports today consolidate security screening at a central location, with travelers then going to concourses of boarding gates.  
In this reconfigured airport, security checks are separated into multiple spokes to eliminate this bottleneck. And travelers then enter an air lounge designed for their comfort and wellness, rather than designed around the needs of aircraft. 
Automated Airport Security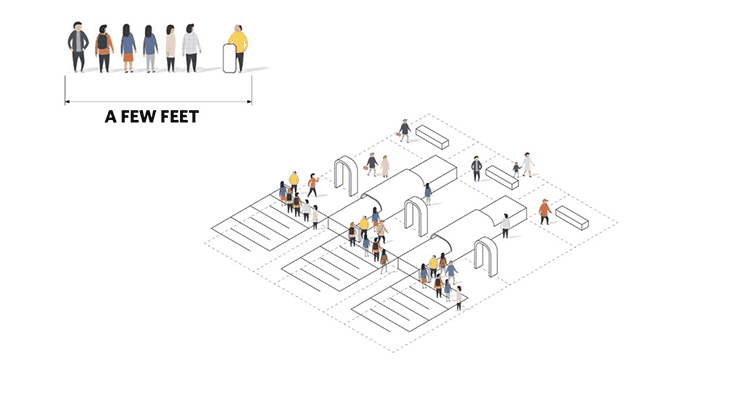 Today's airport security process is characterized by long lines and crowded rooms that not only make the process unpleasant but encourage the propagation of disease. By extending the physical length of the security process — and actually reducing the time it takes — passengers enjoy a more pleasant, largely automated process that allows them to begin their journey safely and comfortably.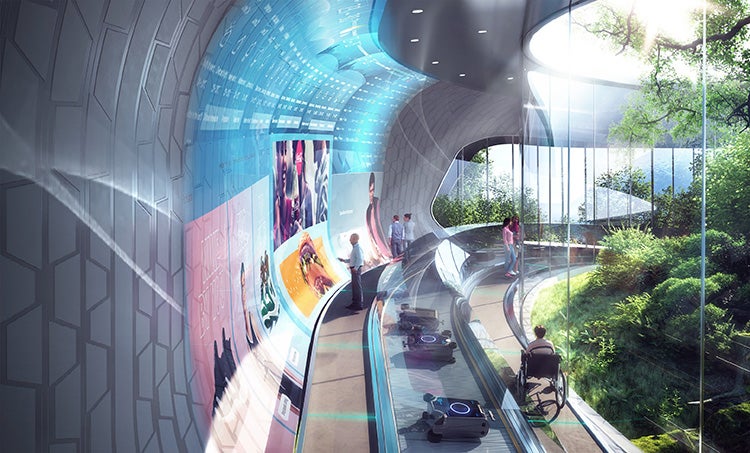 This reimagined dynamic screening process places passengers on a moving walkway that uses facial recognition technology, temperature scanners, and new advances in X-ray scanning and imaging to screen travelers. Completed as travelers continue conversations or prepare for their flight, the process looks more like a retail environment than a security line.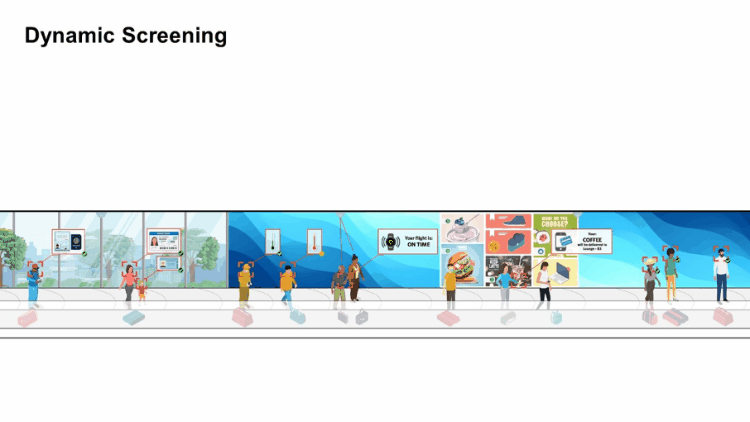 Flexible, Efficient Air Lounges
In the air lounge, jetways and individual gates have been removed, allowing more efficient use of the entire space. Modular furniture creates flexible seating arrangements and antimicrobial materials pioneered in healthcare reduce the spread of germs.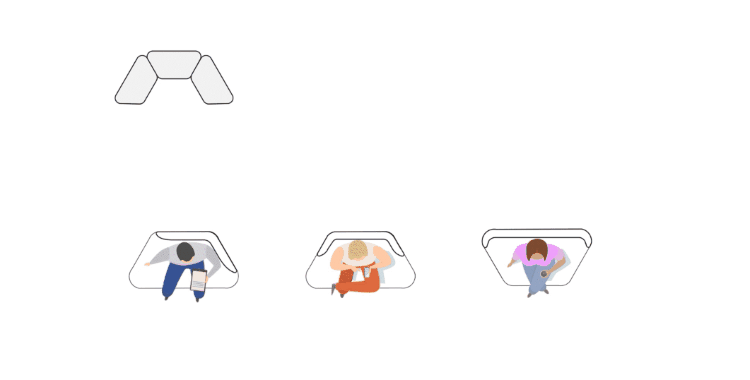 Instead of gates and jetways, aircraft are accessed via autonomous vehicles. Rather than bring airplanes to people, this decentralized solution reverses the concept and takes people to the airplanes. This provides a much more controllable, cleanable and pleasant journey than the typical jetway for travelers from gate to airplane. The autonomous transporters are easily sterilized between trips and include HEPA filtration that cleans and circulates air to prevent the spread of disease. Food and retail purchased throughout previous stages of the journey gets delivered by autonomous devices while travelers enjoy a relaxing and anxiety reducing space.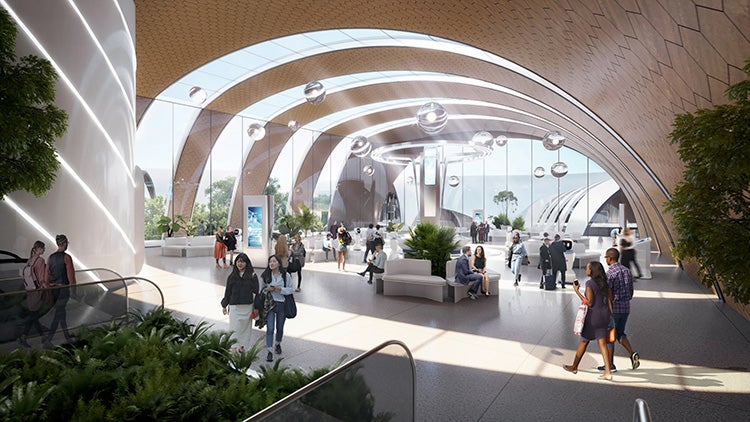 An Autonomous, Healthy Future Within Our Grasp
As high-volume transportation hubs, airports play a key role in our globally connected health system. Smart design and architecture are needed more than ever to prevent disease spread and improve passenger confidence, shaken by recent health worries. An autonomous, connected system is the solution, helping airports move travelers comfortably, efficiently and safely.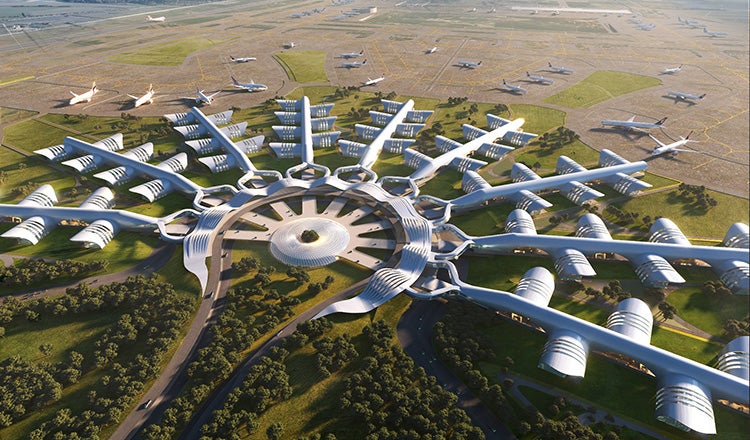 Achieving this vision will be an extended process, as airports upgrade and reconfigure in the coming years. But the potential is clear, and the benefits are great: Improved customer confidence, resiliency and efficiency, and health and wellness. Designing infrastructure to accommodate the autonomous technology needed for these new models will be key to benefiting from them. While not every option will work for every location, airports can begin planning for many of these changes today, enhancing their operations to match new customer expectations while adopting a more dynamic model that can remain resilient in different economic and health scenarios.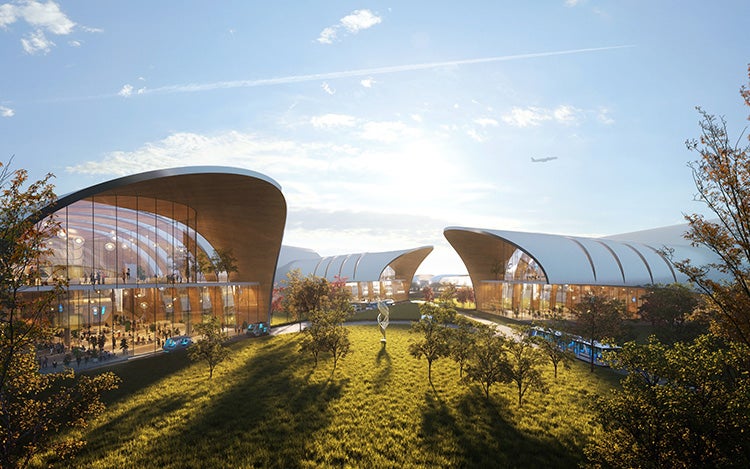 About the Authors
Hamed Aali, as a senior project designer, has worked on a wide range of projects around the globe. His work is primarily focused on health, wellness and space improvement to provide a more efficient, resilient and healthier built environment for the users. His experiences with civic, hospitality and commercial projects give him a broad perspective to apply to projects, in which he emphasizes elevating the overall experience for all users.
---
Tyler Dye is a project designer and architect focusing on complex building typologies in healthcare, education, science and technology. Passionate about designing the environments in which people experience their lives, he balances demanding programmatic requirements with the need for delivering inspirational and evocative space.
---
A design architect who has worked on projects on four continents, Sally Lee focuses on developing the key idea behind project designs and ensuring that the functional purposes of a project are prioritized. Sally creates effective and meaningful designs, built on a strong background in international commercial work, retail, healthcare, education, and science and technology.